In this series, we get to know the Artists behind the work with ten questions about their practice, their space, and their ideas. These are their Stories.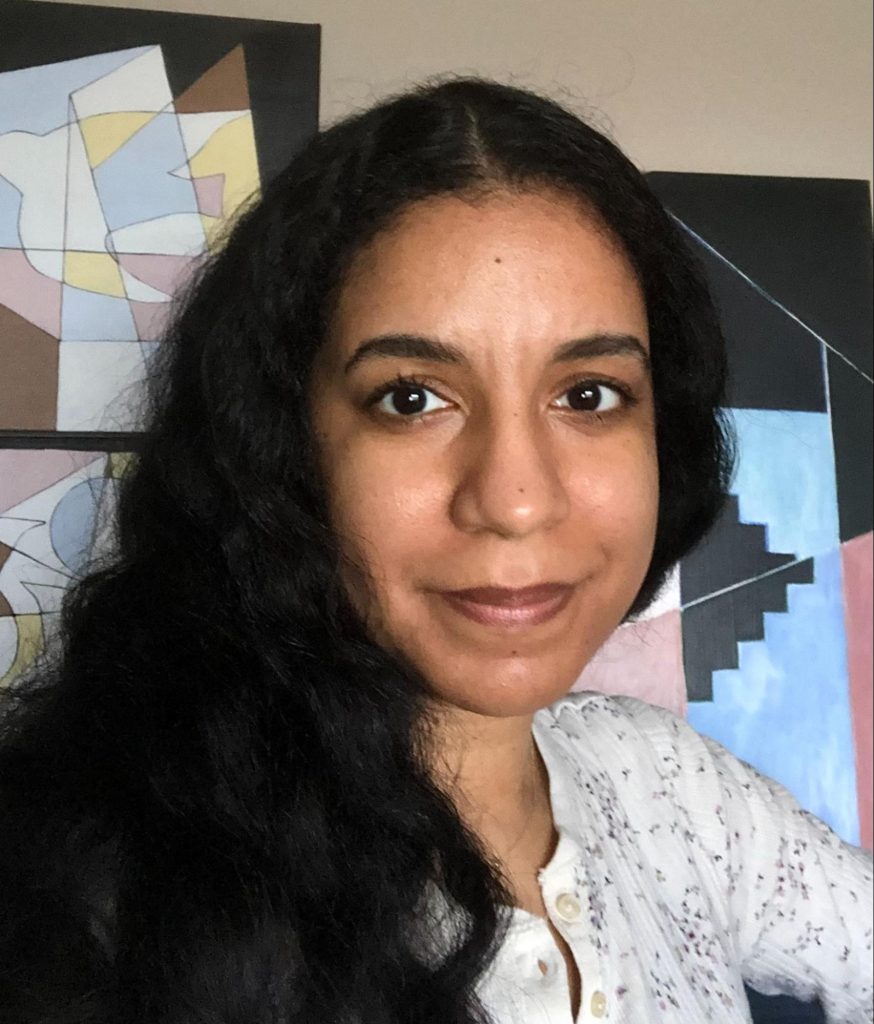 April is a visual artist living in Moncton, New Brunswick. Her work explores minimalist objects, simplified shapes and fragmented forms that are reminiscent of interiors, exteriors and sky. April is self-taught and has studied the language of abstract art, while creating a visual vocabulary of her own. She is influenced by the work of Paul Klee, The Russian Constructivists and Midcentury Modern design.
---
How long have you been making art?
I've been making art and selling it for the past five years. But my interest in art goes back much further. I remember being about nine years old and being moved by one of Van Gogh's paintings.
How did your upbringing in Brooklyn, NY influence the work you make today?
In New York I lived near great museums; The MET, The Brooklyn Museum of Art, The Museum of Modern Art, etc. When new exhibits would come to town they would place large advertisements in the subway. Those posters showcasing the art were a part of my childhood before I stepped foot in a museum. The skyscrapers of New York, and the changing sky between the buildings also feature heavily in my work.
What brought you to Moncton, NB?
I married a man whose family lives in New Brunswick!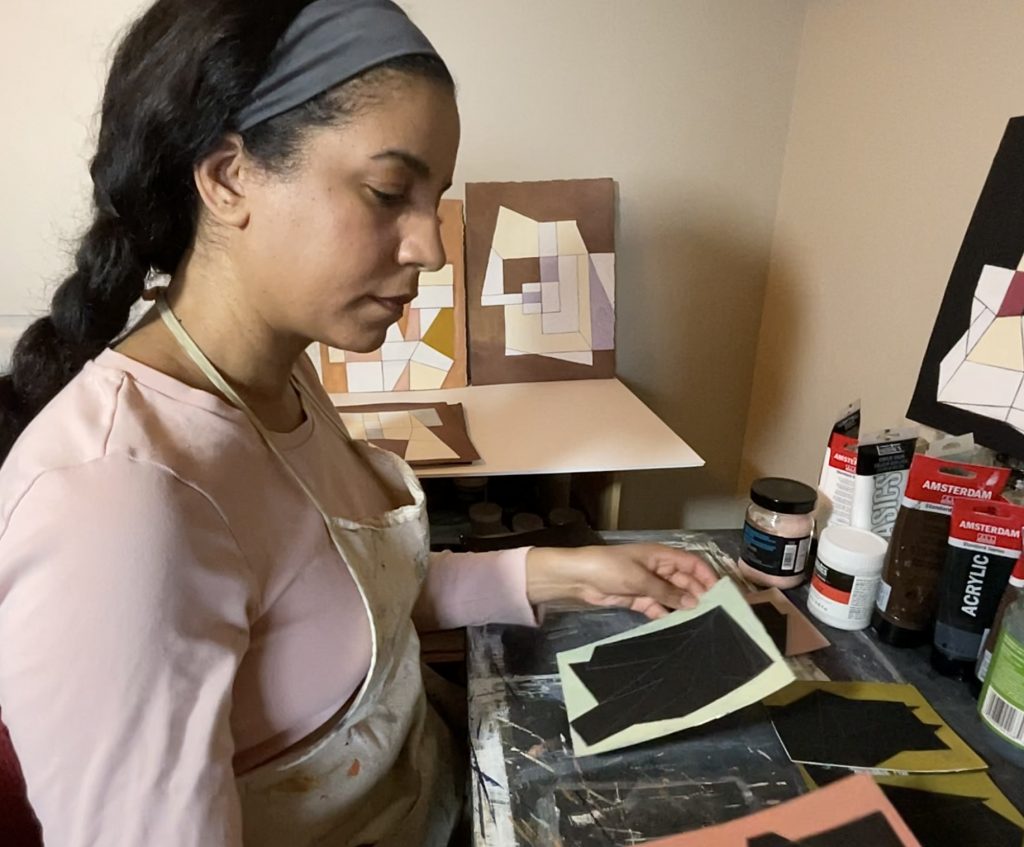 Tell us a bit about your painting process, from first draft to the execution of a piece.
First I find an audio book. I love mysteries! Listening to audiobooks seems to keep the critical, judgemental part of my brain quiet. My favorite part of mysteries is when the detective brings all the pieces together and makes the story fit. That's what I do in my work. I take broken, fragmented shapes and I bring them together. Sometimes to begin painting I work in my notebook with sketches, but more often I start working directly on the painting. My surfaces are gessoed in black. I find that color looks so beautiful on black surfaces! I've recently been working on heavy weight paper. The texture of paper is just so satisfying. Then I begin to draw in my shapes using a ruler and pencil. This process is entirely intuitive. Sometimes I'll give myself an arbitrary rule or challenge, like, " no shape can touch the paper's edge." I find that my creativity is enhanced by boundaries. Some shapes will be erased, some shapes will end up painted over, but this act of creating and then changing the composition as I go is part of my process. I rarely begin and end with the same image. I use mediums and dry pastels to add texture and depth. The final steps involve taking a photo of the art. This step always helps me to see things I missed. And if the work is done I varnish; only then is the work truly completed.
You paint wonderful abstracted scenes of liminal spaces, what draws you to these places of transition?
So often life feels like a series of transitions. We both are, and are becoming. When I think of important moments in my life I also remember the moment before, the breath and contemplation before the action. I love those moments. I have learned to embrace those in-between times.
Where do you go for inspiration?
I love cities and architecture. I find a lot of inspiration in Japanese homes and gardens. I've been looking at ceramics a lot recently. The shapes, the textures of the clay, the earth colors have really been speaking to me. The changing nature of the sky and its constancy is also food for my art.
What's one item in your workspace you cannot live without?
My rulers! I love a straight line. (I also love an imperfectly straight line!)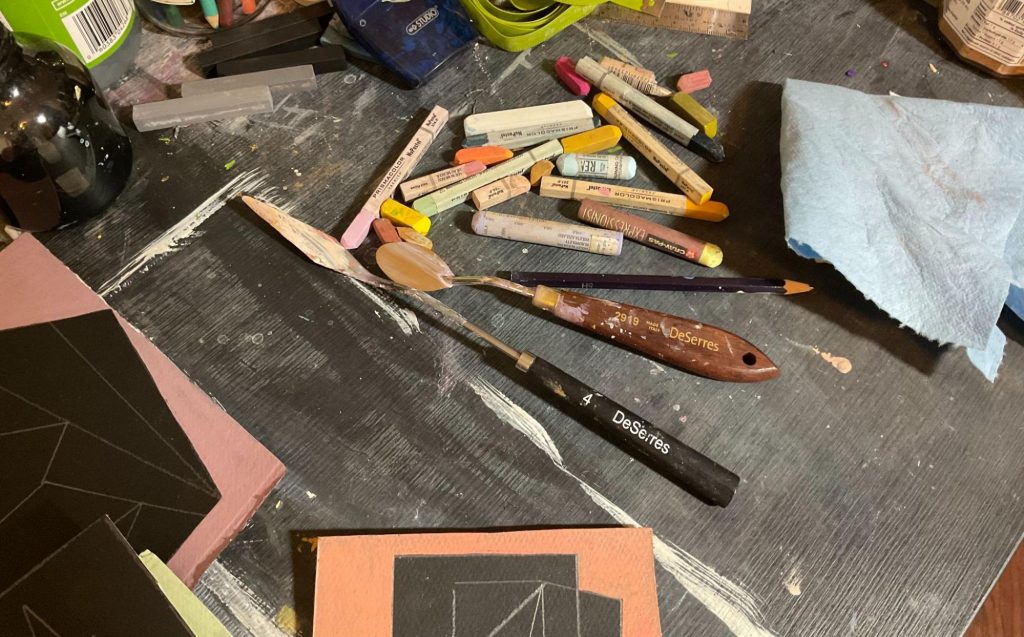 If given the opportunity, what is your dream project?
I would love to do a public arts project. Public sculptures and paintings that have been a part of my life and have helped shape my vision. I would love to be a part of that continuum.
What are you working on at the moment that you can share with us?
I'm working on a series that will go through the year called the 'Fragments Collection'. I started with 'Winter Fragments' and now I'm working on 'Spring Fragments'.
Words to live by?
"The intuitive mind is a sacred gift and the rational mind is a faithful servant." Albert Einstein.
Rent or purchase April's work here.
---
Do you want to be featured? Join Partial as a Pro artist and e-mail us at hello@partial.gallery. We'd love to share your work.