So, you're an artist and you've just sold a piece of art online; that's great! But if your art buyer isn't local, you now you need to ship it. It might seem intimidating, but with some guidance from a pro and some practice, the more confident you will feel about it.
As an online art platform, we get questions all the time about how to package and charge for delivery of artwork. As such we decided to host a webinar about it with Partial's co-founder, Tammy Yiu Coyne, and seasoned Canadian artist Lorette C. Luzajic. You can watch the three-part video series on our YouTube channel.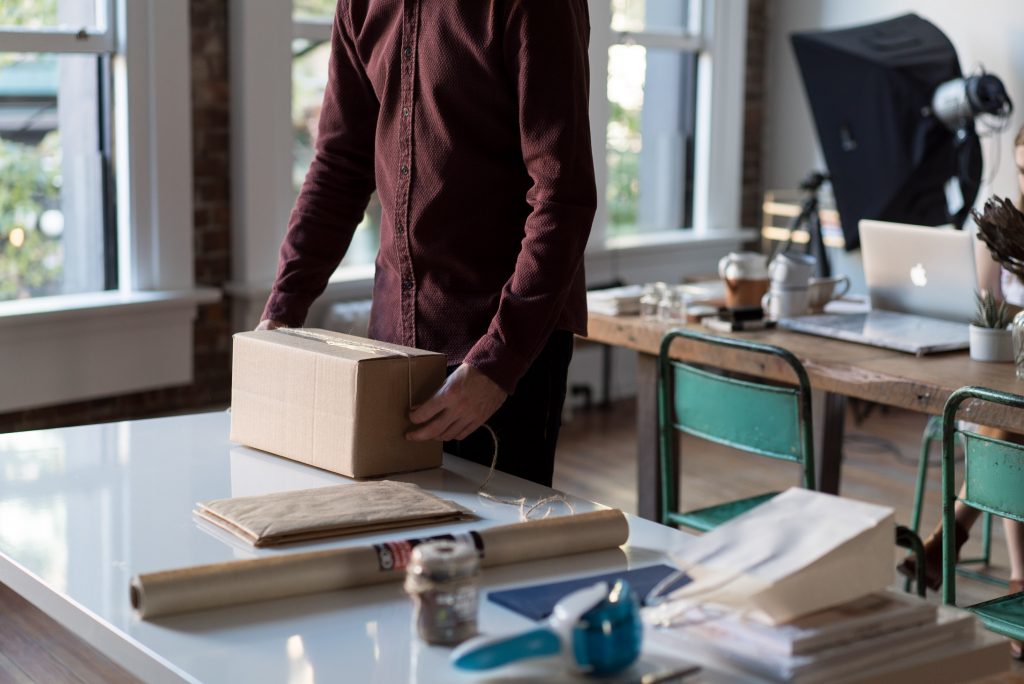 In this post, we're going to touch on a few topics:
Materials you'll need for packaging
A step-by-step guide
Dealing with with oversized artworks
Calculating shipping costs
List of resources
An art sale is still an innate human experience whether it is conducted online or not. Proper communication and professional packaging of the purchased art is important for building trust between an artist and art buyer. In addition to being an opportunity to connect through hand-written thank you notes and build a long-lasting impression, packaging also affirms the value of an artist's work.
"Bubble wrap is not couture, but it shows that you value it and you don't want it to get damaged."

Lorette C. Luzajic, 'How to Pack & Ship Art Like a Pro'
Giving a client peace of mind, knowing that it is in good hands and will arrive safely, is the best piece of customer service you can offer. (If you missed our last post about artist customer service, you can catch up on that here).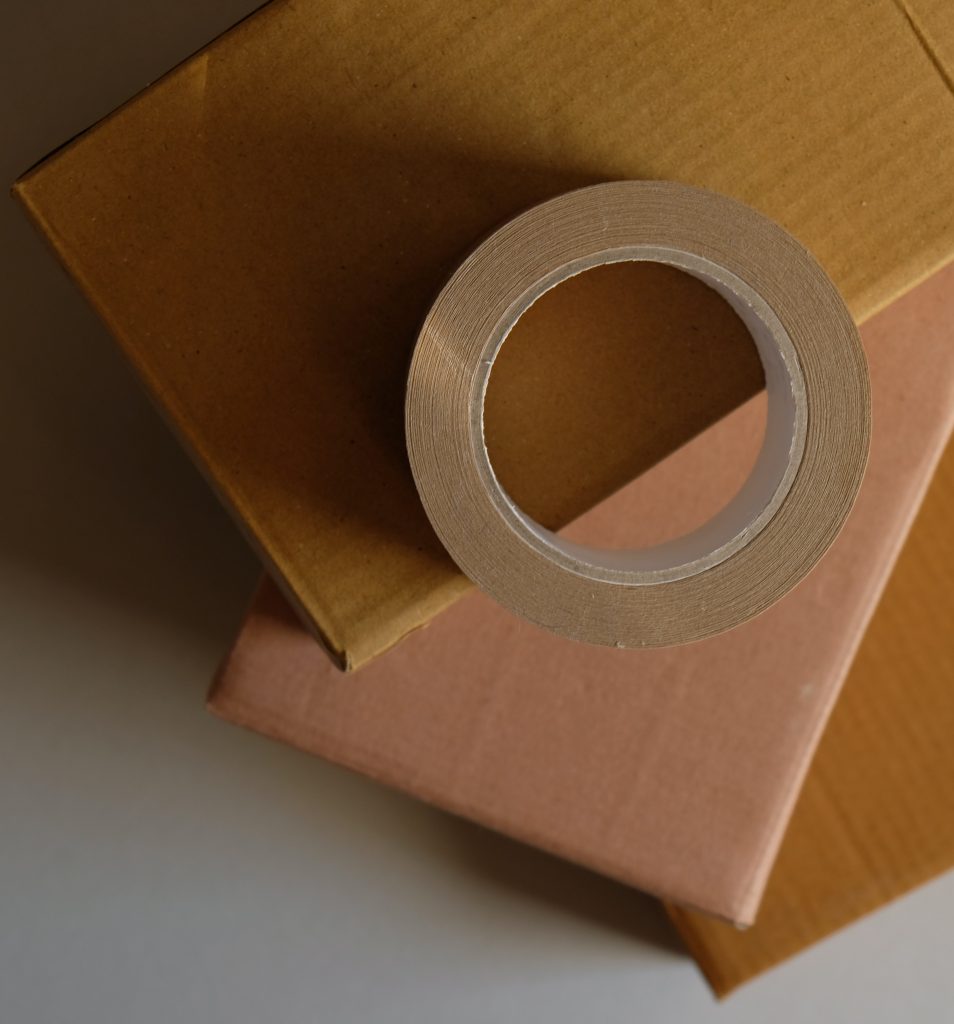 Step-by-Step Guide to Packing Your Art:
What you'll need:

Tissue paper (preferably archival acid-free tissue, especially for fine materials like pencil, pastel, oil paints, etc.)
Scotch or masking tape
Clear packing tape and/or brown packing tape
Foam Core (or good sheet of cardboard)
Bubble wrap
X-acto knife
Cardboard or a cardboard box (a list of those resources can be found here)
---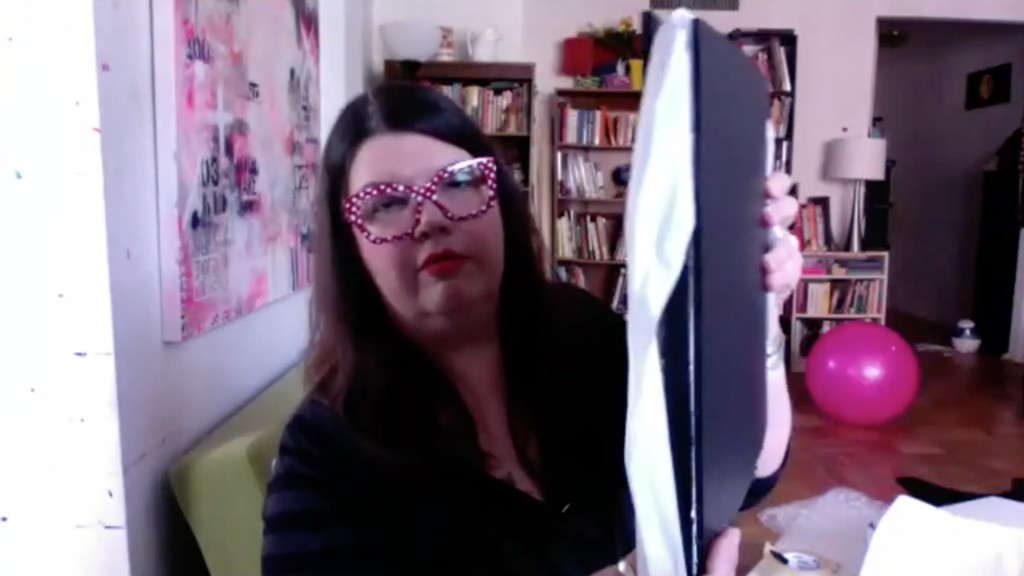 Wrap your artwork in acid-free tissue paper so that the artwork surface is completely covered and wrapped. Secure with tape.
Corners are the most easily damaged parts of artwork during shipping. Make four (4) tissue paper corners for your art piece. Fold a sheet into a square, than into a triangle, and then a triangle again. Then tape the open edge together with a single piece of tape (watch the video at point 7:50 for how to do it). Use cardboard corners for larger, bulkier canvases.
Place a tissue paper corner around each corner of your canvas.
Take two pieces of foam core and cut to the size of your art piece (if you can't find pieces large enough to cover your work, tape smaller pieces together. The goal is to provide protection on the front and back and prevent your painting from being damaged).
Sandwich your tissue-wrapped artwork with the two pieces of foam core.
Wrap the entire "sandwich" with bubble wrap. Secure the bubble wrap with tape.*
Place into your cardboard box along with any other marketing materials, a note of thanks, and any extra business cards you want to include.
Mark "FRAGILE" once, twice, six times on the package as needed for the delivery personnel.
Print the receiver address very clearly on the package, or if on a separate piece of paper, use the clear packing tape to affix completely securely to the package surface.
Seal the box with packing tape, include your return address, (just in case), and take to the post office! Don't forget to get a tracking number.
*If your piece is particularly fragile – ex. a photograph or work framed with glass – use a few extra layers of bubble wrap and foam fillers for added protection.
---
Shipping XL oversized art pieces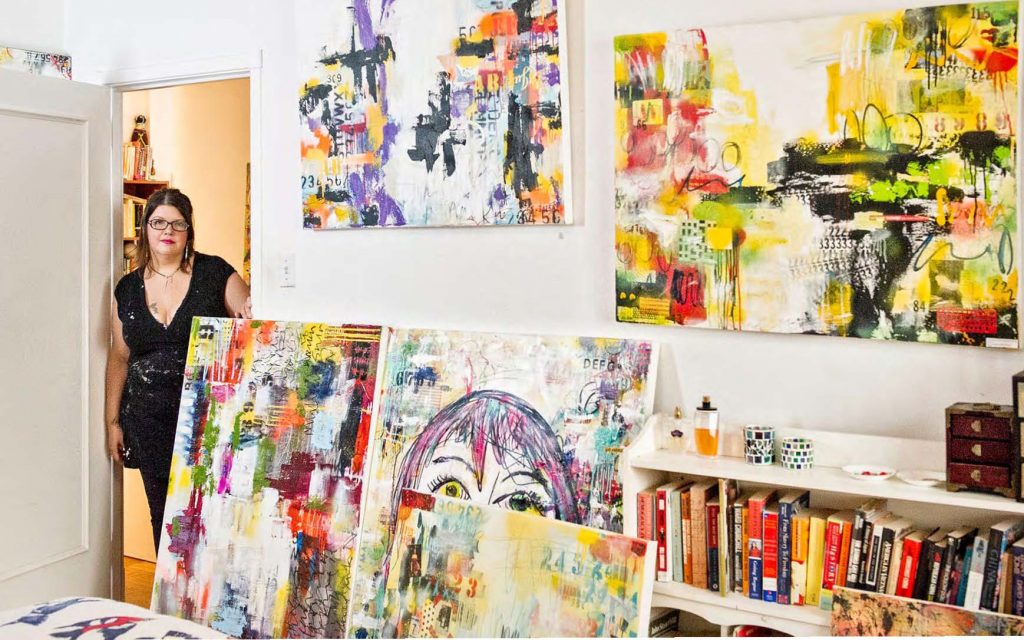 Option 1: Roll up the canvas
If you have the space for storage, save large boxes that you happen upon for future use. You never know when you'll sell that huge piece, and you can avoid spending time (and money) then to find one.
It sounds intimidating, but the canvas can be removed from the frame for shipping to save money. Shipping a rolled work is much cheaper than shipping a large frame. The art buyer can have professionals in their hometown re-stretch the canvas, and in most cases, this will still save money in the long run for them. If you're an art buyer trying to troubleshoot this, suggest this to the artist and see what they think!
For artists who want to go the extra mile, do the research for the art buyer for great framers or reliable professionals to restretch a rolled canvas near your client and arrange directly with them. You can even ship your art straight to your contact and arrange for the client to pick up the finished work when it is ready.
Option 2: Professional Crating Services
If you need a wooden crate, professional crating services can cost upwards of $500 per shipment, and for good reason. Look up options online in your area, and call and speak to the folks there to get a sense of their experience, pricing, as well as timelines.
Option 3: DIY Crating
Naturally, being able to build your own crate would be worthwhile for both the artist and the client. It is intimidating if you've never done it before, which is why Luzajic encourages any artist to buy an affordable hand drill (about $90 CAD) and use a free weekend to experiment on a small project – like a DIY box – to get the hang of using the tool.
If you've sold a large piece (congrats!), advise the client you'll need a few days to pack. Crating is much more time-consuming, so the communication will help give the art buyer some peace of mind. Look up DIY crating videos on YouTube (like this one or this one) if you haven't already done so already, and ask for help from a handy friend for the first one or two tries. The first time will be the most challenging, but if you tend to paint on larger canvases, it's a very useful skill to have before resorting to professional options for the foreseeable future.
---
What should an artist charge for shipping and delivery of their artwork?
The answer to this question is… it depends.
For an artist, it is empowering to at least have an idea of what it costs to ship your pieces (especially for larger pieces). From there, you can decide on a case by case basis depending on the mode of delivery, the costs associated with that, the price of your work that has been sold, and also what kind of service you want to offer to each client.
The best option? Delivering it yourself. If you've made a sale locally, deliver it in-person or ask if the art buyer is willing to come pick it up from your studio. Not only is it is the easiest and most economical way to ensure your art piece arrives safely (you can skip the intense packaging and simple bubble wrap would be sufficient), the opportunity to meet your art buyer and potential longterm patron is crucial for fostering this new relationship. This flexibility between local art sales and cross-Canada art sales is built into the art acquisition process on Partial. Because it varies from case to case, these details are discussed in a conversation directly between the artist and art buyer. This also adds value to the overall art experience and, more importantly, builds a human connection to the art piece between the collector and artist.
Artists commonly ship within their own country, so it is wise to have an idea of domestic shipping prices for your works. Do your research on approximate postage for the most common sizes of your work, (and don't wait until you make a sale). You should be the expert and be the best source of information for your art buyer.
For international shipments, artists should consider different options might be for the art buyer (we've included some resources below for comparing shipping rates for Canadian artists). For example, consider that while the cheapest international shipping is appealing, it typically takes much longer – going by boat versus by plane is a huge difference. Shipping to Australia from Canada is also incredibly expensive, so artists should prepare art buyers for this. The different options can be presented to the art buyer, and both parties should agree on the cost and estimated timeline.
Charging an art buyer for the delivery of an art piece is reasonable and even anticipated (offering free delivery is a feel-good bonus). If the time/material cost is high, as they tend to be with larger and more fragile works, it is customary for this to be charged to the client. If the artist chooses, they may also offer to split the cost of delivery with the art buyer.
Factors to consider when thinking about delivery / shipping fees include: your time, price of the artwork, cost of packing materials, transportation costs (fuel, vehicle rental, public transit or taxi), distance between the artist and art buyer, and relationship-building.
If there isn't significant cost or effort involved, artists may consider offering free shipping, include it in their total art work price, or charge just a few dollars to the art buyer. One might also offer free shipping if the value of the work is high enough for them to include shipping/delivery as part of the service.

---
List of Resources:
Many of these resources are specific to Ontario and Canada, but you can find similar suppliers in your locale. We encourage you to support your local small businesses whenever possible.
Above Ground Art Supplies: Toronto-area art supply specializing in hard to find items, a haven for art students and professional artists alike.
Staples: Office supply store with Free Next-Day Delivery, No minimum.

U-Haul: "Your moving and storage resource."
Home Hardware: A Canadian home improvement, construction materials, and furniture retailer with locations across Canada.
Rotblott's Discount Warehouse: Proudly serving downtown Toronto since 1917 with bubble wrap, tape, or almost anything else.
Net Parcel: Provides "the cheapest shipping rates" through a price comparison shipping platform.
For professional shipping and crating services in the GTA, contact Millennial Art Services (and tell them we sent you!).

---
About Lorette C. Luzajic
Lorette C. Luzajic is an award winning mixed media artist with collectors in nearly thirty countries so far. Her art has been featured in a magazine ad campaign for a Madrid based jewelry company, on a billboard in New Orleans, and in galleries, museums, hotels, medical offices, corporate lobbies, restaurants, and homes around the world. She has travelled to Mexico and North Africa to exhibit and work. She is also the editor of online arts journal The Ekphrastic Review, and a widely published poet and fiction writer.
Find Lorette on Partial, Instagram and Facebook.
About Tammy Yiu Coyne
Tammy Yiu Coyne is the co-founder of Partial, a Toronto-based platform created with the single goal of connecting artists and their work to collectors. If you're curious to know more about being an artist on Partial, visit our FAQ page for artists.