Being an independent artist in the 21st century isn't just about making art. Nowadays, selling art online comes with a whole slew of other requirements beyond just uploading a JPG. Knowing how to properly provide customer service is an essential skill for any successful visual artist.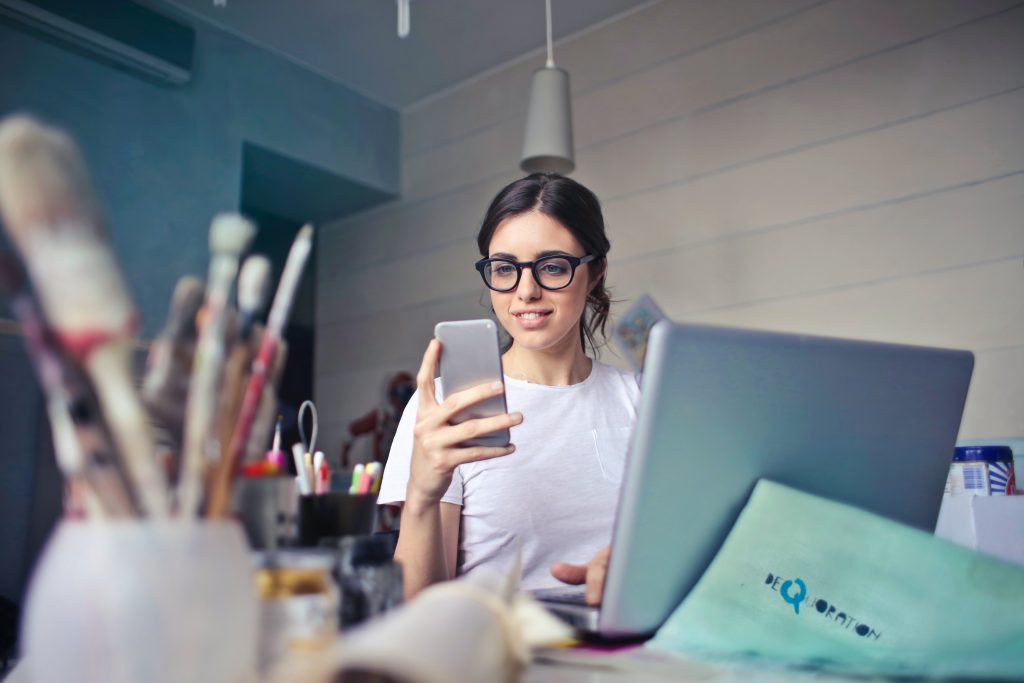 We hosted a conversation this past February about customer service and packaging between our co-founder, Tammy Yiu Coyne, and seasoned Canadian artist Lorette C. Luzajic (and you can watch the three-part video series on our YouTube channel). The tips given here are excerpts from this discussion.
---
Yes, artists are a key part of the customer service experience.
Regardless whether you are selling art through your own website, Instagram, a specialized art platform like Partial, or a combination of all three, a positive customer experience can be the winning ticket to solidifying an art sale. As Luzajic emphasizes, it is the most important thing in an online art relationship, and artists should aim to provide customer service in the same way one would in any other job role – be it retail, administration, finance, food industry; the same rules apply when representing yourself.
This means responding to inquiries with courtesy, timeliness, and enthusiasm.
In this age of Amazon, people's attention spans tend to be shorter, so responses within 24 hours are encouraged, even if it is simply to write back to say you will respond as soon as you have a chance.
Check your SPAM box in email regularly! You never know what notifications or e-mails may have accidentally been diverted there.
Every question and inquiry is important. You never know when they are going to be ready to purchase a piece from you. Just because they don't buy on the spot does not mean that they won't message you out of the blue 6 months from now. It happens.
While having a strong artist presence online opens up a myriad of opportunities, at the end of the day, it is still a human-to-human interaction. Your responses to any interested parties means that you are helping them build confidence in knowing a (real) human is on the other end. This goes a long way as they consider what to next invest in and add to their art collection. Not to mention that when an art collector is happy with their experience, it can very well turn them into a repeat patron of an artist's work.
---
Sourcing cardboard boxes for shipping artwork

The final step of any online transaction – shipping – is crucial. At this stage, there are only two people in the world who will care about the condition and safety of that specific art piece: the artist and the art buyer. The art buyer is entrusting the artist to ensure the art piece they just purchased will arrive safely and in good condition, which can be a bit intimidating for the artist responsible for fulfillment.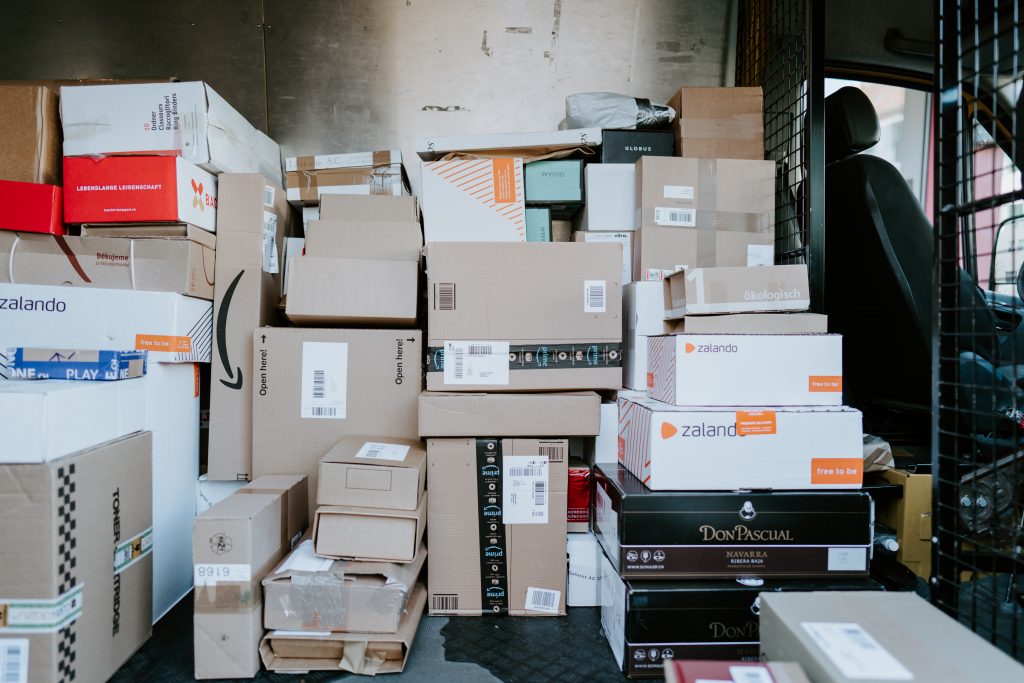 Luzajic sells a lot of album-sized artwork and has nailed that process down for these smaller collages (she sourced pizza boxes online to fit her works), and uses the same tried-and-true process for medium sized pieces as well . When packaging, consider the fact that once the art piece leaves your hands, it is in the hands of many other folks who may not have the time or care to be delicate with it, and accounting for inclement weather. While packaging, Luzajic asks herself, "Will this survive a nuclear disaster?".
If you are shipping a canvas piece, we do not recommend relying on a padded envelope. Use a box. But where do you find one?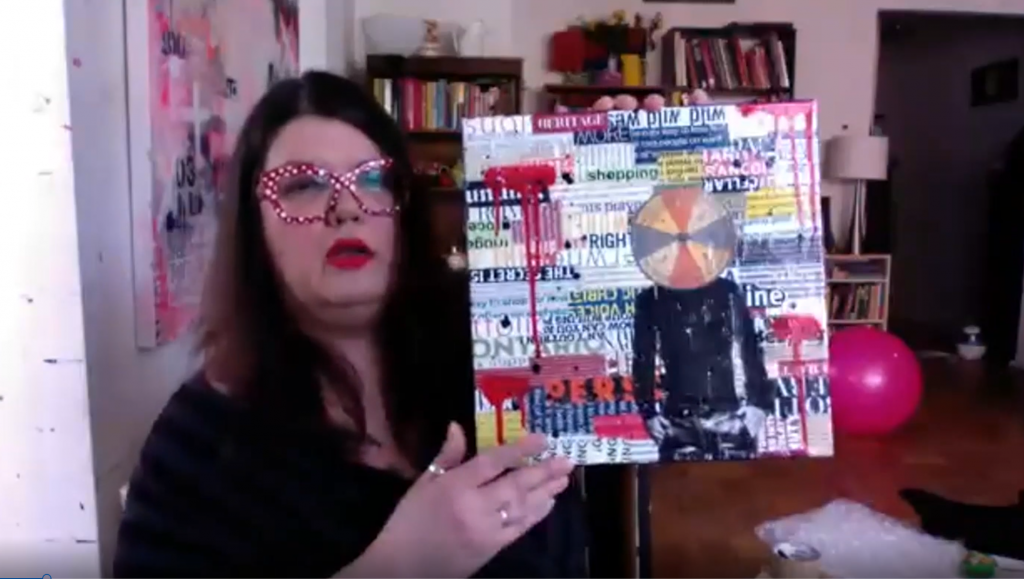 Our advice? Think outside… "the box"!
Just because a box is made for something else doesn't mean it won't be ideal for shipping your work.
While out for walks, Luzajic also keeps her eyes open for good quality, sturdy, clean boxes that have been discarded
Check out electronics stores like Best Buy for discarded TV boxes or stores that sell mirrors. You can even ask the staff for any boxes they are looking to get rid of.
Stock up on these found boxes if you come upon them so that you're not scrambling when an art sale occurs.
If you need to – you can always buy new. See some suppliers in the Greater Toronto Area down in our list of Resources.

Packaging your artwork properly ensures that in a worst case scenario of your work getting damaged or going missing you will get the insurance protection that you need (and our step-by-step guide will show you how). Some reliable art platforms, like Partial, have insurance protection to protect artwork that is out for lease in collector's homes, stagings, or for film and TV sets. Proof of having done your due diligence to protect the work to the best of your ability will prove helpful in these unfortunate circumstances.
Stay tuned for our list of "Must-Haves" for an artist's toolkit for packaging and a Step-by-Step Guide for How to Pack & Ship Art Like a Pro. Coming Soon.
---
Where to Find Boxes:
Some of these resources are specific to Ontario and Canada, but you can find similar suppliers in your locale. Support local whenever you can!
Check your building garbage room or local big box stores for boxes in good condition that can be repurposed
The Box Spot:  "We have almost every conceivable box possible for packing, moving, storing or shipping."
Staples:  Office supply store with Free Next-Day Delivery, No minimum.
Boxed Inn: A Toronto moving supply store with a large selection of moving boxes – from cardboard and wardrobe boxes to bubblewrap, foam, paper, and tape. 
U-Haul: "Your moving and storage resource."
Home Hardware: A Canadian home improvement, construction materials, and furniture retailer with locations across Canada. 
Rotblott's Discount Warehouse: Proudly serving downtown Toronto since 1917 with hardware, moving boxes, tape, or almost anything else.
Let's keep supporting small and local Canadian businesses where possible. If you have a Canadian resource that is not listed above, send us an e-mail and we'll add it to the list.
---
About Lorette C. Luzajic
Lorette C. Luzajic is an award winning mixed media artist with collectors in nearly thirty countries so far. Her art has been featured in a magazine ad campaign for a Madrid based jewelry company, on a billboard in New Orleans, and in galleries, museums, hotels, medical offices, corporate lobbies, restaurants, and homes around the world. She has travelled to Mexico and North Africa to exhibit and work. She is also the editor of online arts journal The Ekphrastic Review, and a widely published poet and fiction writer.
Find Lorette on Partial, Instagram and Facebook.
About Tammy Yiu Coyne
Tammy Yiu Coyne is the co-founder of Partial, a Toronto-based platform created with the single goal of connecting artists and their work to collectors.
If you're curious to know more about being an artist on Partial, visit our FAQ page for artists.