Written by: Dhriti Gupta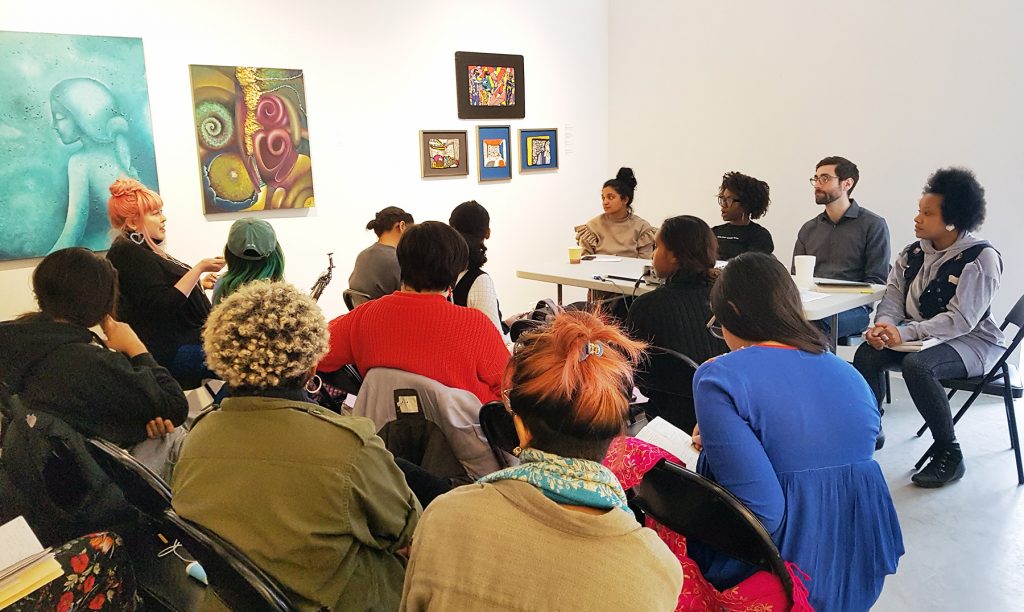 For freelance artists, it can sometimes feel like the industry is stacked against them. From opportunistic gallerists, to having work stolen or plagiarized by bigger corporations, navigating the world as an independent artist comes with many challenges.
That's why Geneviève Wallen, Phillip Ocampo, and Emily Gove at Xpace Cultural Centre decided to host a two-day conference to support and educate emerging artists in how to thrive within the arts sphere.
Xpace is a not-for-profit organization dedicated to providing artists, designers, curators, and writers a place to show and develop their work.
Their first ever conference, "Live Your Best Freelance Life", had artists and mentors from all different backgrounds come and speak on topics of intellectual property, grant-writing, financial literacy, and self representation within the arts realm.
Rajni Perera is a multi-disciplinary artist whose work explores mythology and sci-fi through a diasporic perspective. She was approached by a hospitality properties company to create a mural for one of their newest properties, but was surprised by how little they were willing to pay her. So, she did something powerful. She said no.
"One of my favourite words is no. I love the word no, I learnt it from my daughter, who's seven years old. Saying no for a while gets people to pay you the money that you're worth," she said.
While Perera understands that artists may not always be in a financial place to say no, she encourages them to try it when they feel they're being taken advantage of, especially by a larger corporation.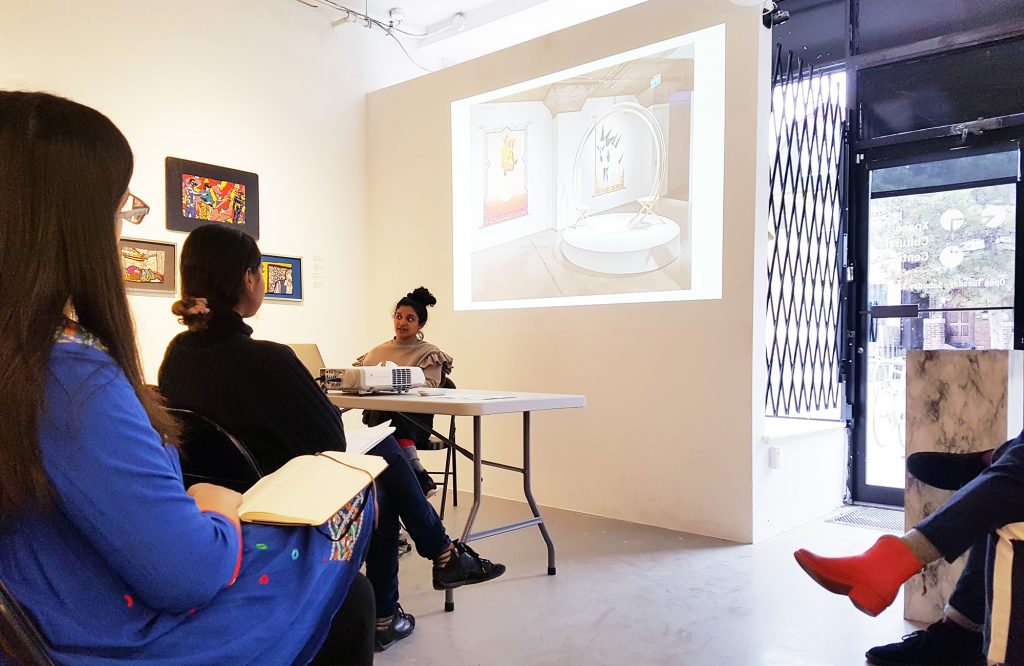 Corporations, like the client who approached her, rake in millions in revenue and can always afford to expand their budget, Perera said. By initially refusing their offer, Perera was eventually able to negotiate every cent that she asked for. For smaller startups or indie businesses, however, it's important to know your clients' limits.
"Having compassion in your dealings is a big deal," Perera said. "Know your client and adjust accordingly."
A way that Heidi Cho manages to balance the accessibility of her art with adequate compensation is by having a wide range of products with a sliding scale of pricing. At art fairs, she has a few products that are under $10, alongside her more expensive options. This allows her to cater to marginalized demographics, who perhaps don't have the means to invest in expensive art, while maintaining a sustainable business.
Cho is a self-taught, queer artist of colour, and she never went to art school. For that reason, she is a big advocate of creating space for everyone at the table. She believes the scarcity mentality sometimes present in the art community can make it an exclusive place.
"It's important to protect your knowledge and take care of your practice, but I also don't believe in holding back knowledge," she said. "If somebody asks me what my artistic process looks like, or where I get things printed, or where do I go to do pottery, I'll be very open with that information because a lot of people don't have access to those network connections."
In that same vein, Diana Bahr, a former staff person in financial aid at OCAD University, stresses the importance of tuning out anxiety and competition within the industry to focus on what success means to you as an artist. She said being aware of where you stand and making your business goals supportive of that is a good way to keep tabs on your finances.
"If you don't know how much you have, how much you need, and how far you want to go, you're going to get stuck," she said. "You don't have to do what other people are doing to feel successful."
To get acquainted with your own finances, she encourages taking a financial literacy test, checking your credit score, and keeping track of how much money you need not only to survive, but to thrive.
Being aware of just how much your business costs to operate sustainably can help you fine tune your business model. Crochet artist Chason Yeboah was paying up to $500 to table at an art fair, only to find herself barely able to recover that cost through the sale of her unique dolls. Plus, each doll would take her a minimum of three days of intensive work to create.

Yeboah ultimately decided it was a better idea to stick to fairs that costed around $150 to enter. She realized a more profitable way to add to her practice would be through the commission of personalized dolls, which can be sold for a higher price.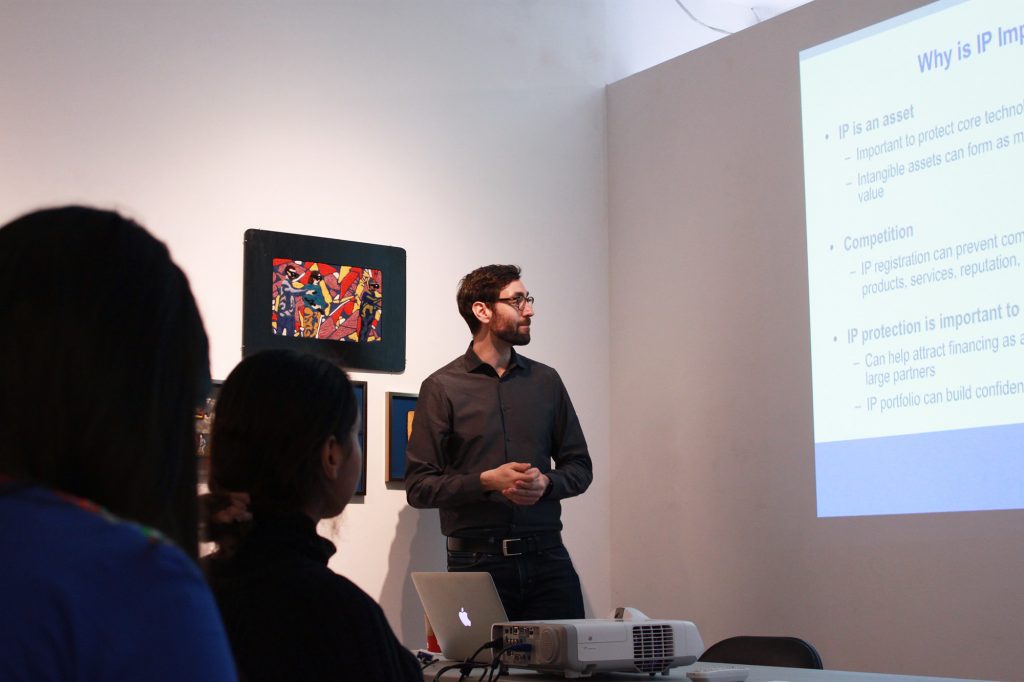 In terms of the legal aspects of freelancing, intellectual property lawyer Max Rothschild described the importance of knowing and exercising your intellectual property rights. While it can be costly and time-consuming, Rothschild advises exploring trademarks as a part of your branding. Trademarks are brand signifiers and are attached to a word, a brand name, or a logo to identify your goods and services.

On the other hand, if you're not ready or able to take that step just yet, copyright notices can provide a degree of protection as well. Copyright automatically applies to any original works you create, without any need to register. Putting a copyright notice on your work lets people know you're aware of your rights and are willing to fight for them. While sometimes getting a legal expert involved can be helpful, Rothschild stresses that it does not have to be the first step. Instead, he suggests artists try to be proactive and use the resources available to them.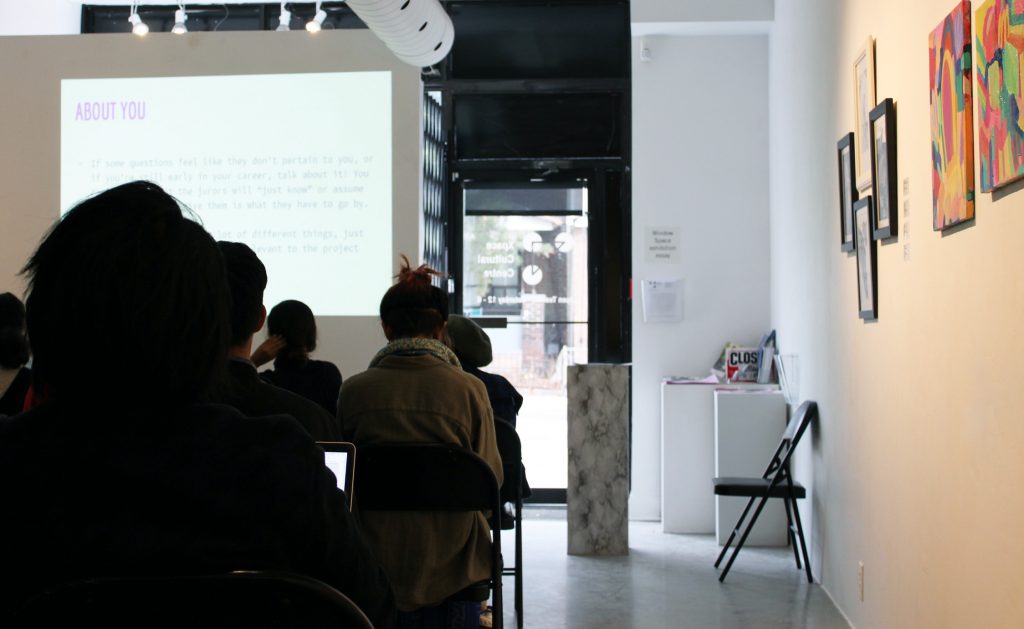 For instance, Canadian Artists' Representation (CARFAC) has several template contracts and minimum fee requirements freelance artists can refer to during negotiations with clients. If you think someone has stolen your work, you can take to social media or news outlets to bring attention to the issue, especially if the perpetrator has deep pockets that would make them difficult to sue.

If nothing else, a common theme of self-assurance seemed to resound amongst the speakers at the conference. Freelance artists should be able to exercise their agency without consequence. Confidence in your worth, negotiation, business, and intellectual property are all key to living your best freelance life.
"Don't be afraid of being 'difficult'," said organizer Geneviève Wallen. "It means you know what you want, and you know your rights."
---

Dhriti Gupta is a writer. She's currently pursuing a bachelor of journalism at Ryerson University and learning all the magic tricks that are involved in telling a good story.