According to the Oxford Dictionary, a curator is "a keeper or custodian of a museum or other collection." In the case of Lee Petrie, you can add a myriad of other descriptions to that – namely, "advocate" for the role she plays in putting the art community in Toronto front at centre at Gladstone House in Toronto.
We had a chance to get a special tour from Petrie of some of the many art works to be found in the hotel (which you can still catch on IGTV and also at the bottom of this article, including a special peek into some guest rooms). Here, she shares her journey into one of the coolest career paths in art, and some simple advice for new art collectors.
Who are you, and what is your role?
I'm Lee Petrie and I'm the Curator for Gladstone House.
What should folks know about Gladstone House?
Gladstone House is the oldest operating hotel in Toronto – we've been a landmark in the west end since 1889. The previous owner transformed the hotel into an arts hub, and that legacy carries on in the newly renovated hotel. We have work by more than 50 artists in the hotel right now, and that number will be increasing.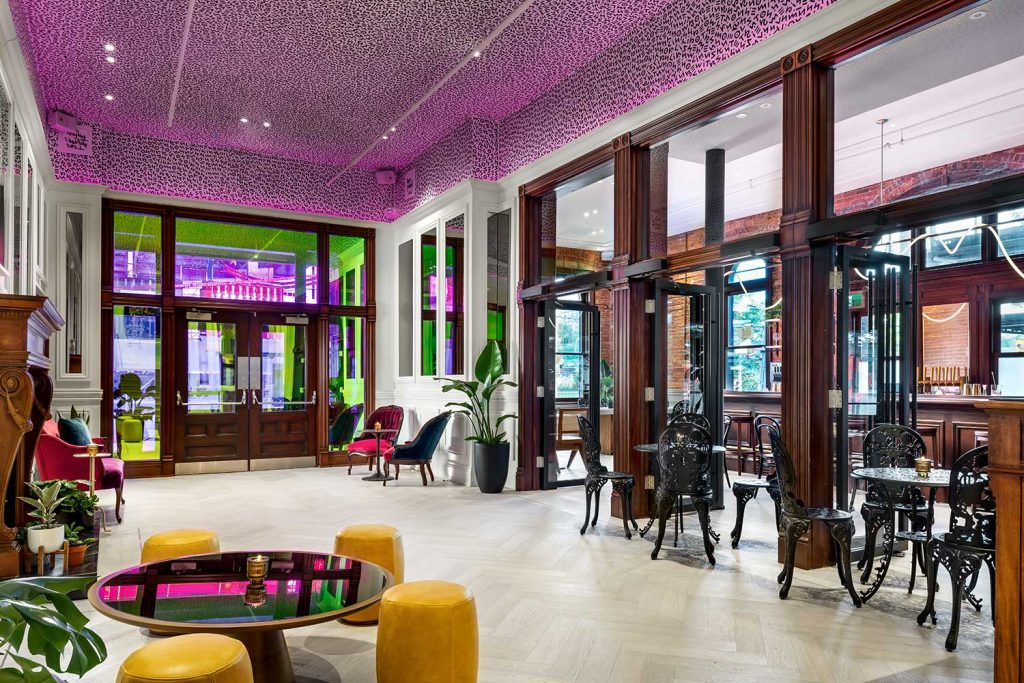 How did you first become a curator, and then eventually find yourself at Gladstone House?
Art has always been part of my life. I was fortunate to grow up in a home with original art on the walls, and my parents always encouraged my creativity with art supplies, art classes, and gallery visits. I realized that I was better at writing and talking about art than making it so I did a BA (at York) and an MA (at Queen's) in Art History, and then did a second MA in Museum Studies (at U of T). My first job in culture was at Black Creek Pioneer Village – I worked in the blacksmith shop, hammering hot steel in a full length 1860s-style dress! After that, I worked in art spaces – the Varley Gallery in Markham and the McMichael in Kleinburg – developing programs for adults and children. I shifted to curatorial work when I became the curator at Toronto Pearson International Airport – and that really cultivated my appetite for art in non-traditional places. After that, I worked at the Living Arts Centre in Mississauga, which had a gallery space and art studios. I'd been a fan of Gladstone House and regularly came to exhibitions at the hotel, so when the opportunity to work there opened up in the fall of 2018, I had to take it!
Tell us a bit about what your process was for choosing art for Gladstone House.
By the end of this summer, there will be art in all 55 guest rooms at Gladstone House. The first phase of the guest rooms project brought art to 41 rooms. We ran a call to local artists and received more than 500 submissions! I worked with two outside curators and from all those submissions, we narrowed it down to 41. Some of the artists not selected for the rooms were chosen for other locations in the hotel. I program the changing art spaces through invitation and calls. For phase two of the rooms, I'm working on partnerships, which is how we have a Partial artist in the hotel.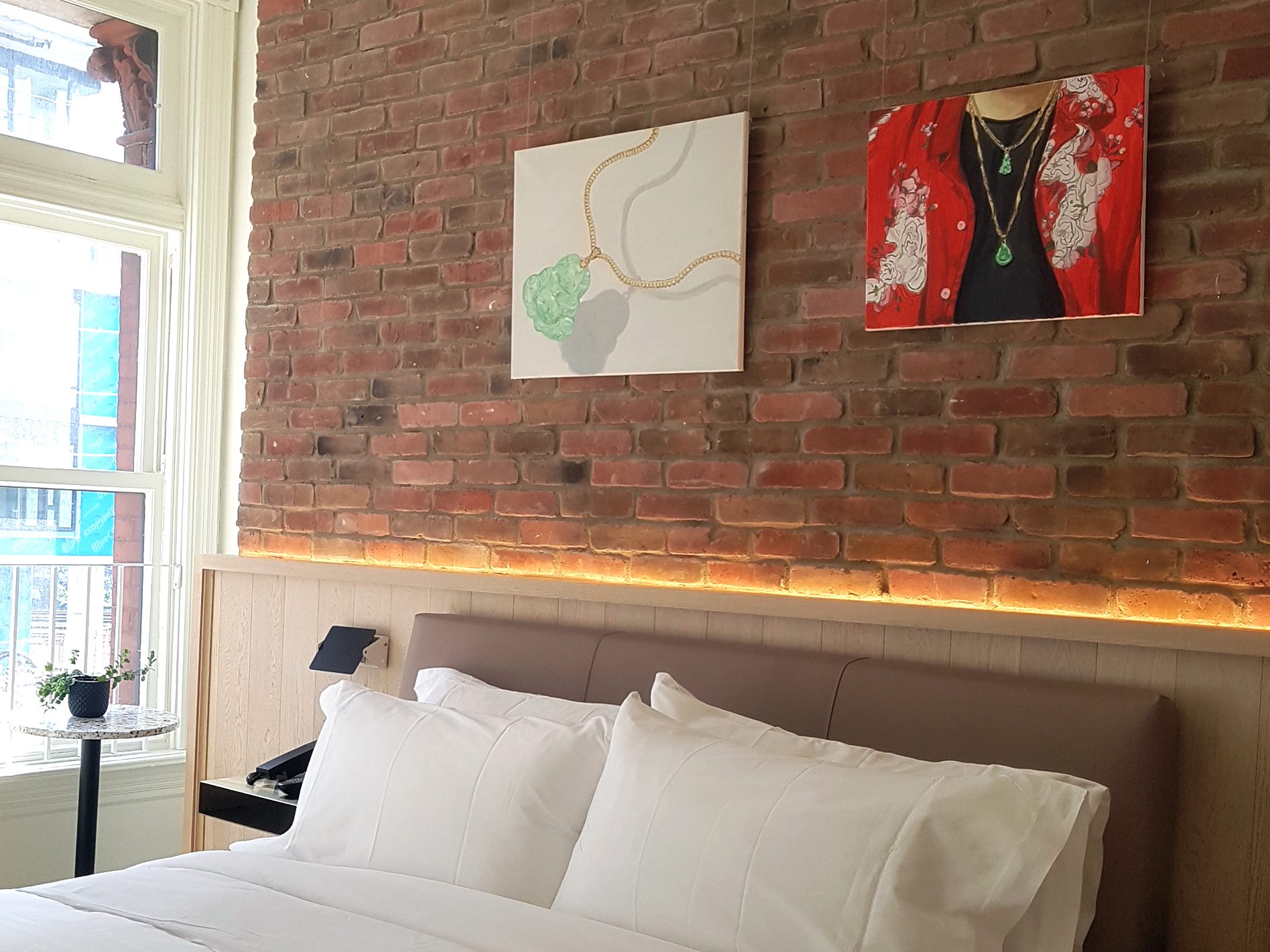 Do you have a favourite piece in the hotel?
I can't choose just one! I do love the experience of walking in the front doors of the hotel and seeing the incredible work on the ceiling by Bryan Espiritu, then a work over the fireplace (the current artist is Niyi Adeogun), then the work going up the stairway (currently Kristin Sjaarda and Gaye Jackson). You immediately see that this isn't a chain hotel, that there's something special happening and there are things to discover.
There is so much to see and do on Queen West. Do you have any insider tip for visitors to Toronto's West End or favourite spots?
Queen West is best experienced on foot. There are so many little places to eat and shop. One of my longtime favourite stores is Made You Look – they have an incredible collection of jewellery by local and Canadian makers, with pieces that are priced for impulse purchases up to custom-made, heirloom quality pieces. For afternoon coffee and a cookie, you can't go wrong at Major Treat – and you can get your hair cut in the back, at Town Barber.
What is your personal art collection like?
Larger than my available wall space! My husband and I both collected art before we got married, and we've made quite a few purchases together. I've collected a lot of works on paper, mostly editioned prints, but some drawings and photographs. We also have paintings and a few textile works. We have everything from colourful abstract work to landscapes, small to large.
NFTs – yay or nay:
Nay for me. I'm very attached to physical objects.
Who are some artists from Partial that you currently have your eye on?
Teri Donovan's figurative work is really beautiful. Devon Pryce's interior and exterior scenes are sometimes comforting, sometimes disconcerting. I love the energetic colours and shapes of Ester Pugliese's work.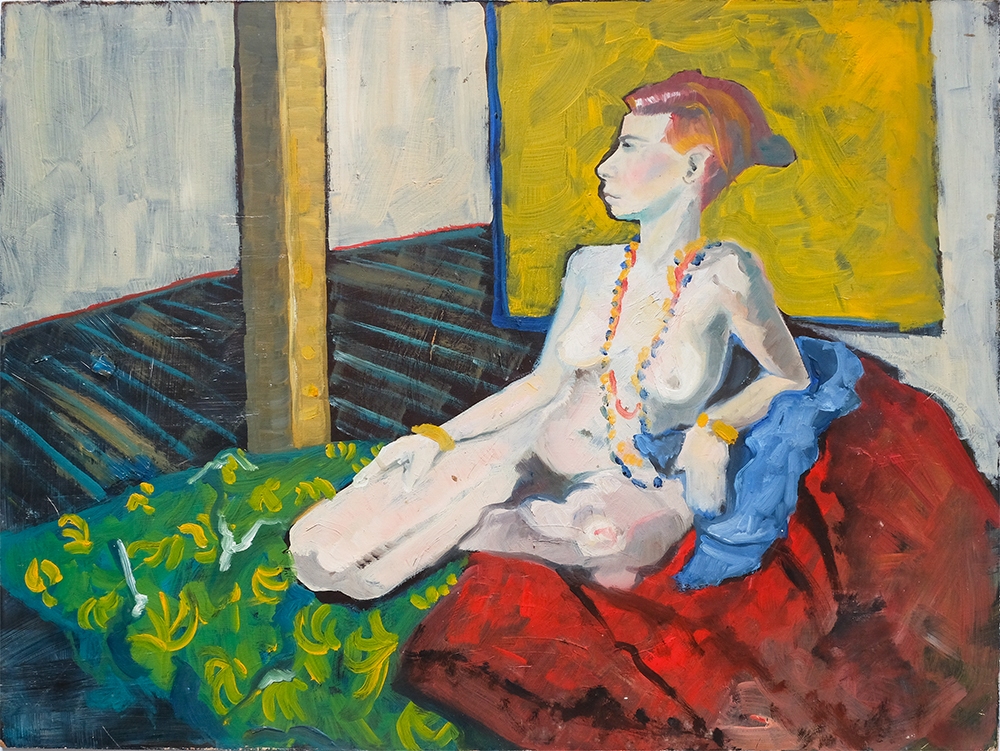 How would you describe the Canadian art scene right now? Where do you see it going?
I think we're in a process of reflection and change. Arts organizations and the people in those organizations are making changes to tell different stories and engage with different communities. We may not always get it right, but it's crucial to keep questioning, learning and trying new things.
What advice would you give to new art collectors?
The decision to buy original artwork is a fabulous first step! Look at lots of art – go to exhibitions and art fairs and figure out what you like. And you may like lots of different things – your personal collection does not need to be a thematic, curated exhibition. Buy what you like and what you'll feel happy looking at for years to come. I don't buy art as an investment tool – I buy what I love and the result is that my house is full of art that's beautiful or interesting or reminds me of a place or time.
---
Watch our behind-the-scenes tour of Gladstone House with Lee Petrie, and see all the ways to enjoy the space at Gladstone House on their website.
Gladstone House
1214 Queen St West, Toronto, Ontario, M6J 1J6
Call: 416-531-4635
Text: 437-372-5500
info@gladstonehouse.ca