In this series, we get to know the Artists behind the work with ten questions about their practice, their space, and their ideas. These are their Stories.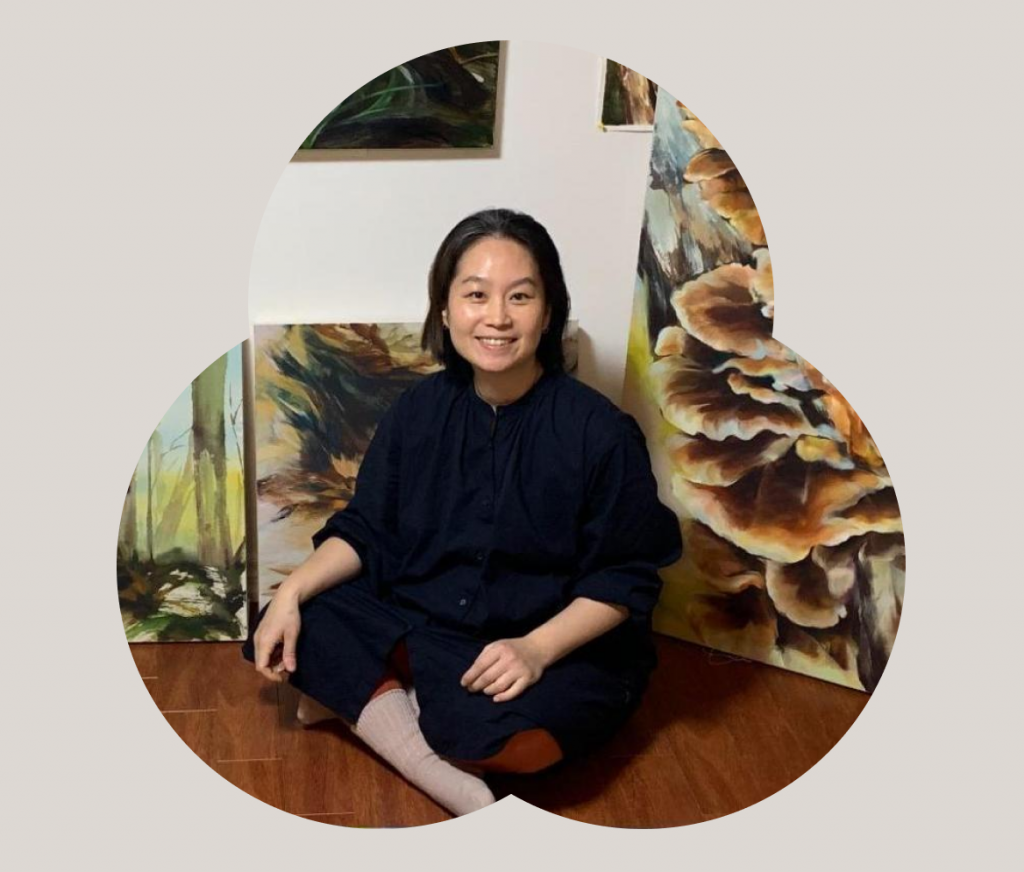 Sophia K. Kim is a visual artist and illustrator based in Toronto. Through her experience as a police officer in Korea and as a mother of three, her love and communication to ignored and devalued beings are constantly reflected in her art. Informed by her love of nature, she discovers unnoticed beauty, and dreams of a sustainable world. Her works focus on painting with a variety of materials – oil, acrylic, beeswax, and watercolour. 
What is the story of how you became an artist?  
From what I can remember, it was around the age of eight that I started enjoying and practicing painting. I drew pictures in a small studio after school every day. At that time, my teacher told me to become a painter because my brushstrokes were unique, which always lingered in my heart even when I majored in other studies, worked as a police officer and became a mother. Naturally, my free time was always spent on artistic things, and when I finally quit my job and my children grew up, I had free time. I couldn't think of anything else but to go to art school.
The natural world seems to be an integral focus in your work, can you tell us a bit about this? 
My interest in nature began when I raised my children. As soon as I immigrated to North Vancouver, BC, I gave birth to my third child, and always spent time in nature with him. It was a time of isolation among new languages and people in an unfamiliar land, but I could continue to communicate deeply with the magnificent natural world and the creatures in it, including my children. It changed my view of life because I had raced towards social success in the big city. In Mother Nature, I received unspeakable comfort and healing from movements I could not sense or notice, and the moment I expressed them on canvas was an aggregate of peace and sublime.
What is your process, from first draft to the execution of a piece?
Raising children is a busy job, so I keep thinking about my subject matter and researching in my daily life, such as when I cook, clean, tidy up the garden, and take walks with my children. I record them in pictures or take short notes. I also conduct research by reading books, watching movies or documentaries, and when I have time to sit at my desk and do something, I sketch with reference to notes and photos that I took. Sketches help me decide which images can move onto canvas. Then I paint with acrylic gouache and work again with oil on top.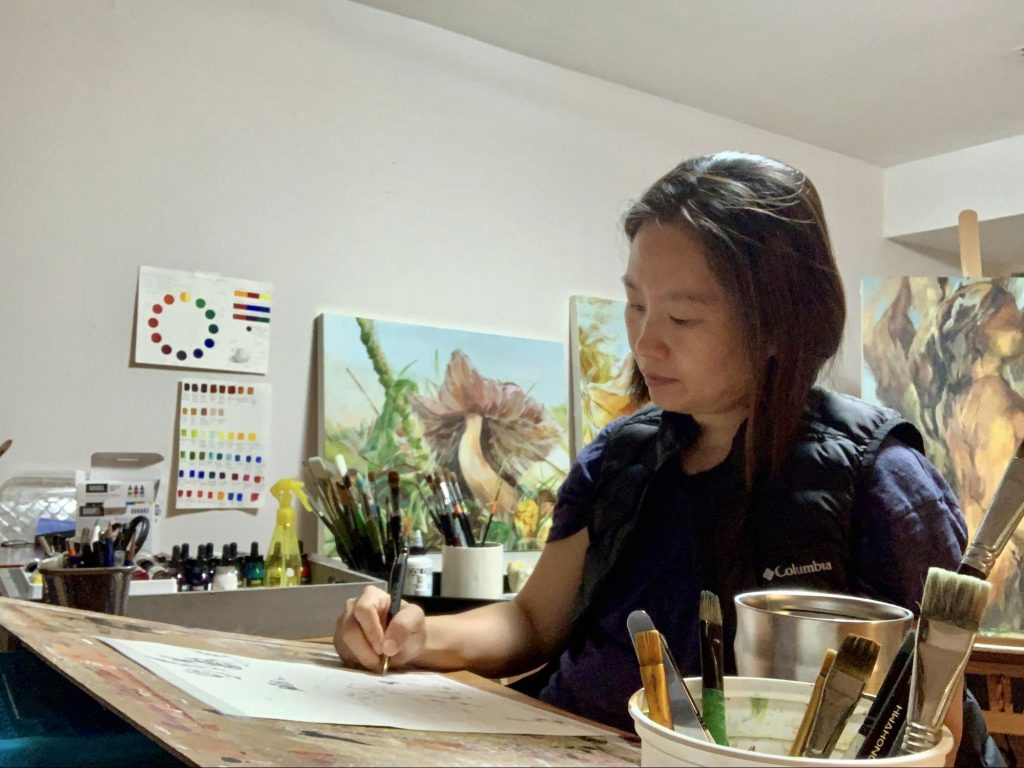 Do you ever paint en plein air?
Unfortunately, I haven't done it since class in my first year of art school. I really want to try it someday when my children grow up. Although it is outside the studio, there is a kind of restriction in painting work, which is attractive. I am looking forward to the changes in my painting that limited working conditions in open spaces will provide.
How did moving from Korea to Canada impact you as an individual and an artist?
The biggest impact is that I had the opportunity to investigate my emotions deeply in nature. I immigrated because of my husband's job, so I was cut off from familiar languages, jobs, and people. When I came to Vancouver I faced tremendous Mother Nature. As I walked with my child in the forest full of signs of broken trees and resurrected trees around us with social isolation, my thoughts seemed to move differently from before, which resulted in a positive improvement in my life and made me go to art school rather than find a "good job" from a capitalist point of view.
Where do you go for inspiration? 
When I was in Vancouver, I visited a place where salmon jumped and laid eggs. My favorite places were Othello Tunnel and the Capilano River. It's really sublime for salmon to keep bumping into the current and jumping. Now in Toronto, I walk nearby a ravine or go to High Park when I have time. When I'm lucky, I find new mushrooms. The forest is a mixture of death and life because the cycle of life continues. I reflect on my life as a mother in the forest.
What's one item in your workspace you cannot live without?
Flat brushes that I use most often when I paint.
If given the opportunity, what is your dream project?
It is to visit forests around each province of Canada, to capture the invisible movements of nature such as fungi and paint them beautifully, elegantly, and enormous.
What are you working on at the moment that you can share with us? 
I'm painting mushrooms and fungi that I started during my graduation season. I think about the invisible movement that fungi have in Mother Nature, the process of decomposing dead things into a new life, and the activities as a media of forest communication. Its fruit body, the mushroom, is a tiny clue of the constant movement of nature that humans can sense. I'm fascinated by the many wrinkles, and the mysterious colors of the beautiful creature that arose during the night. I find myself painting them like a beautiful flower on canvas.  Since I gave birth five months ago, I haven't been able to work on all the things I planned and sketched onto the canvas yet. I'm not in the condition to do a big job while taking care of my baby, so I'm continuing to study by painting in small sizes with watercolour and acrylic.
Do you collect art yourself? Who are some of your favourite artists?
I'm very sympathetic to Clair Sherman's view of nature, and I love her bold, dense brush strokes. I often study colours by looking at Katharina Gross and Andrew Wyeth's paintings. If I could, I'd hang a picture of Clare Sherman in my living room.
---
Do you want to be featured? Join Partial as a Pro artist and e-mail us at hello@partial.gallery. We'd love to share your work.