In this series, we get to know the Artists behind the work with ten questions about their practice, their space, and their ideas. These are their Stories.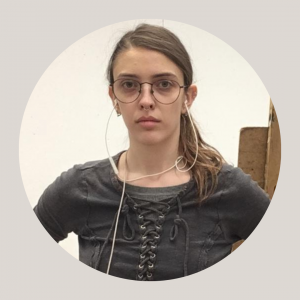 Nadiya Svirsky is a multidisciplinary artist working primarily in printmaking, painting and sculpture. Born in Dnipropetrovsk, Ukraine in 1996, Svirsky has been living, learning and working in Toronto, Canada since 2002.
Svirsky's main preoccupations lie in themes of memory, in-betweenness, heritage, and depictions of moments that connote the passage of time. Svirsky's creative practice (mainly comprised of multi-plate etching, oil painting and lithography) is intrinsically tied to the process-based nature of the works that she makes – working and reworking images in variation through painting and printmaking mirrors the mental and emotional processes of retrospection itself. Through these processes, Svirsky explores the tension created by trying to depict or preserve something so elusive as memory.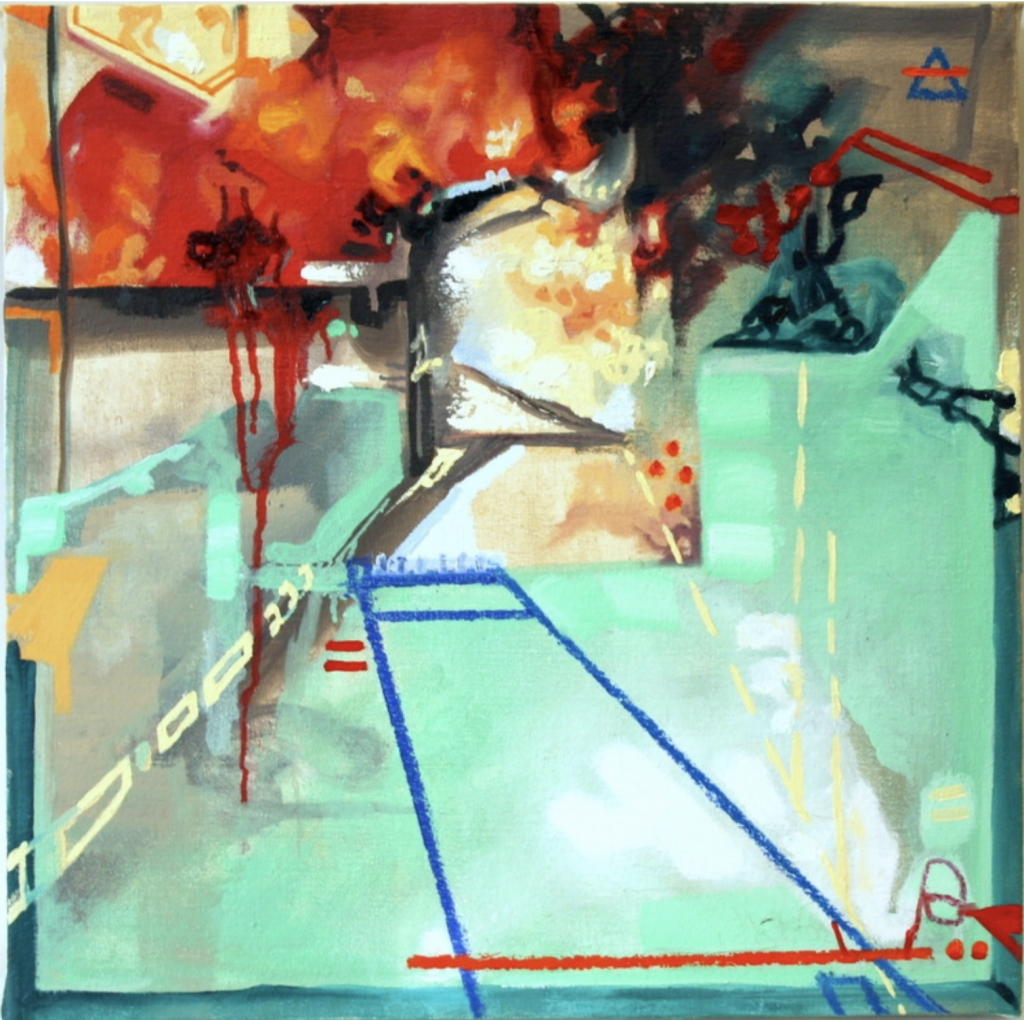 How long have you been making art?
I've been making art for as long as I can remember, really. I have been drawing since I could hold a pencil, and I started with watercolour around five or six years old, using a watercolour palette that belonged to both my dad and uncle when they were kids.
Can you recall the first artwork you made? Tell us about it.
If I have to pinpoint a moment when I would consider making my first "serious" work, like art with a capital "A", it would have to be a painting I made when I was fifteen years old as a student at Etobicoke School of the Arts. It was a large oil painting; a self-portrait of myself sleeping in a hammock that my father and grandfathers would always set up for me when I would go to visit family back in Ukraine in the summers. It was my first time reflecting on my upbringing, heritage and family history; how unaware I was of the efforts and struggles and histories that made up my lineage.
How did growing up in Ukraine and moving to Canada influence the work you create today?
It shapes my entire practice, I think. My experience as a post-soviet childhood immigrant extends over a great deal of my practice. I think going through that process lends a certain sensitivity to anything having to do with liminality, in-betweenness, heritage and so on.
You explore themes of memory and depict moments that connote the passage of time. Where do you draw these memories from that then become inspiration for your work?
Much of my source imagery has personal roots, whether it is photographs I have taken of my past childhood or family homes, or photographs of architectural 'landmarks' from my birth city in Dnipropetrovsk, Ukraine. I dwell on the notion of places left behind, where I used to be from but don't belong to anymore; places that are functionally inactive but act as portals to the past, to a sense of heritage, historicity… This experience has led me to become fascinated with the phenomenology and the yearning affect of spaces such as stairwells, tunnels, construction lots, decaying buildings – particularly the way they feel symbolically potent with ideas of transience, liminality, and meaning multi-dimensionality. My research has led me into the process of working with such imagery repetitively, letting my processes become self-reflective over time.
Tell us a bit about your art-making process, from first draft to the execution of a piece.
It varies from piece to piece – to delineate all my work into clear-cut projects is difficult. Generally, I start with some source material consisting of one or a few references, then a very rough drawing usually follows. Lately, I have not been doing very much preliminary drawing or making intentional studies – often I end up making works that become studies or research for further projects after the fact. I like to leave room for the work to develop while I am making it, and I leave a lot of room for paintings to brew and marinate, if that makes any sense. But in plainer terms – I usually start with several reference images, have a rough sketch of what I want them to do, figure out most of it as I work (sometimes taking long breaks in certain works) and frequently returning to work on new iterations of previous source images, building new work on the foundation of the old. This applies to my printmaking practice and painting practice alike.
How do your mediums of choice lend themselves to the subject matter of your work?
I think that for myself, working with images through painting is akin to re-remembering and building over – I am consolidating fragments of memories and layers of experience and meaning about a single place or subject into one image, which becomes more abstract and multidimensional – a kind of memory bricolage that becomes more than the sum of its parts. Working with images through printmaking allows me to open up and expand the layers of imagery and create varied editions of prints that are able to express multitudinousness of meaning. The repetition and process-driven nature of printmaking lends itself well to the repetitive, fragmented, layered and repetitive nature of the formation of these memory realms.
What do you listen to when you work?
It's usually a mix between music and audiobooks. I have vivid memories of listening to a Radiohead CD over and over for weeks when I was working on the aforementioned hammock painting. I also have spent many hours listening to Sherlock Holmes audiobooks while I work – it's a point of childhood nostalgia and comfort for me.
What's one item in your workspace you cannot live without?
I would have to say, my old watercolour set that used to belong to my father when he was young. I don't actually use watercolour very frequently but it's the item in my studio that I've had the longest and that I am most sentimentally attached to. From a more practical angle, having a large corner table is something I never want to give up.
If given the opportunity, what is your dream project?
I find it daunting to come up with an ultimate creative goal or dream, but right now I definitely have a few aspirations towards being able to work on a large scale in painting, like Anselm Keifer type of large. I think it would be incredible to have the time and resources to be able to create something immersive and confronting like that.
What's 1 thing you recommend us do, see, experience, or enjoy? (could be absolutely anything!)
Please watch some professional Georgian folk dancing. Those guys really know how to throw down some moves.
---
Do you want to be featured? Join Partial as a Pro artist and e-mail us at hello@partial.gallery. We'd love to share your work.