wonderandstory.partial.gallery
Toronto, Ontario, Canada
In this series, we get to know the Artists behind the work with ten questions about their practice, their space, and their ideas. These are their Stories.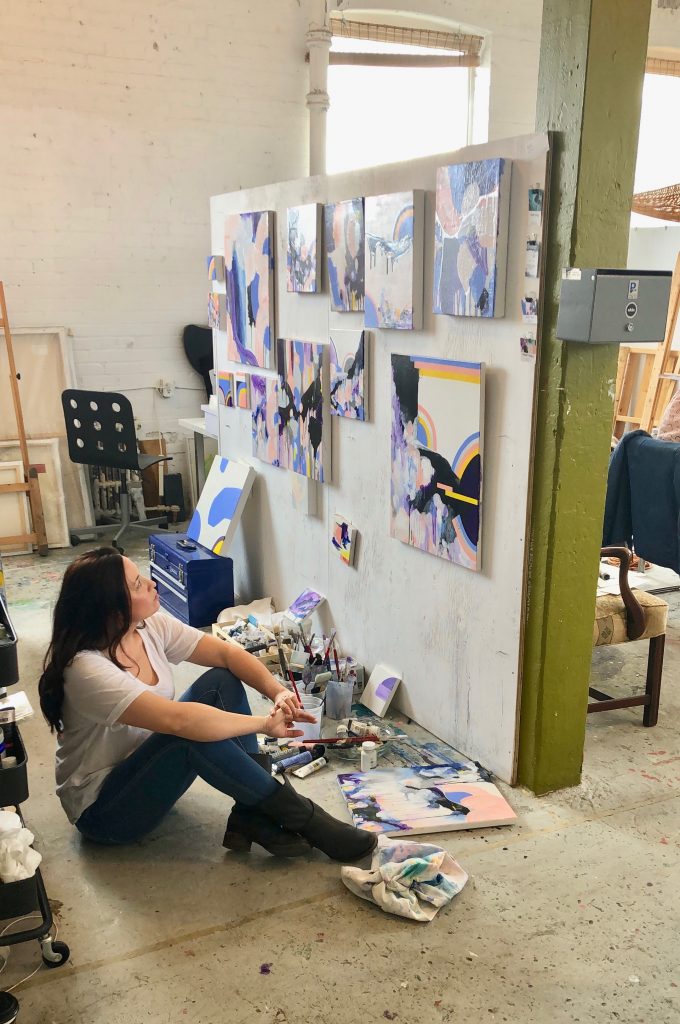 Self-taught artist Linds Miyo is a Canadian abstract painter. Born and raised in California, her work strives to evoke the strong, direct light of her childhood. A trauma survivor, Linds is interested in the balance between intention and that which is beyond our control, the meeting place between our best efforts and happenstance. She often uses broad representational panes of textured black in her work, washing layers of colour over top – folding the dark relief of the past into multi-dimensional present-day, with honesty, happiness and sparkle.
Linds Miyo lives and works in Toronto, Canada.
How did you start painting and working with mixed media?

I've painted my whole life, it's been a journey. I never thought that art could be a path, so I took on all sorts of other things. I thought of my career as "art-adjacent" – design work, creative direction, creative production. I co-founded a magazine early in my career, which was a huge creative challenge. A few years later, I slowly transitioned from publishing into advertising and branding. This was all great, but it didn't leave much time for open creativity, and after having my kiddos, and I wasn't in the headspace to go back to advertising. I was kicking around the idea of painting, and I happened to meet a curator, Ashley Mulvihill (who has since founded Ninth Editions) at a mommy meet up of all places. She said some nice things about my work, and encouraged me to contact Akin Collective about studio space. I didn't think affordable studio space was even existed in Toronto. Having space to work changed everything for me, I'm so lucky to be able to play and experiment here. I have so much gratitude for Ashley and Akin for getting me started. And I have room for all my stuff in the studio, which is a lot when you work in mixed media. It's been less than a year, and it looks like I'll have at least 5-6 shows this year. I have no idea what I'm doing, but I love making the art!

What was the first art piece you created?

I did my first painting on canvas when I was 8. The paint was those old school plastic pots all attached in a long strip, where you can't open more than one without dumping the whole thing. And I had one, awful brush and no clue where I got the canvas from. I didn't have gesso, so I reused a canvas by covering it in newspaper. Newspaper!! But I still have the painting. I love it. And it's me, you can see my style peeking through already.
Why do you create art?

Art just makes sense to me. It calms my brain, I get into such a great flow when I'm painting. I'm a trauma survivor, so accessing that calm and flow means a lot to me.

What is your art process, how do you begin?

Most of my paintings start with the Black. I love Black chalkboard paint; its heavy texture and drip that just resonate with me. I think of the Black as my foundation, as a fresh beginning.
I think of the Black as volcanic ash that now supports new life. The Black is a forest fire, burnt ground that is now fertile for discovery. They are the past. I decide what comes next.

I add colour, washing it over the top. I paint around, over just a little. I make the Black a beautiful part of a larger whole, absorbed into something bigger, with colour, light and soul. I decide what colour. I add glitter and varnish on top of the past. It's how I make the future.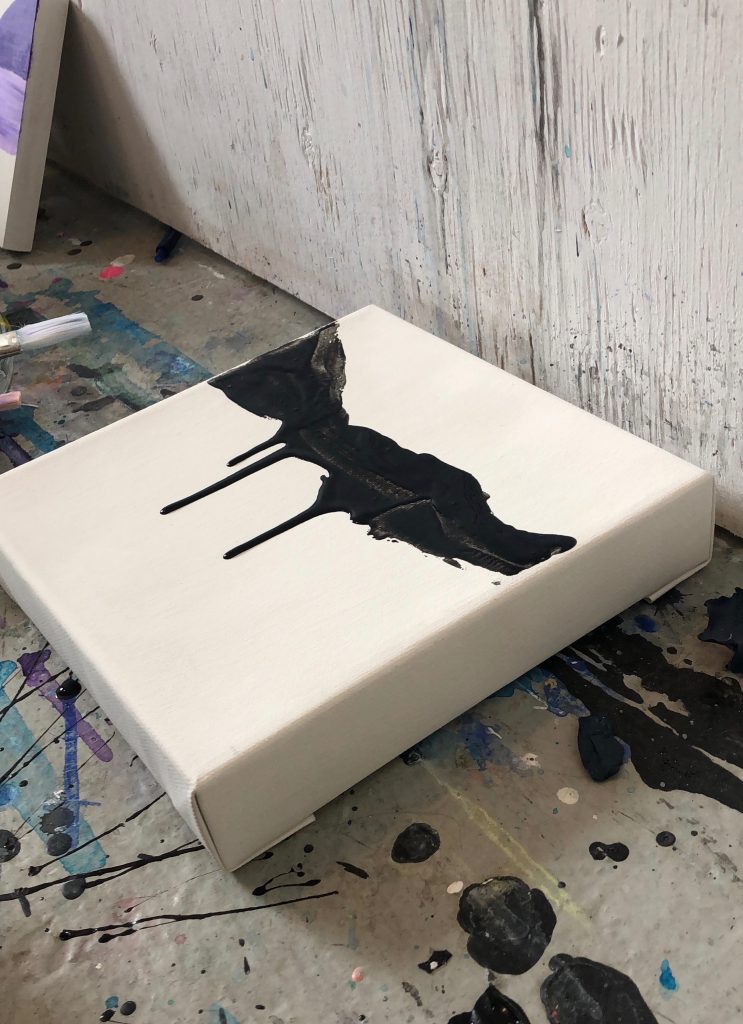 What inspires you to create your art pieces? What do you want your art to express?

Like so many others, I'm a survivor. I've had to overcome. The Black is Me. It's everyone who has ever gotten to the other side. Art builds that bridge for me. And I think that everyone has been through things, had that experience, where they ask – is that it? Is this all there is? I make art because I believe there is more. We all need more. We need wonder, and beauty. We need light and color that expands our perceptions, which shakes us out of our predictable routines. I want to create that story. I want to engage with joy, celebrate color, moving forward with the power and energy to do anything. There is more, and I think artists light those paths for us. I hope my work communicates and communes, adds something to the conversation.

Who do you make art for? Do you have a dream client or type of client in mind when you are creating?

My art is very personal to me, and I want it to be in the hands of people that love it. LOVE it, all caps love. Big statement time: I want to make art for real people. Not just extraordinarily wealthy people, not just people that see art as "an investment", but real people – people making career changes, couples just starting out, moms with kids, families, people in tiny condos, and anyone who knows good art when they see it, but can't spend a boatload of cash on it. Art for the people – people that probably don't always think they can buy art. I want to make art that brightens your day and makes you smile when you see it. I don't want you to go broke buying it, I don't want it to be a struggle. Part of the joy of owning good art is being able to afford it. And being able to try that art in your home, to rent and commune with it in your space? It's genius! Partial Gallery is like my fairy godmother for offering this platform for my work. I'm just so thrilled at the possibilities.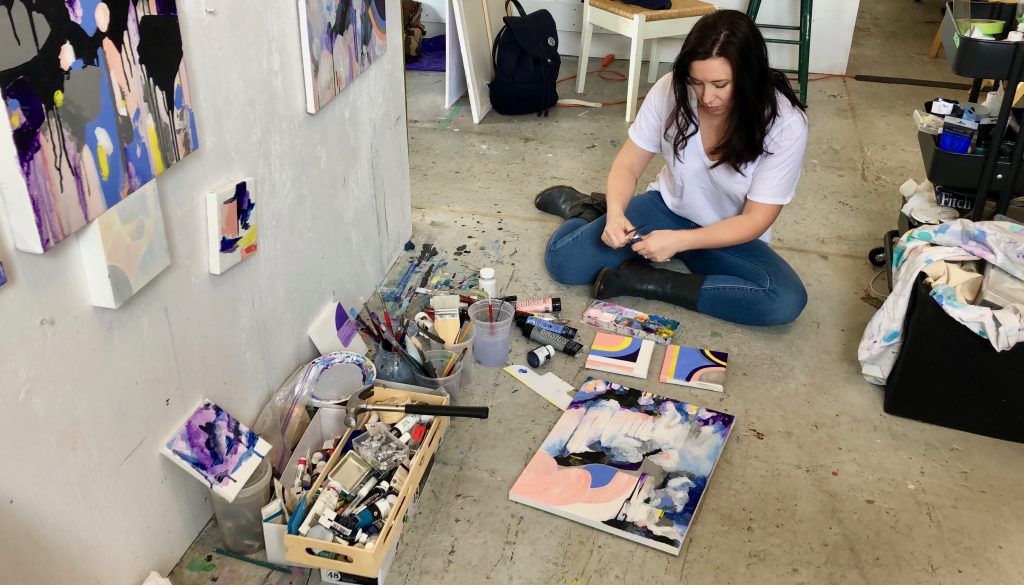 Do you ever have a moment when you find it difficult to create art?

Not so much now, but in the past, yeah, for sure. I've had years and years of finding it impossible to make art. A lot of it was feeling that it wasn't what I was "supposed" to be doing, fearing judgment. Then I definitely had some relationships where partners had certain expectations. My art was very private, mine alone. But, there was more than one, say, "writer guy", that would be like, "oh, wouldn't it be so cool if I was a writer and you were an artist?" I never wanted to be put in that box. And I wanted my art to be authentic – for me. So I kind of avoided art, locked it away. If it wasn't mine, I didn't want to do it. And I wasn't ready.

Are you ever unhappy with an art piece you have created?

Constantly. I think that's the natural condition of being an artist. Even if I make something and LOVE it, if I see it again later, I'll critique it to pieces; oh, I could change this, that, I should have done it some other way, that would have been better.

What are your favourite supplies to use for creating new art?

Chalkboard paint, acrylics both thick and thin, and nail polish. Lots of nail polish.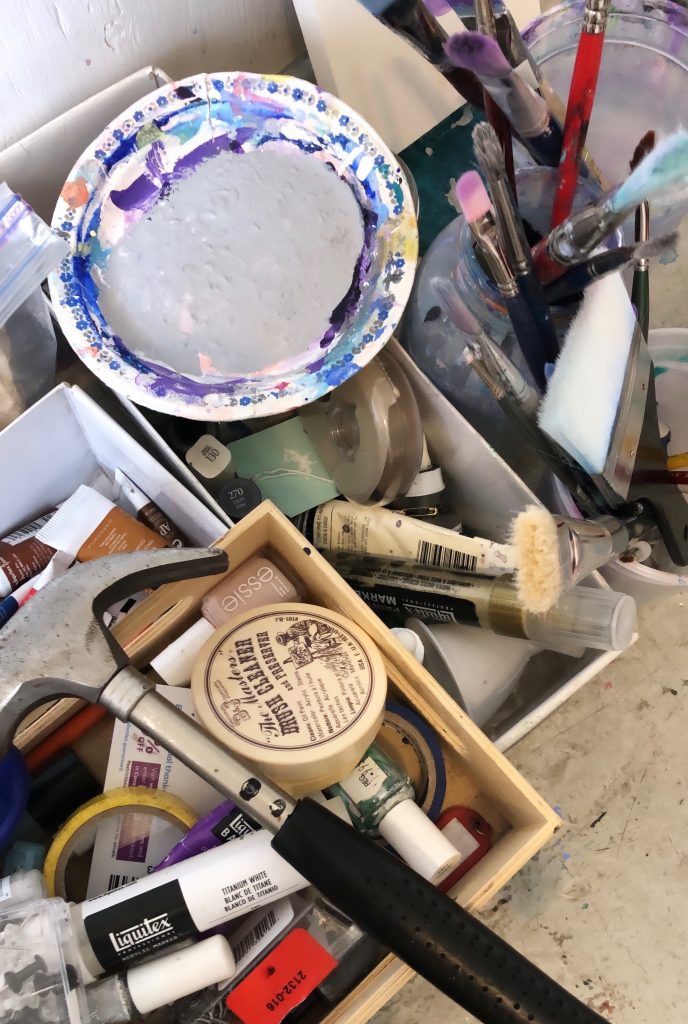 Have you ever tried using different mediums to create your art?

Ha. Yes, maybe too many different mediums. I used to just throw anything on a canvas, but I'm slightly more conservative now. There have been some spectacular messes. Sometimes I work on paper just to pull it back to acrylics only – good clean work.

If art was never part of your life, where would you be?

Um, well, life is art. Art is life, and life is art, and I have no idea how you would separate the two. Love is art, and so is cooking and good food. Breathing is art. There is art in parenting, and traveling, and making a home. Art is everything.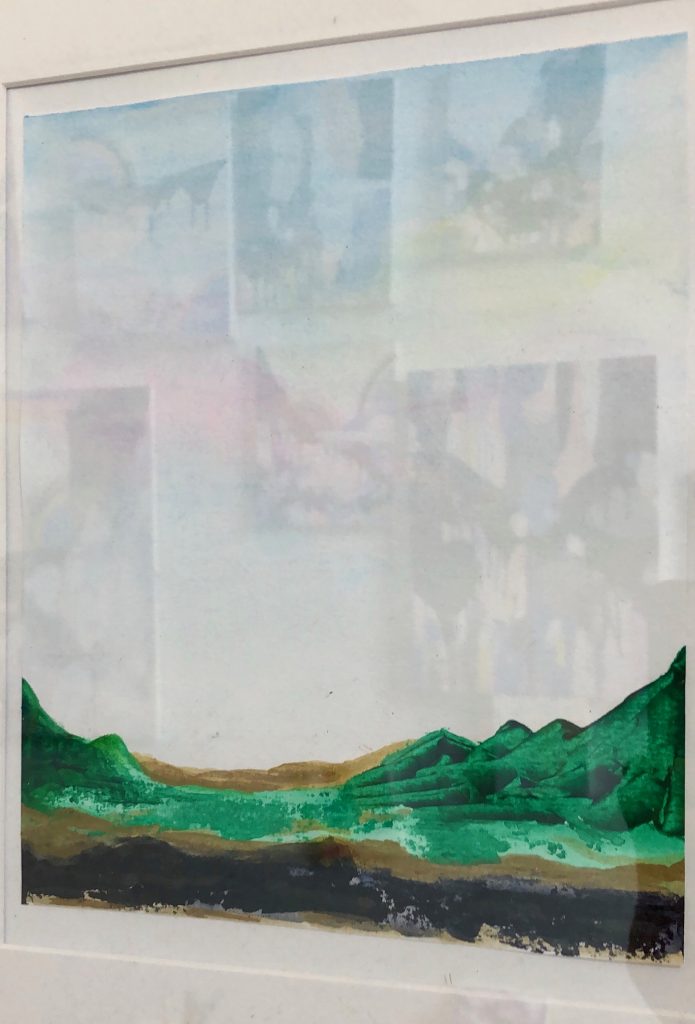 If I remove the philosophy from this question, my answer still wouldn't change much. Like I said before, I've always been a creative person. All of my endeavours have been creative in nature. Now I'm a mom, which probably calls for more inventive ideas and improvisation than any other job I've had. My point is: you can't take art out of any of it. All of it needed my eye and my vision to work. Without art, what is left? Binary code? I think there is still an art even in that.

How do you spend your time when you're not creating artwork?

I'm going to reverse this question, and answer how I make time to make art! Right now I have maybe three days a week in the studio. I have little kids, and only part-time daycare, so it's still a struggle to get in my studio time. If I have to take one of my babes to an appointment or something, pfft, there goes my day. So I spend most of my time with my littles and taking care of my family, and I fight to carve out time to make art. I use my 3 days, and a few nights here and there… but even if I can't get to the studio, I'm still working on the business of art – there's a ton of communications, submissions, applications, etc. It's never-ending. I probably spend more time on that than making the actual art.

How would you describe your style or art in 5 words?

Open, honest, strong, true, different.

Where do you find inspiration?

I'm inspired by everything! Absolutely everything. Toronto is a huge inspiration to me, just walking around and people watching. I love nature, I love street art, I love water, I love food. Toronto is awesome for all of that. People and relationships are a major influence for me… It's so inspiring to watch my kids play, to see them learning and growing. Kids are art, for sure.

When you are working, is there anything you listen to, to help focus?

I always have music on. I tend to listen to the same stuff over and over; I get into a rhythm with it, and usually music that's a little different than what I like when I'm not working. Right now its all Hozier, or the National. Both are excellent to paint to.

What are your favourite spots in Toronto?

Westside Girl all the way. Favourite spots? There are so many! Capital or Wallace Espresso for coffee. And I love Plentea! Pretty Ugly for cocktails, or Oddseoul… I like to get San Remo doughnuts and take them out to Humber Bay Park. I like to drink wine with my partner in Bellwoods. In the summer I have a whole circuit of farmers markets… All my fave spots are part of a special experience, unique to that time and place.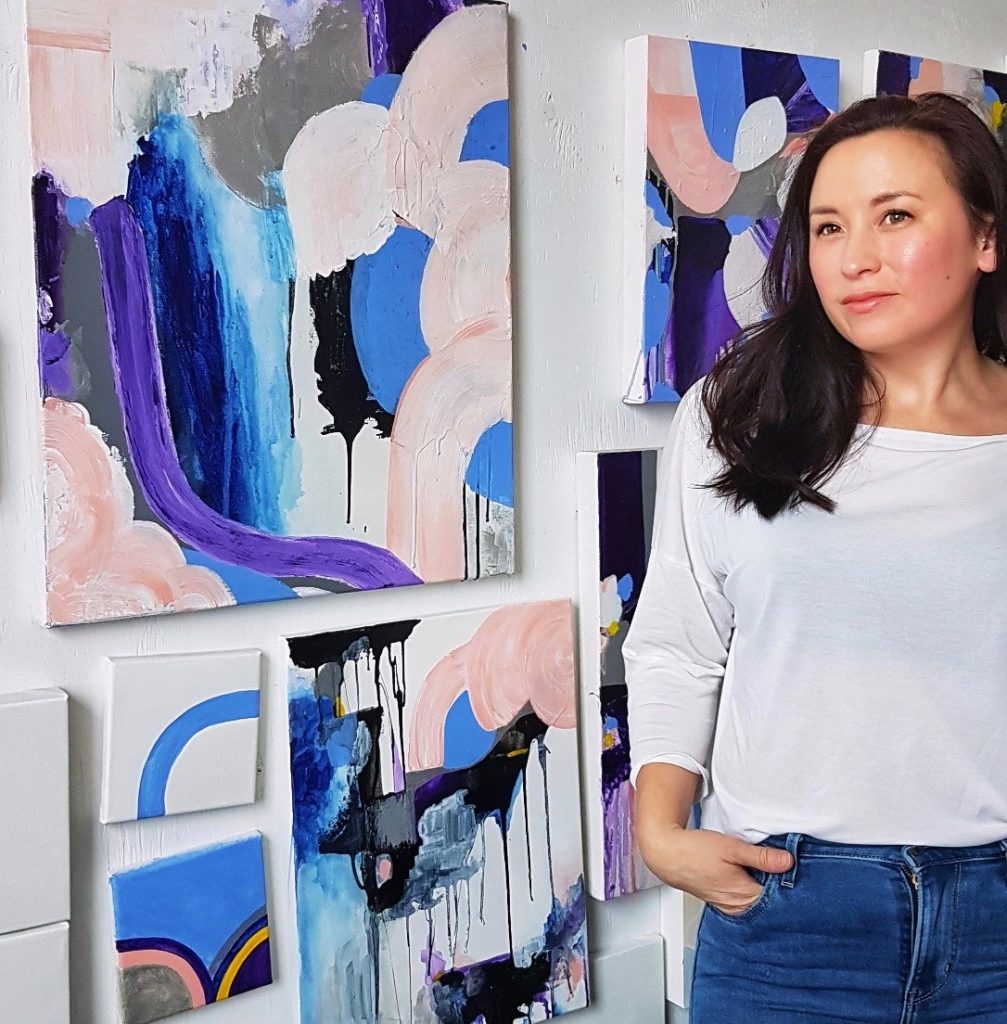 ---
See more of Linds' inspired artwork here:http://wonderandstory.partial.gallery.
Do you want to be featured? Join Partial as an artist and e-mail us at hello@partial.gallery. We'd love to share your work.