In this series, we get to know the Artists behind the work with ten questions about their practice, their space, and their ideas. These are their Stories.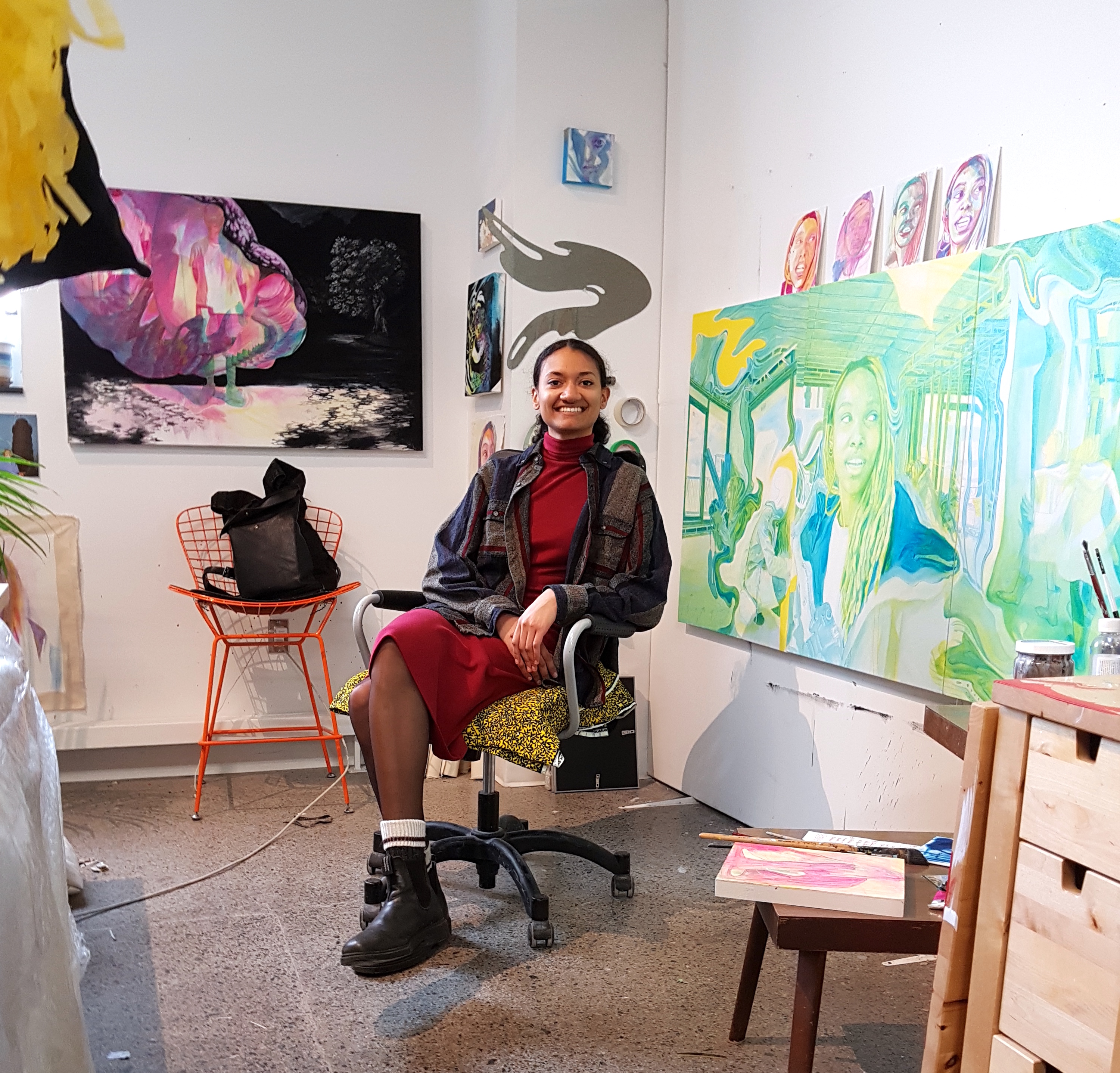 Leone McComas is a Canadian-Nigerian Artist, Muralist, and Designer. She is Toronto-based, London (UK) born, and bred below sea level in the Netherlands. Her painting practice examines ideas of the self and the internalization of social ideals; observations of which are used to create conceptual relationships between figure and post-digital landscapes. Following a growing sense of artistic responsibility, Leone now creates work from her source of life to counteract the increasing presence of anxiety, social polarization, and emotional fatigue.
---
Describe why you chose your particular medium?
It's the way painting leads me into an introspective headspace and expresses more than I'm conscious of that makes it my medium of choice. It's a contemplative act; a visual language guided by skill and tied to the subconscious via intuition. It's beautiful to think that we connect subconsciously when we're intuitively drawn to a painting because it confirms a collective experience. It's wilder knowing that behind every aesthetic decision is a revelation on the reason why. Therein exists an inescapable honesty to painting; an openness that is both fascinating and terrifying to me because that awareness is not just for myself–it's available for everyone to consider. Multiple layers of narrative and experience in a single frame.

A reason why I use oil paint is specific to my desire to make paintings luminous; I re-developed my painting technique around this effect and now I use oil paint quite untraditionally. In my experiments with transparency, I settled on a colour theory that would allow me to layer without losing a colour spectrum. Are these not visual metaphors for honesty? Which leads to a bigger question: why is it so important for me to be honest?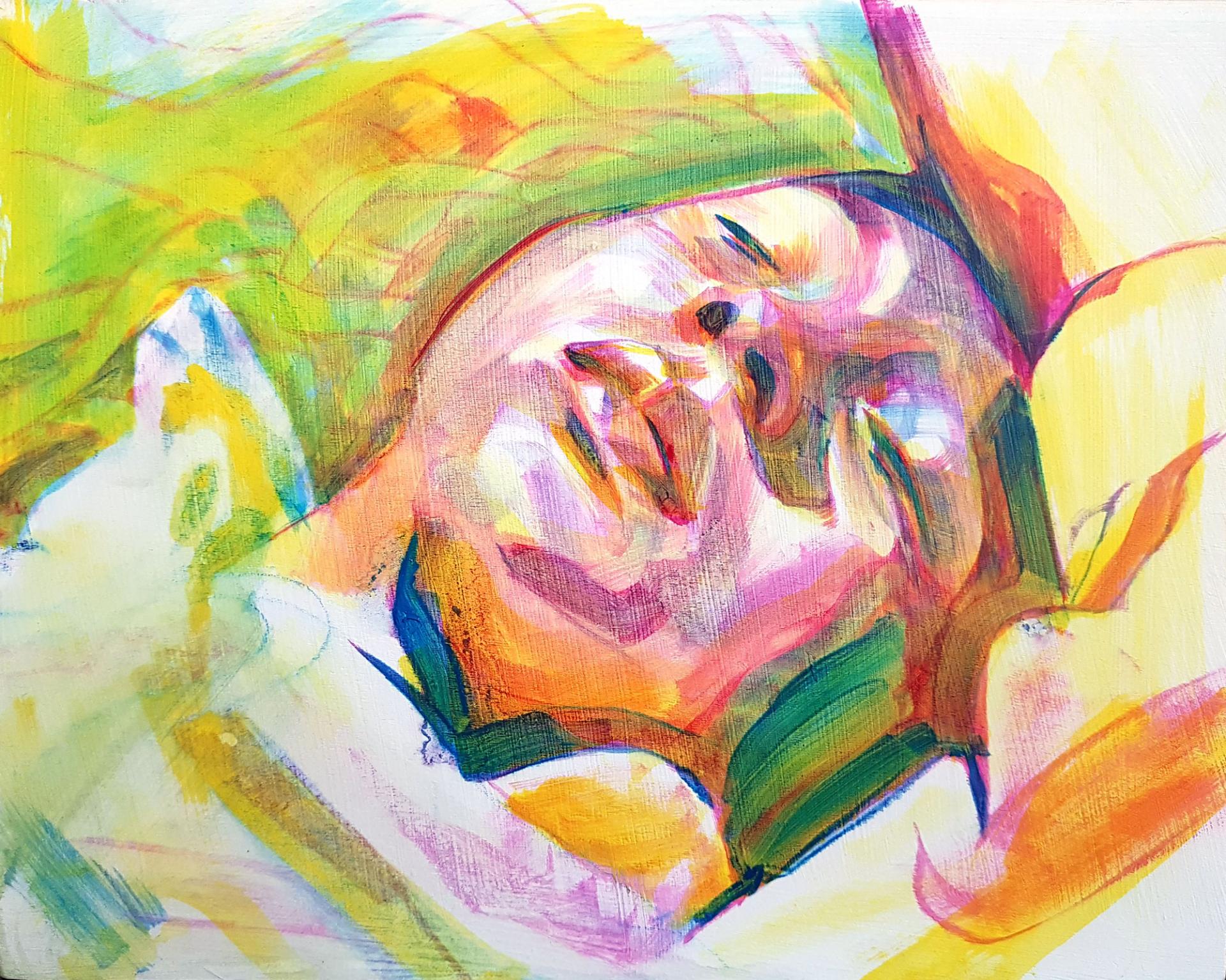 What was the first art piece you created?
I look back on my kindergarten 'pasta sur paper' pieces quite favourably. Jokes aside, when you're young and less conscious about failure or judgment, "art" happens all the time.

The first time I intentionally set out to make "Serious Art" was in my 3rd year during OCADU's Florence Studio Program and there was some delay as I was actually enrolled in Design. That year my re-ignited dreams of becoming an artist were jet fuelled by every historical Italian Renaissance maestro and extraordinarily cheap brie. I set out to make massive paintings and create work to reflect the zeitgeist (**great art**), eventually tripping up on and unpacking an ideology that had affected most of my youth in a series called "L'A(r)mour". This opportunity to thoroughly explore ideas through art became a reference point for what I create today.

Why do you create art?
Because I discovered art is a powerful way of processing the world around me and giving a platform for others to assess their own – but also because art captures experiences that we don't yet have words for. It took me trying to quit in 2013 to fully understand why I need to make art beyond just being able to make cool things that impress people. It's where I can make the most social difference. Also, words are not my weapon of choice for storytelling; truly, the more creative I get, the more nonlinear my thinking process becomes – and mind maps make for terrible ghost stories.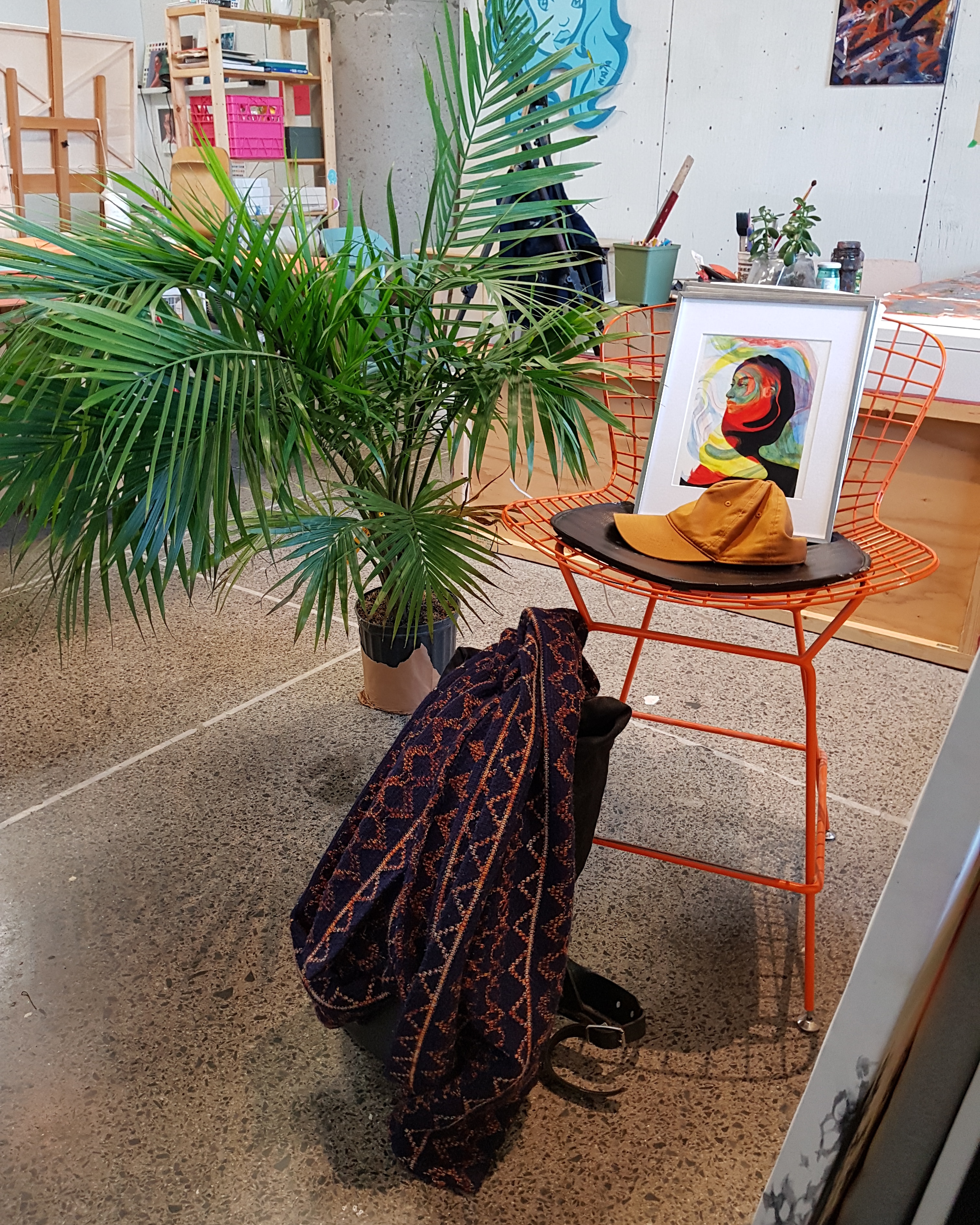 What is your process when starting a new piece?
Depends on the project! In practice it's never without coffee, and only after all the snacks within arms-reach are gone. I always start with a sketch to ideate, familiarize myself with the "essence" of an image, and lock down a compelling composition. However, I'm very averse to painting studies before the final piece because energy is lost in perfection – and often that's the source of a painting's liveliness.

What inspires you to create your work?
I've found the key to compelling work revolves around the paradox of holding two (seemingly) opposing truths. It starts with a question that holds considerable tension and feels like an iceberg of unknown depth simmering above the surface of my consciousness. Through painting, I can unpack it, and when it's a series I keep going until the question is satisfied.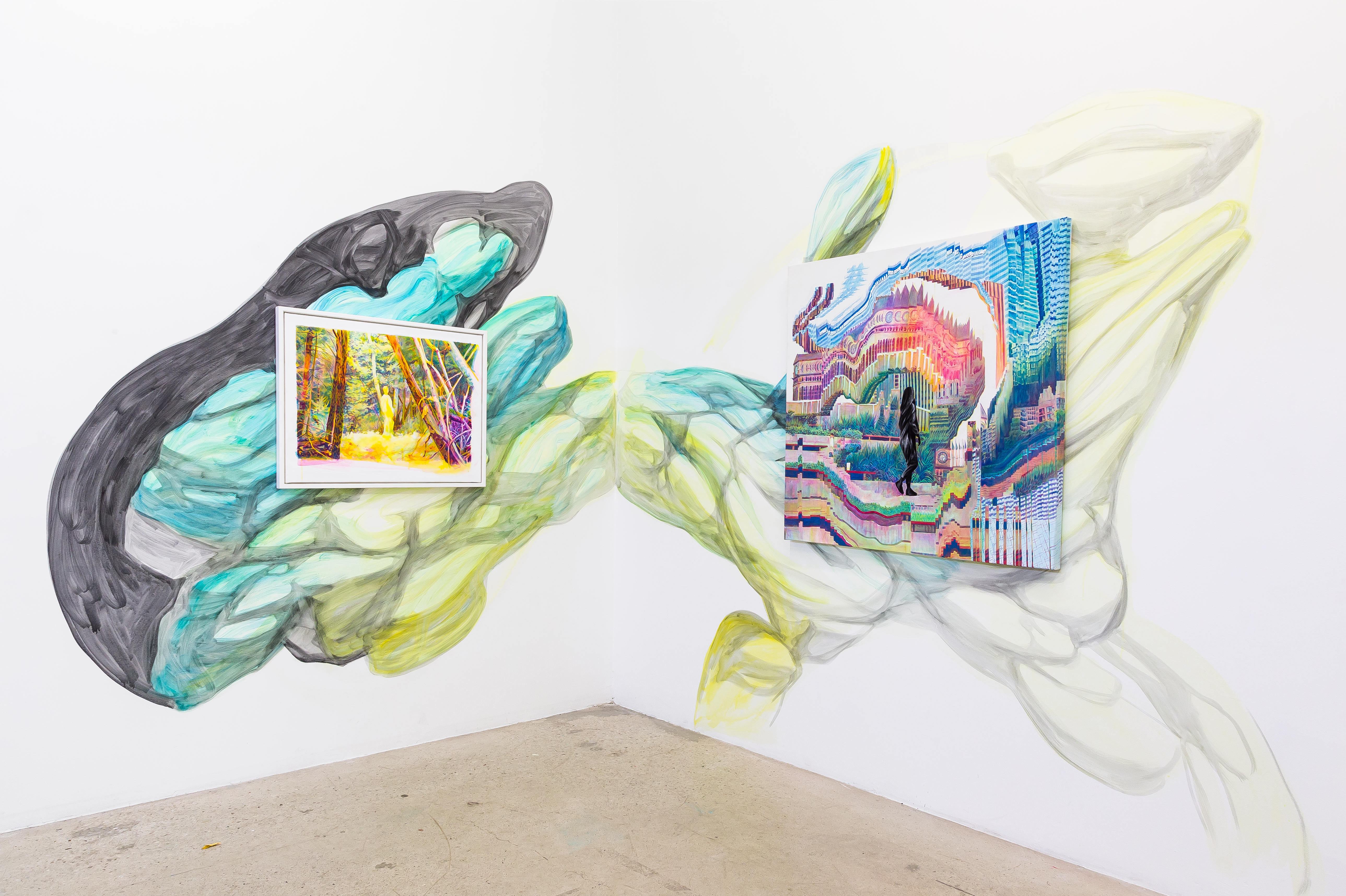 Diving deep takes a toll though, and I'm not sure creatives should always be in that headspace. So my other creative motto is "combine and conquer", and that's where I'm simply connecting ideas and creating new experiences. For example, my series "Black and Reflective" takes two painting formats (landscape and portraiture) and combines them to develop a non-static understanding of representation. The result is an interplay between ideas of self, the relationship between artist and muse, and identity.

I'm also spurred on by a backlog of ideas as there are few things more burdensome than carrying unmade art. [Raquel Kirk edit: backlog literally, as you stack logs in anticipation of igniting a fire].

What do you want your art to express?
Resilience and hope. A few years ago I had a moment in front of Francis Bacon's paintings where I could really feel his turmoil. It was so palpable; so much so that I could see the turmoil at work in the audience. In that moment I fully understood that the viewer is subject to reliving the energy artists put into paintings – long after the artist moves on. Work that comes from pain is powerful, but in our age turmoil isn't fleeting… it's almost inescapable. At a certain point, reinforced turmoil produces a debilitating sense of inevitability. Not succumbing to modern despair is a daily struggle, which is why I want to create work that elevates the viewer above daily strife. Regardless of the subject, I want my work to resonate with the tenacity of hope.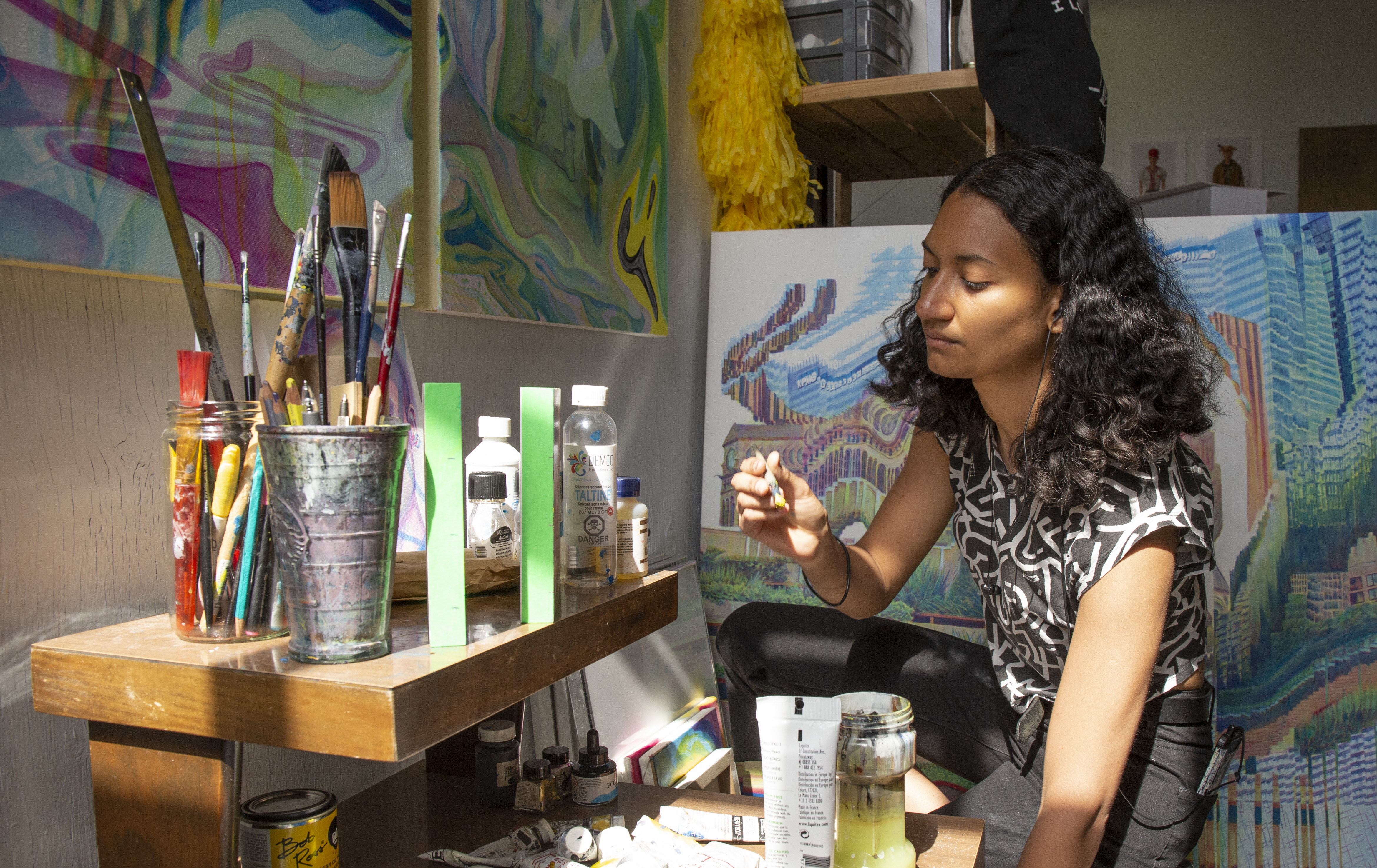 Have you ever experienced a time when it was hard to create?
Always. Creating is always difficult because I see challenge as a necessary part of improving. Not because I'm masochistic mind you, just trying to close that massive gap between the art I'm making and the art I'm imagining.

I have ways around it though; I'll get over a mid-piece struggle by snapping a progress photo and using photoshop to quickly run through solutions if I'm hesitating. If I'm having trouble concentrating it usually means I should try another activity/task that feeds into my practice; that could be something as small as reading, and other times it's exploring another medium. Also, I've started to realize that doing administrative jobs in the studio makes it difficult to enter into a painting headspace later on.

Have you ever been unhappy with an art piece you created?
So many duds!!! I wouldn't describe it as "unhappy" though…a painting is either not yet finished or contains a learning experience for my next piece. Being uninspired by a painting is way more concerning… but I just remind myself that it isn't me, it's definitely the painting.

If art was never part of your life, where would you be?
I had a lot of pre-high school graduation confusion about where I belonged in the working world, and at its height, I seriously considered 'Space Law' (niche). In an alternate universe, I'm somewhere in a suit making over $100K a year, drafting space treaties, laying down that cosmic law, and handing in my 2-week to become an artist.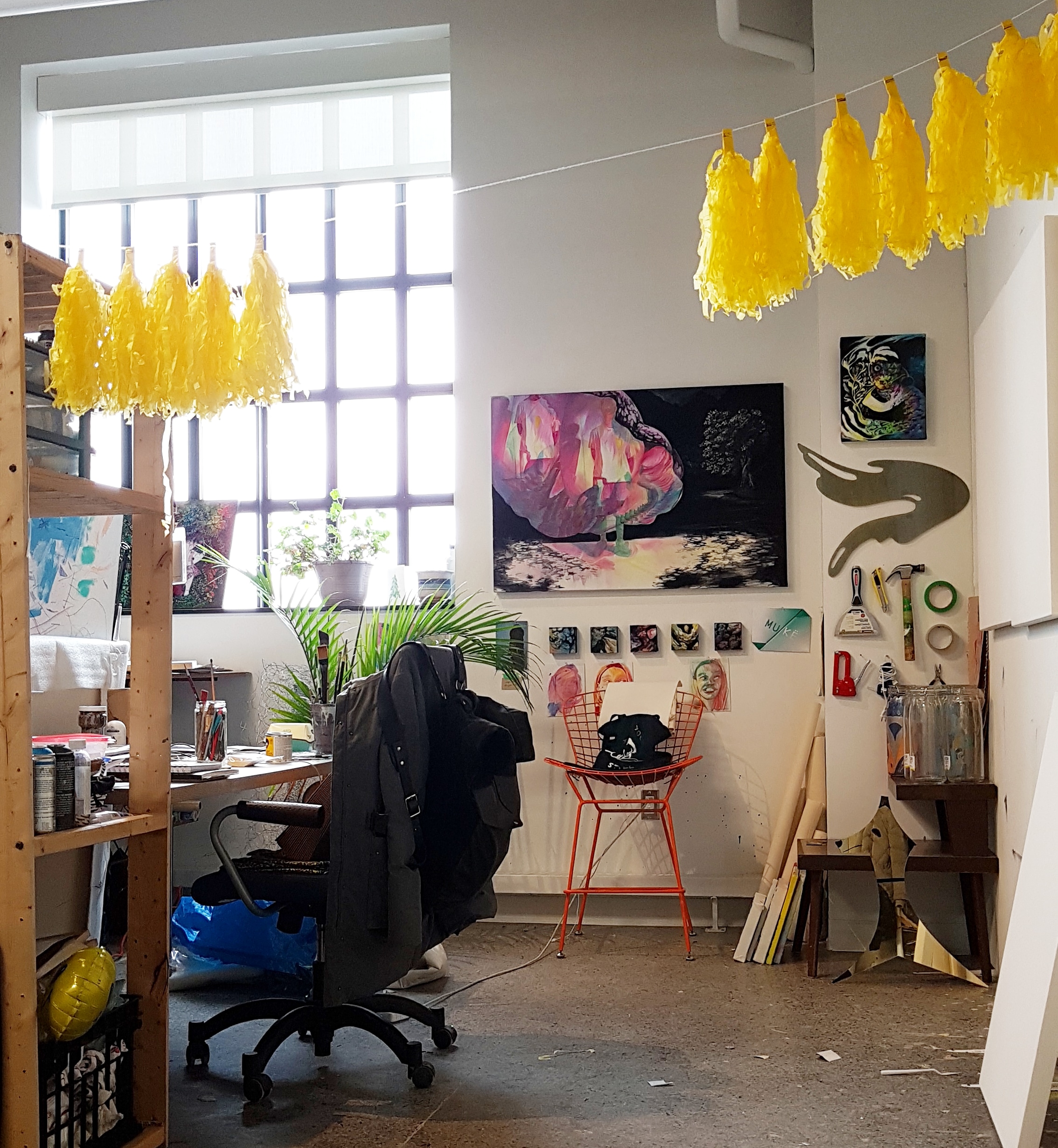 How do you spend your time when you're not creating artwork?

Good question. Burnout is too real when you're laser-focused on making a career out of art, so a better work-life balance is my current goal (2020). Apparently going full-time doesn't fix it because now I spend maybe too much time on admin and applications?

Being part of the Akin studio at MOCA this past year loosened me up a little with lunch break idea exchanges with studio mates, "wine Wednesdays", and organized gallery tours. I've also committed to Sundays off, which forces me out of the studio once a week and helps me spend proper time with family. Most mornings I'm getting my worship game on at C3 Toronto – which is lowkey the highlight of my week.

It's also been a killer year for art openings. I get really excited about the shows that come out of Arsenal/Division, Koffler, and Mercer Union to name a few of so many; anywhere the space is open to restructuring. Right now I'm settling into my new studio, keeping up those friend coffee dates, and taking a still life class with Megan Ellen to take a break from my own painting habits. This year has been really freaky (re:full-time) but refreshing.

When you are working, is there anything you listen to?
I almost always listen to dance music because it keeps me in the zone longer and complex beats lend a little creative flair to my painting. But I lost my identity in music once I downloaded Spotify.

For a short season, I got into listening to stand up comedy specials on Netflix. I have no idea how people watch TV & paint… Trevor Noah (all his stand up), Hasan Minhaj's "Homecoming King", Iliza's "Elder Millennial", and Hannah Gadsby's "Nanette" are all brilliant and thoughtful. Tried Donald Glover but… much too weird ¯\_(ツ)_/¯
---
Do you want to be featured? Join Partial as an artist and e-mail us at hello@partial.gallery. We'd love to share your work.