keerthanajayakumar.partial.gallery
In this series, we get to know the Artists behind the work with ten questions about their practice, their space, and their ideas. These are their Stories.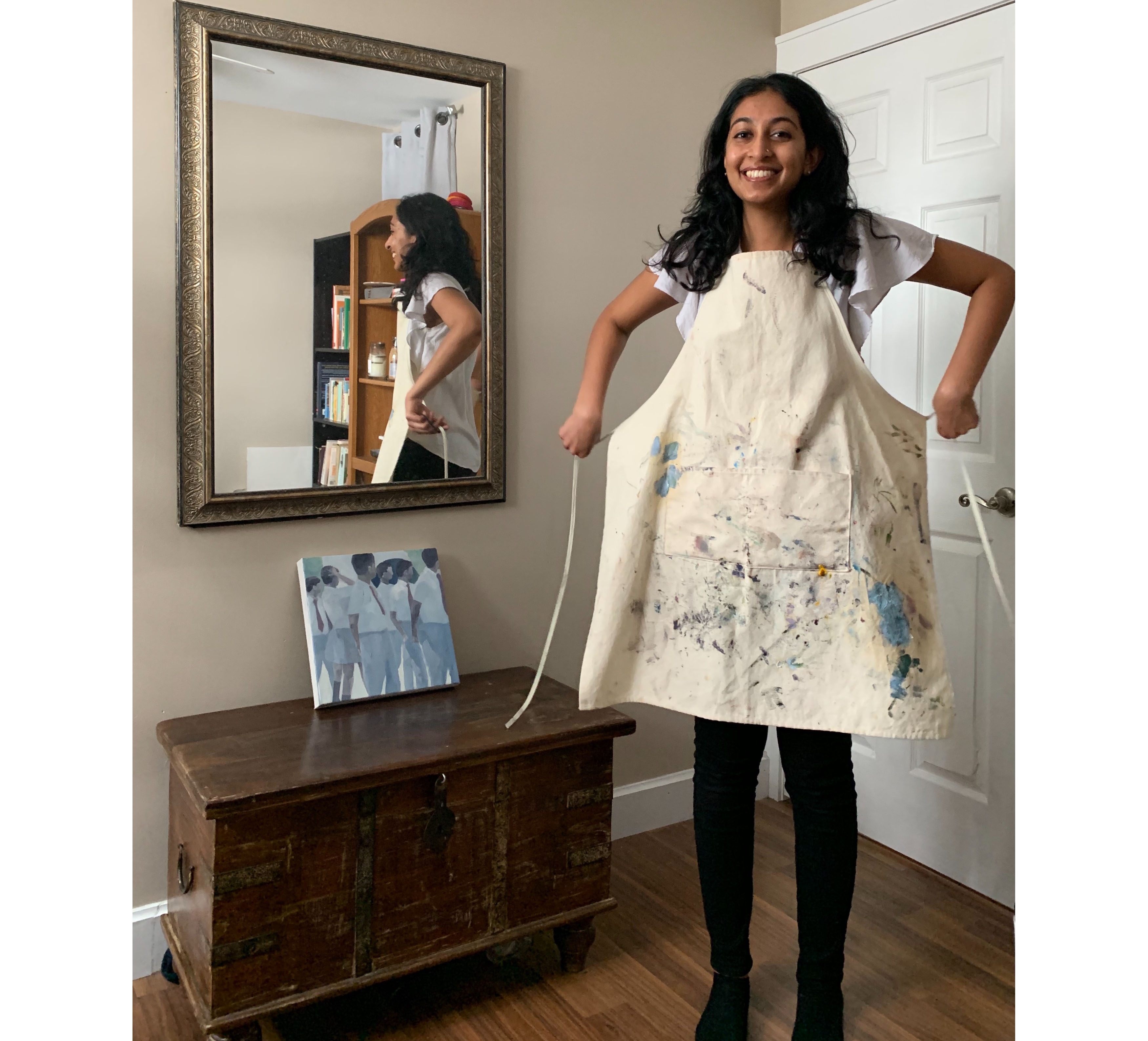 Keerthana Jayakumar is an emerging Toronto based artist inspired by poetry and classical Indian music/literature. Born in India, Keerthana has chosen to set most of her paintings in her hometown of Chennai.
---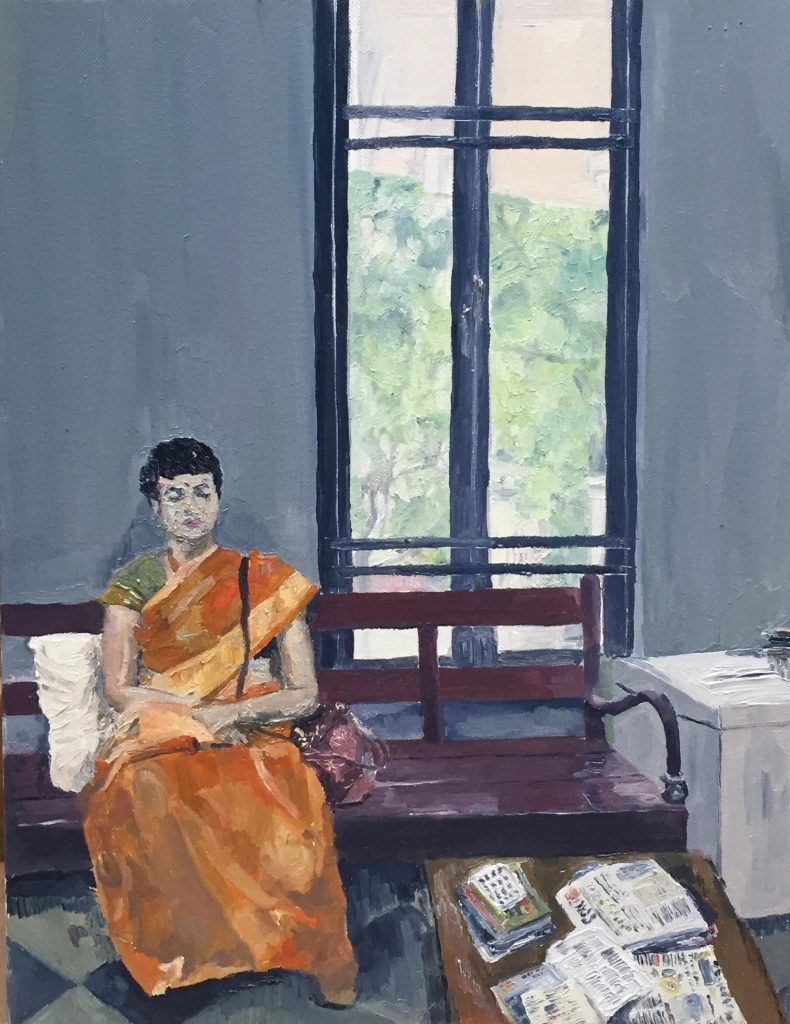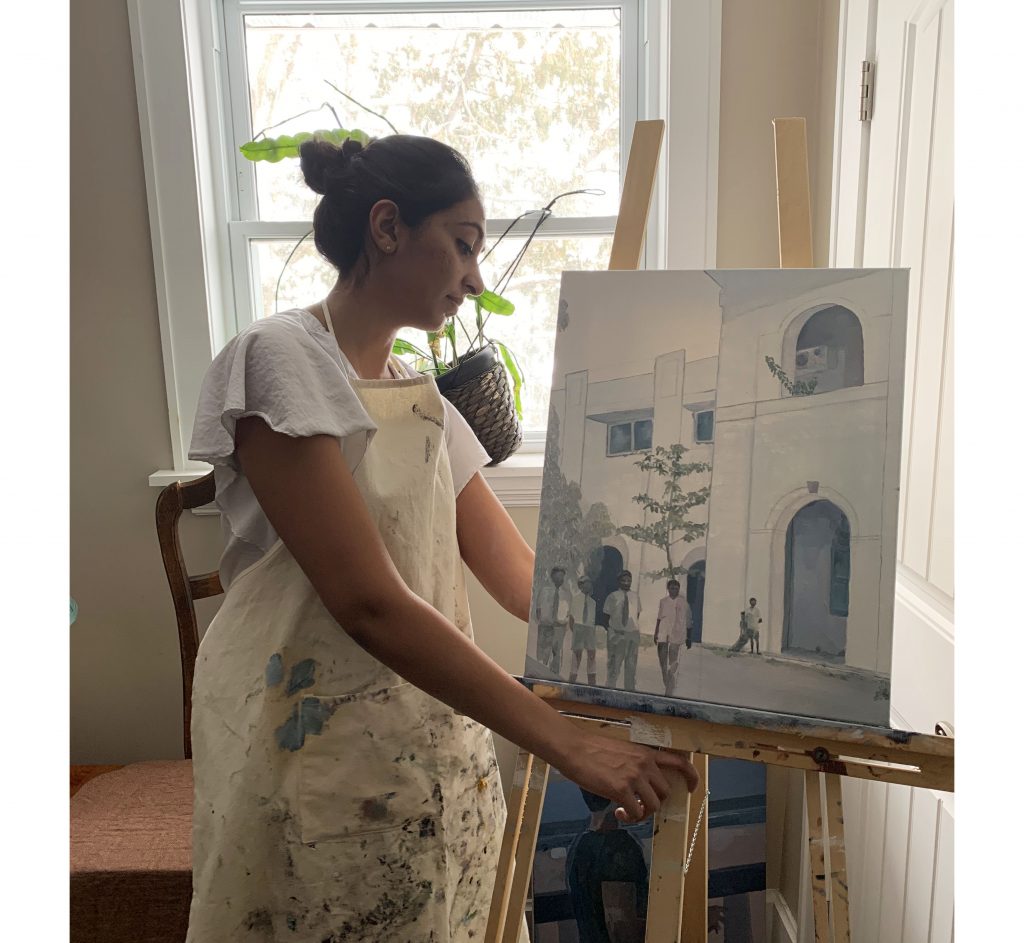 Why do you create art?
I want my art to move someone the way a short beautiful poem will. If I make anyone feel that way because of my art, that will make me very happy. Most of my paintings are memories or moments that I want to share.


Describe why you chose your particular medium? Is it something that evolved over time?
I started with watercolours for their light and ethereal effects. However, there were times when I wanted to paint my friend's balcony garden at night or my city by the sea at dusk. I found this very difficult to do with watercolour (they were too light) so I started to explore oils. Now I find myself trying to imitate the flow of watercolours with my oil paintings.


What was the first art piece you created?
A grid coloured in with alternating baby blue and baby pink.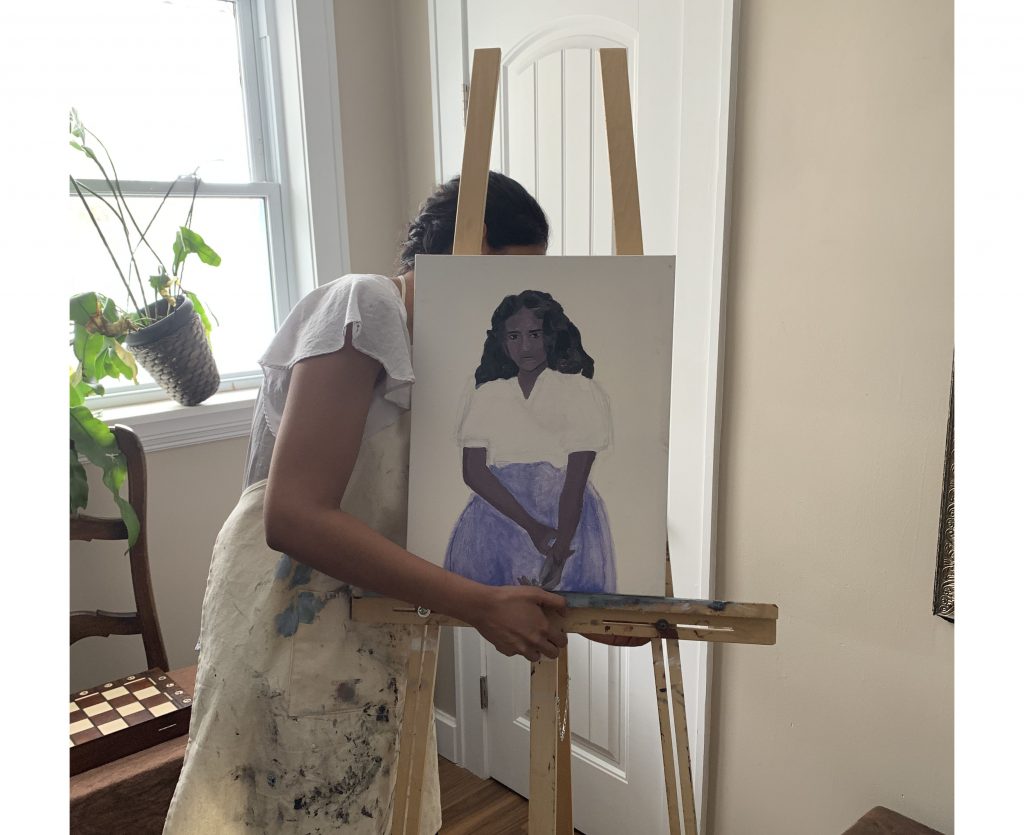 What is your process when starting a new piece?
I look at reference images (family photos, photos my friends have sent me from Chennai, etc), think about the mood I want to convey, choose my palette accordingly, make a rough compositional sketch in my notebook then start working on the final sketch on the canvas. I work on the background first and then on the foreground on top using the colours from the background.


What inspires you to create your work? What does your art express

My latest project was inspired by Indian musical modes. Each musical mode or Raag has a mood, a time of day and a season attached to it. Beautiful Indian miniature paintings from the 17th century, like the Pahari and Kangra schools assigned imagery to each of them in order to convey their mood. I attempted to do the same but with modern Indian subjects.
Most of my paintings are set in my hometown in Chennai and feature neighborhoods and localities like thousand lights, Marina beach, and Kalakshetra (place of the arts) road.
One of my painting series named Majnun features doves in Old Delhi. I was inspired by the use of doves as a poetic device to symbolize mourning and loss in ancient Ummayad Arabic poetry (Ghazals).


Have you ever experienced a time when it was hard to create?
I work full time as a mechanical engineer and I find myself working a lot of weekends and overtime. It can get a little difficult to create at times but when there's the will, you can always make time. I know that many artists have a second job because their art practice alone is not a reliable source of income. It's something that many of us are facing and in the end, it's all about finding balance.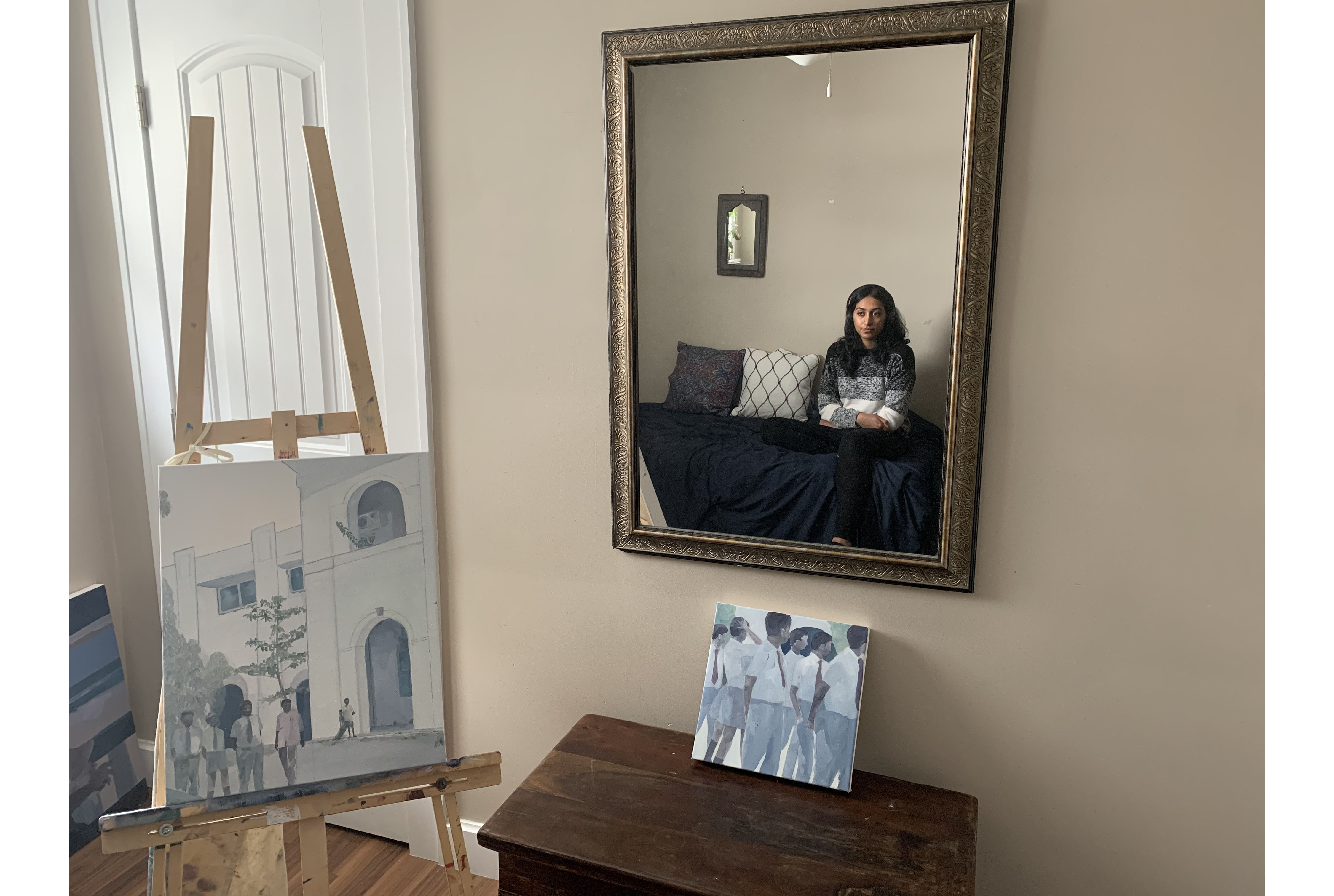 Have you ever been unhappy with an art piece you created?
I am unhappy with a lot of the work I create. I paint over it, try to fix it, etc but if it is unsalvageable, I move on. Life's too short to fixate on a bad piece. However, every bad piece brings experience and that is invaluable.


If art was never part of your life, where would you be?
I would try my best to become a writer.


Taking a break from art, how do you spend your free time?
I enjoy reading poetry by authors like Federico Garcia Lorca and Tagore. I live in the country (simcoe) and hiking up here is breathtaking. There's a hilly trail behind my house with wild apple trees that I like to walk through sometimes. I wish I had more of a green thumb. I have a desert epiphyllum hanging on my window that I adore but its not doing so well in the cold. If any of you have any tips on how to take care of a desert epiphyllum, please send me a message. Other than this I love cooking and spending time with my friends and family.


Where would you like your art to take you in the next 5 – 10 years?
I'm not sure where my art will take me in the future but I hope to keep improving, become a master of dramatic indoor light and shadow, and figure drawing.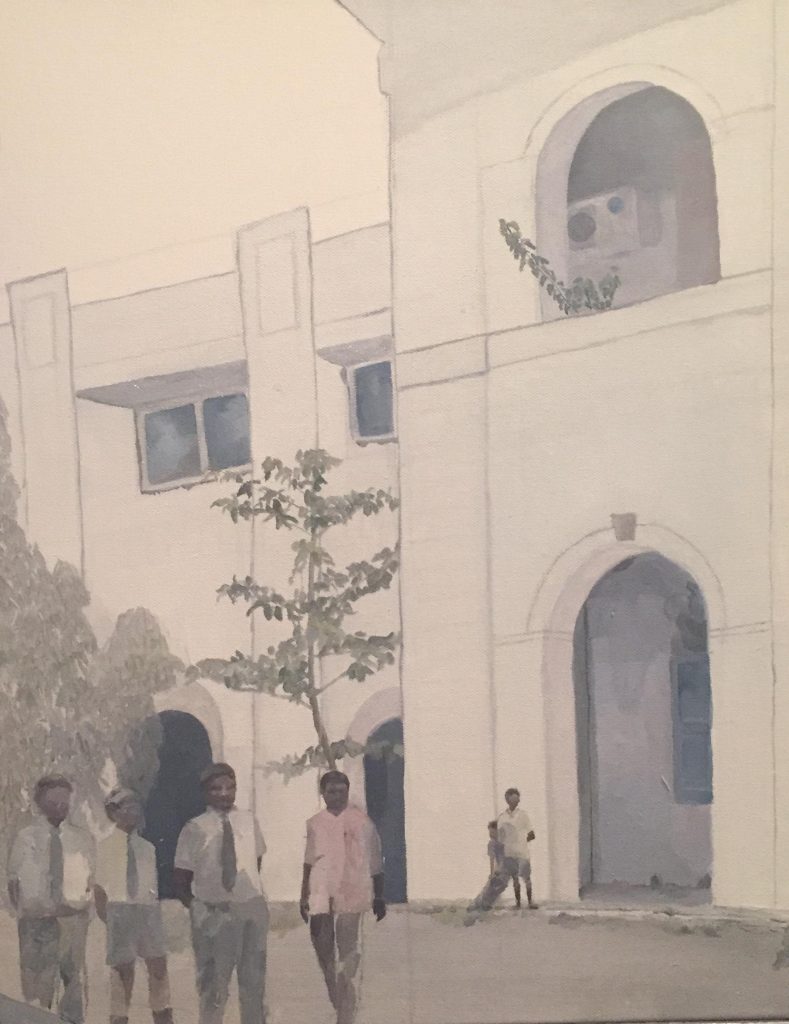 ---
Do you want to be featured? Join Partial as a Pro artist and e-mail us at hello@partial.gallery. We'd love to share your work.