jillhuang.partial.gallery
Toronto, Ontario, Canada
In this series, we get to know the Artists behind the work with ten questions about their practice, their space, and their ideas. These are their Stories.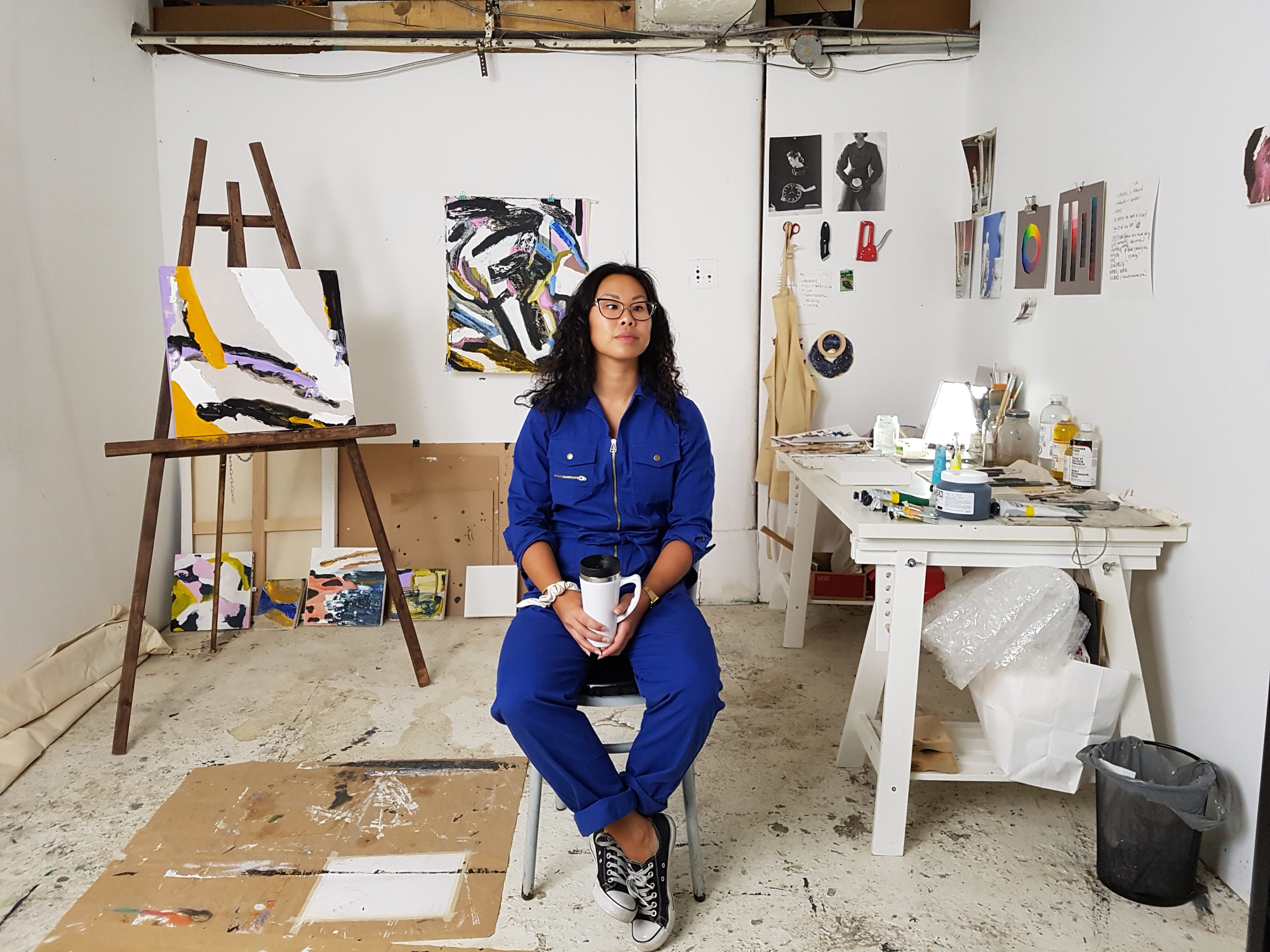 Jill Huang is a Vancouver born, Toronto based artist with a Bachelor of Visual Arts from Emily Carr University of Fine Art and Design. Her art style is playful abstract and figurative with a lot of colour and texture. Past showings of her work include: TA2 Music, Brindo Magazine Launch in Kensington Market, and HousexGuest Vancouver Movember Fundraiser.
Why do you create art?

For me, creating art is a form of expression and a way of understanding myself and my psyche. I use it as a vehicle to better understand my life and the world I live in. It is a therapeutic process involving ups, downs, turns, and loops. A very personal relationship can be forged in the journey of creating a piece of artwork, and when the piece is ultimately complete, I look back in fascination not only at the fun spontaneous moments but also at the creative roadblocks. Throughout the journey, I better understand myself as an artist and how my practice if forming.
How did you start painting and working with mixed media?

Originally, I drew as a child and painted with tempera paints and whatever materials I could get my hands on. As I got older and got into school for art, I started to take my art more seriously. I experimented with my interest towards texture, colour, and was drawn to the different effects that could be created with both acrylic and oil paint. Furthermore, I was very fascinated with the materiality of canvas and the effects of painting on wooden panels. Mixing mediums came to me naturally as time progressed and my curiosity for different finishes and reactions tapped in.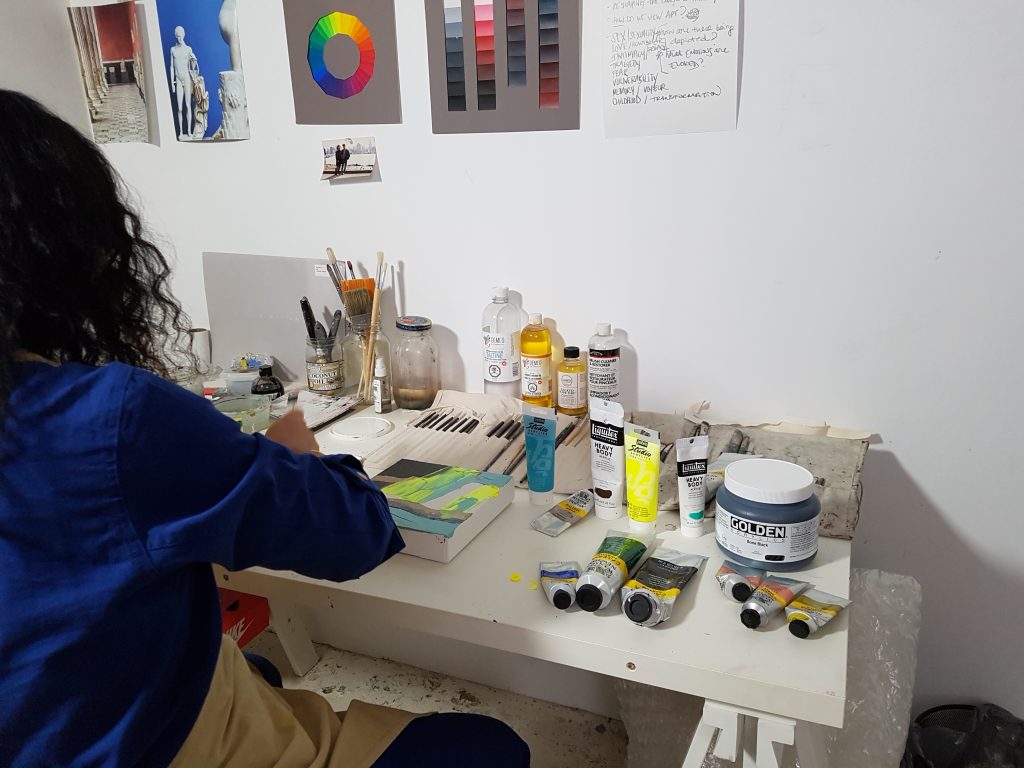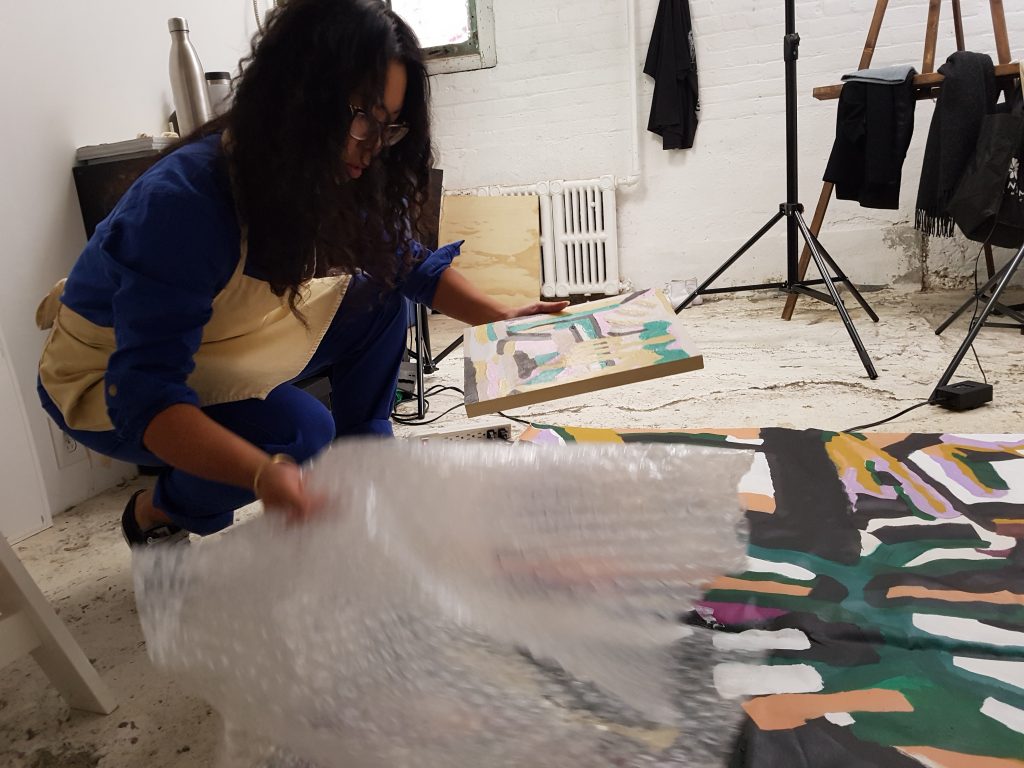 What is your art process, how do you begin?

My art process involves a dance between the subconscious and conscious. I either start with imagery or I go straight into a piece raw. If using imagery, I use a photograph that I've taken that holds meaning to me and begin to abstract the image into shapes, playing with positive and negative space until I feel visually satisfied. This could mean balance/non-balance, the equal value in shapes/non-equal value. From there, I usually have colours already pictured in my mind that may or may not be similar to the photograph. Colours are important to me as they may represent the feeling from that moment in time when I took the photo or represent how I feel now looking at the photo. I use brushes, palette knives, and squeegees to push and pull paint around on the canvas or wood. I really enjoy responding to each mark making organically from my gut or methodically carried out. The play between the intuitive unknown and precise mark making drives the process of my pieces.
What inspires you to create your art pieces? What do you want your art to express?

I am intrigued by creating traditionally 'off-putting' feelings and understanding effects that could convey this whether it be from colour choice or imbalance as much as I am interested in visually 'pleasing' pieces. These notions are all subjective for each person and I am very drawn to the exploration of our human and visceral reactions towards paintings and why we have these certain feelings. Some themes I work with in my art include memory, reality, sexuality, intimacy, voyeurism, love.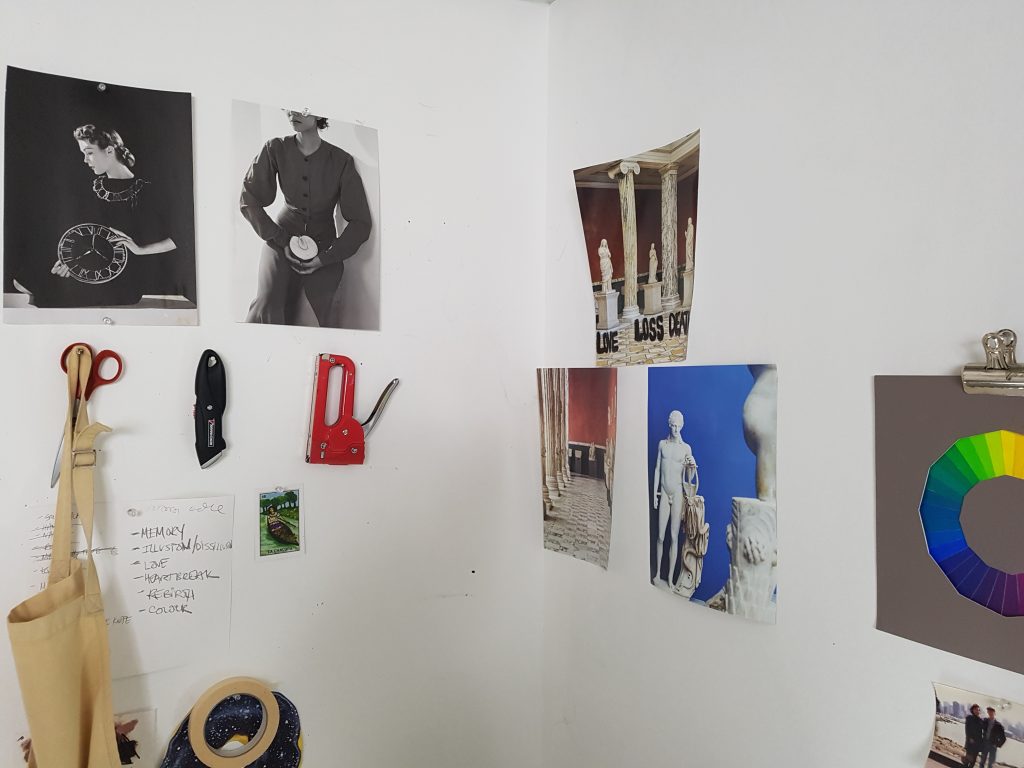 Do you ever have a moment when you find it difficult to create art?

Yes, absolutely. Some days I know even before going into my studio that I feel creatively challenged – whether it may be from personal matters, weather, or knowing that I felt roadblocks the last time I left my studio. Some days, I get to my studio and through my work process, have become discouraged and frustrated about the way a piece is turning out or not turning out. At this point, I am not always able to work through it. In which case, I have learned to step away for the time being and/or work on another piece.
Are you ever unhappy with an art piece you have created?

Yes, sometimes there's no turning back with pieces that I have unfortunately overworked. Once in awhile, I can work through a piece and it magically surprises me and morphs itself into a new entity.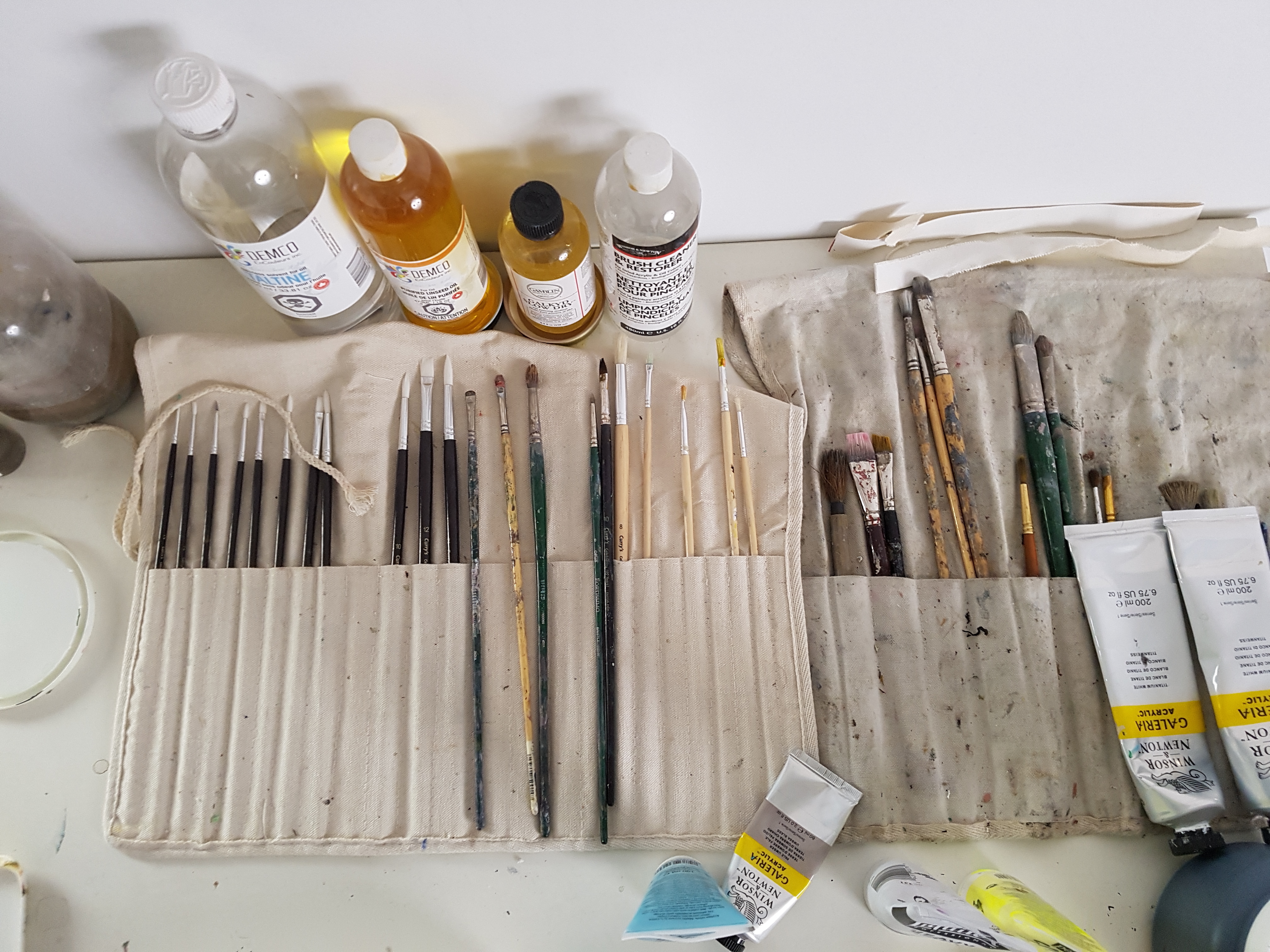 What are your favourite supplies to use for creating new art?

Acrylic paint, oil paintsticks, oil paints, screen printing.
Have you ever tried using different mediums to create your art?

Yes, I'm predominately using acrylic paints at the moment but many of my pieces utilize a variety of mediums.
How do you spend your time when you're not creating artwork?

Traveling, at the gym, at home cooking, checking out local exhibitions that pique my interest and local restaurants.
If art was never part of your life, where would you be?

I would still be traveling the world, working on my fitness and nutrition and possibly physiotherapy. Product design, interior design, and architecture are other large areas of interest of mine that I would immerse myself in.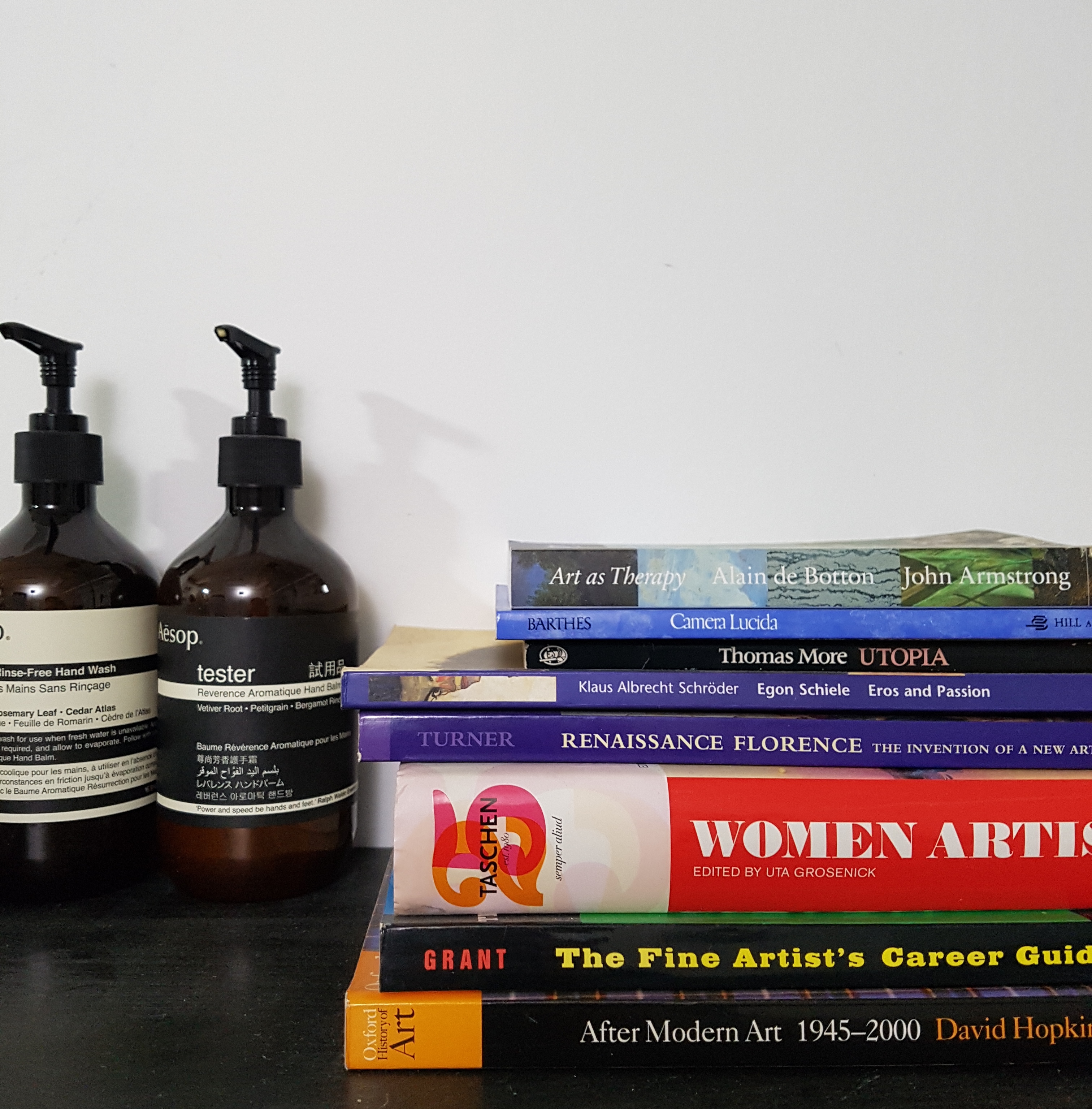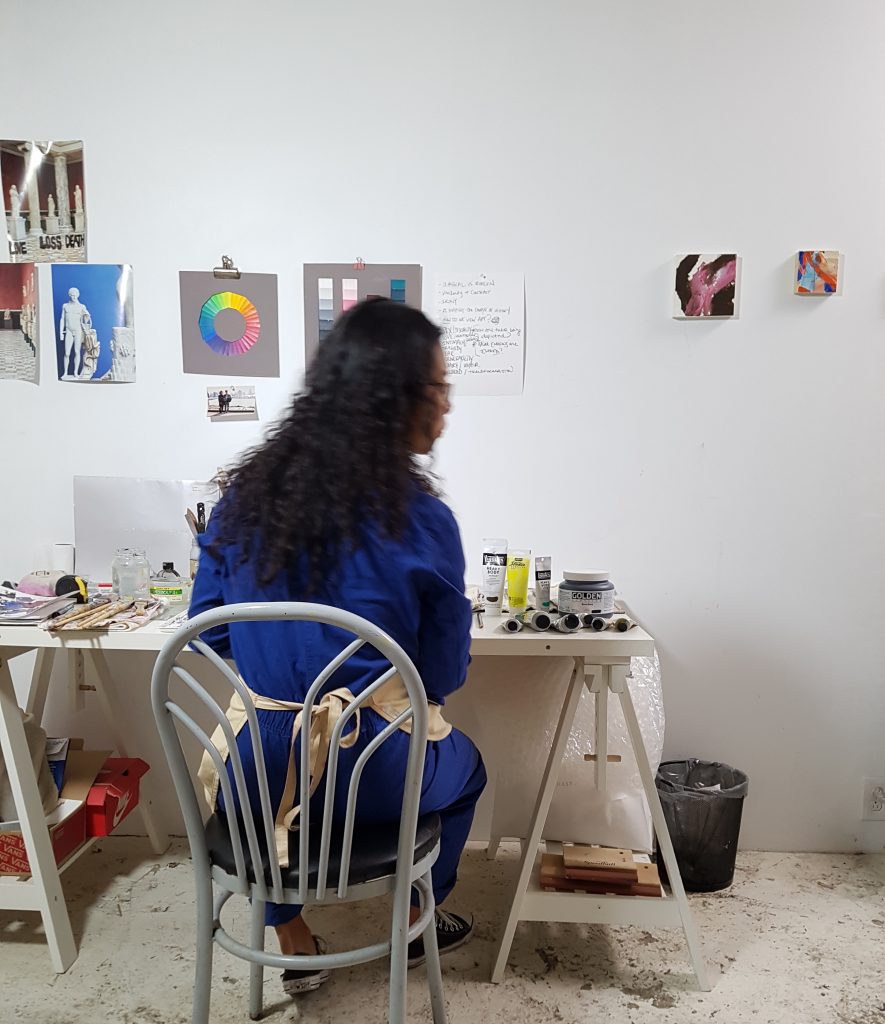 See more of Jill's inspired artwork here: jillhuang.partial.gallery
Do you want to be featured? Join Partial as an artist and e-mail us at hello@partial.gallery. We'd love to share your work.