In this series, we get to know the Artists behind the work with ten questions about their practice, their space, and their ideas. These are their Stories.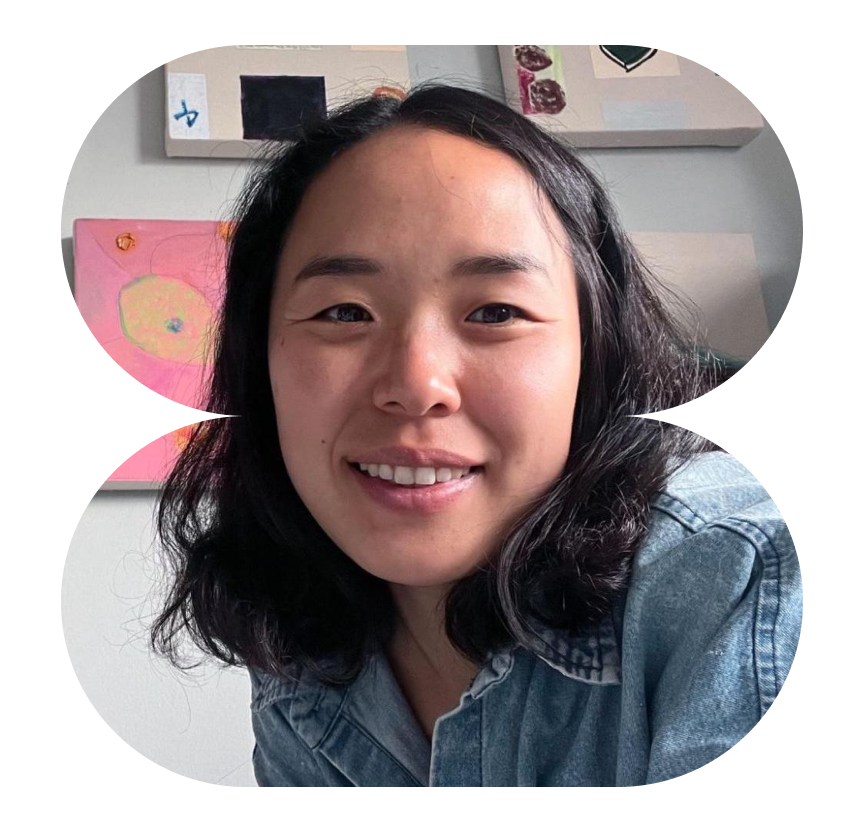 Hee J. Jo was born in Seoul, Korea, in 1987. Having an interest in learning how people acquire emotion and their patterns of behaviour, she studied Educational Psychology at Sookmyung Women's University. Attending a women's school also had a great impact on her feminist perception.

Since studying abnormal psychology in university, Jo has been questioning the boundaries between normal and abnormal. In her art, she likes to experiment with what we believe is normal—tradition, universal value, and rational ways of thinking.

Jo immigrated to Canada in 2015. She earned a Bachelor of Fine Arts from OCAD University. Her identity as an immigrant and an Asian female with her interracial marriage life is a major subject matter in her art.
When did you develop an interest in art?
I went to an art class to relieve my stress when I was an office worker back in Seoul, Korea. It was at that time that I realized that you cannot think of anything else when you are immersed in the art making process. And I liked that!
How did moving from Korea to Canada impact you as an individual and an artist?
My subject matter has changed dramatically after moving to Canada. I have never thought about being an alien before I immigrated. I started to focus on my identity as an immigrant. 'Me in a foreign surrounding' became more noticeable in my day to day life.
I also see the sharp contrast between me and my Caucasian husband. When I depict us in my paintings, I made him part of the background while I made myself stand out. This reflects the feelings that I have as an outsider.
Tell us a bit about your background in psychology and how it informs your work.
I studied Educational Psychology at Sookmyung Women's Univ. in Korea. I wanted to understand how we acquire certain abilities and how we develop personalities. Abnormal psychology was one of my favorite classes. I was very into Jung and Freud. This background helps me use my subconscious to get inspiration. I am sure there are reasons when I dream similar dreams. I understand human beings are not always rational. I love to embrace the irrational and the flawed.
How did your work develop throughout the years; especially after studying at OCAD University?
In the beginning of OCAD, my interest was in portraiture. From my second year, I realized I liked to focus on the basics: lines, shapes, colours and textures and I developed my abstract approach throughout my time at school. I took lots of figurative and abstract classes. I still want to go back to portraits someday. I want to develop my own compromise between portraiture and the abstract later.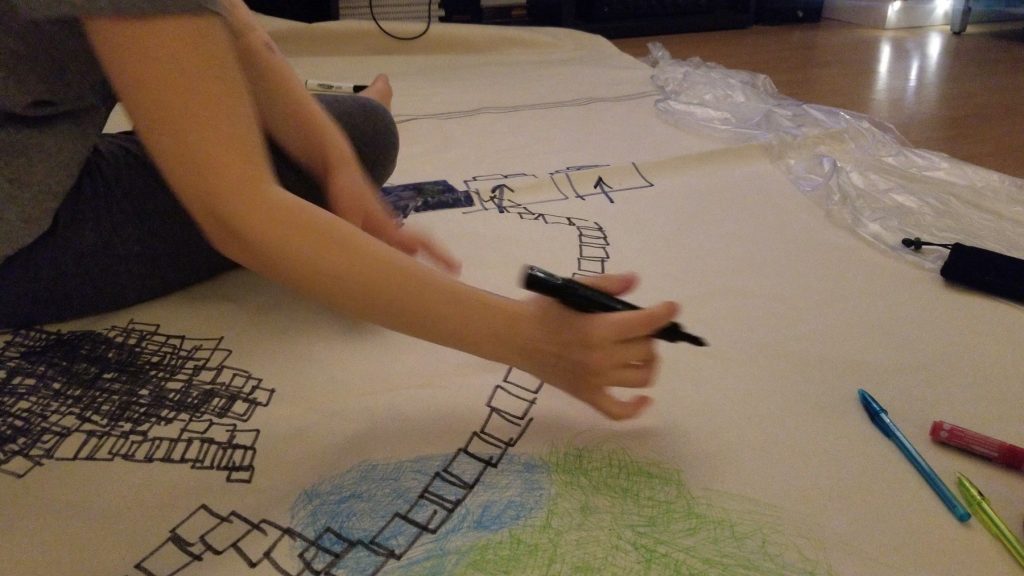 Where do you draw inspiration from?
Most of my inspirations are from my dreams. Every morning I write in my dream diary. I started this in my first year at OCAD. At first, it was very hard to remember. But as I got used to it, I often remembered every detail of the dreams from the previous night, even though dreams are very illogical and hard to follow. I believe that I can find something that is hard to see when I am awake. Although it could be trivial and silly, I like to see different (or hidden) point of view about my surroundings.
Tell us a bit about your art-making process, from ideation to the execution of a piece.
I do not plan the whole piece before I start making it. I often start from some line drawings on a huge raw canvas. Sometimes I can have a very brief plan or concept. But the plan is always changeable. At some point, I cut the canvas and stretch it onto the bars. I like to work on several canvases at the same time. Again, at one point, I figure out the subject matter and title them. I like to flow naturally from painting to painting. I try not to be so serious and heavy. I like to see when it looks fresh and unfinished. I want to give my paintings room to breathe. In this way, I often see failures. But I'm not afraid to see the ugliness. I even find sometimes I like it ugly. I feel brave when making art.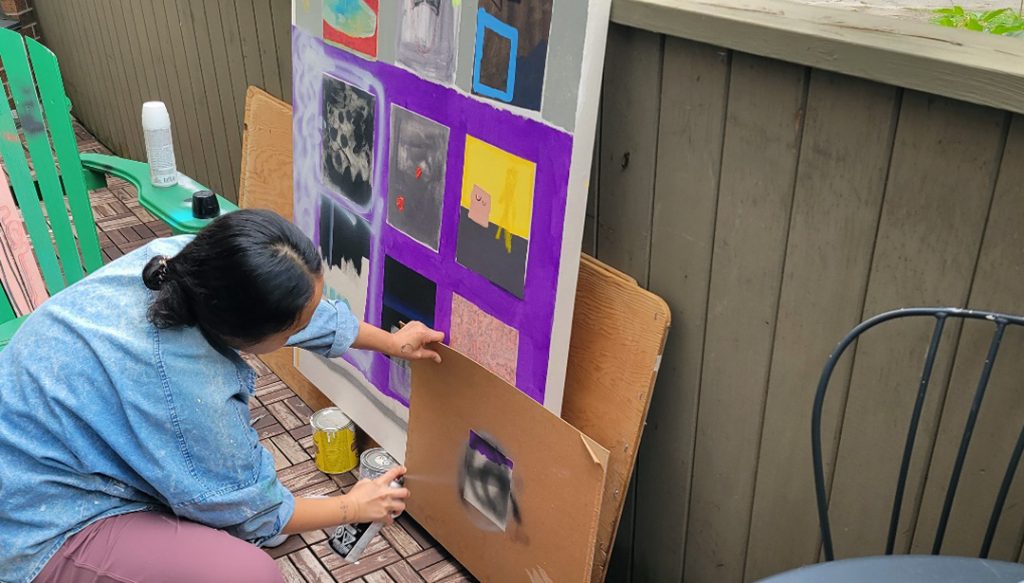 What do you listen to when you work?
I prefer not to listen to music which drives me to a certain emotional status. If I need something, I like to listen to Chopin. I don't like listening to music with lyrics when I work.
What's one item in your workspace you cannot live without?
I don't know. I don't get attached to things easily. 😉
What are you working on at the moment that you can share with us?
I have been working on my triptych called "Where Did We Come From?", "Who Are We?", and "Where Are We Going?". It is the same title of Gauguin's masterpiece. (Gauguin is one of my favorites!) I wrote down those questions on my wall and have been thinking about the answers for a while. I completed the paintings, but they could not express all the answers because I couldn't find the answers. (Who can?) I concluded that the act of 'questioning' itself is most important. The paintings became more about my determination to remember the questions—to remember our existence and to be awake.
What would people be surprised to learn about you?
Not many things are surprising. I am a big DOG LOVER, helping rescue dogs from Korea and bringing them to Canada. And I am also a floral designer, a PLANT LOVER!
---
Do you want to be featured? Join Partial as a Pro artist and e-mail us at hello@partial.gallery. We'd love to share your work.