In this series, we get to know the Artists behind the work with ten questions about their practice, their space, and their ideas. These are their Stories.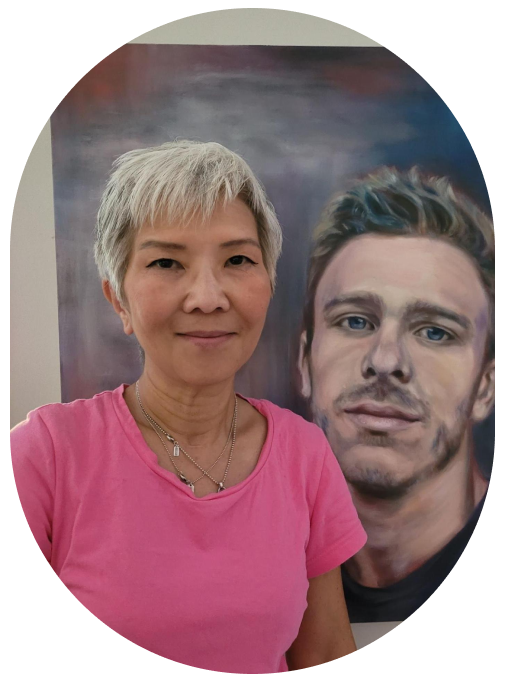 Toronto based artist, Grace Dam creates work that investigates the complexity of being human and interconnections between ourselves and nature. Working mainly with oil and acrylic, she draws from ideas formed during childhood to her time in finance and travels. Grace holds a BFA (Ontario College of Art & Design University Toronto) and a Master's of Fine Art degree (Massachusetts College of Art & Design Boston, USA).
When did you develop an interest in art?   
Art is my first love, I was so inspired and intrigued by works by old masters when I was around 8, 10 yrs old.  The idea of being a professional artist never left me and I fulfilled that goal by giving up my long and succesfful career in finance, attained my BFA in Toronto then furthered my studies to receive the MFA in Boston, Massachusetts. 
Many of your paintings depict intimate, personal moments. What is it about these scenes that draws you to them?
This stems from my fascination in human connection, not by vocal speech but more so, the nonvocal body language. This is a universal way of communication that is implicit yet very explicit to those who are in tune. My art thesis is based on human interaction and relationships. I paint realism but also abstract, landscape, still life… most of my works are social or political commentaries. I love figurative art, it allows a perfect play on these implicit "codes" between the subjects in their surrounding and to the viewers, the third parties, who are let into their story.
Do power dynamics play a role in your work?
Depending on the work, there is often a quiet nuance between all things.
Tell us about your process when creating an artwork.
I am glad you asked! The start of a new series or even just one canvas, is the most difficult part; it can take weeks or months! An idea can evolve and change, it is sometimes exhausting to pin down. Ideas can spring from books, magazines, even movies, I photograph what is required to manufacture for the rest. I draft or compose directly on canvas and work the entire frame always. Some artists work on sections or each square at a time but for me painting the entire canvas anchors and balances the colour schemes, the values through every stage of the work. I work for hours non-stop, art energizes and invogrates, it's the most wonderful thing in life!
Is there a work of yours that you find yourself most drawn to? What is it and why? 
This is tough as all are equally dear to me.  But I can say sheepishly that my recent work  "Morning Light" is very attractive, it is large, embodying most of my ideas about the notion of relationship.  There are ambiguity, conflicts, and just enough details to anchor that narrative.  The emptiness of a large dining room with just one man.  The pot of flowers stands in for his partner who is absent in that landscape.  The man awaits a meal, metaphoric for a foreboding something else.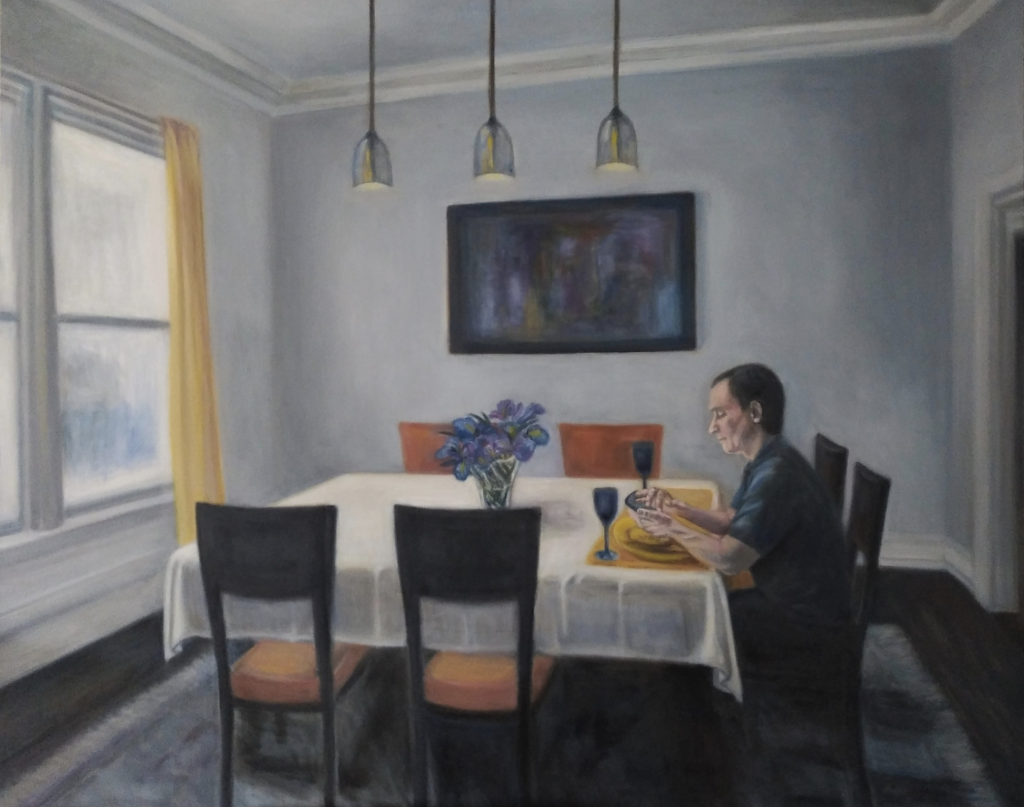 How has your work evolved throughout the years?  
I moved from realism to still life, abstract and now back to realism, the variety of subject matters allows a good expansion in my work. I am also a photographer and in between, I dabbled in printmaking, sculpture, animation and ceramic.  I produced a few videos and stop motion animation but I feel happiest with my oils and canvases.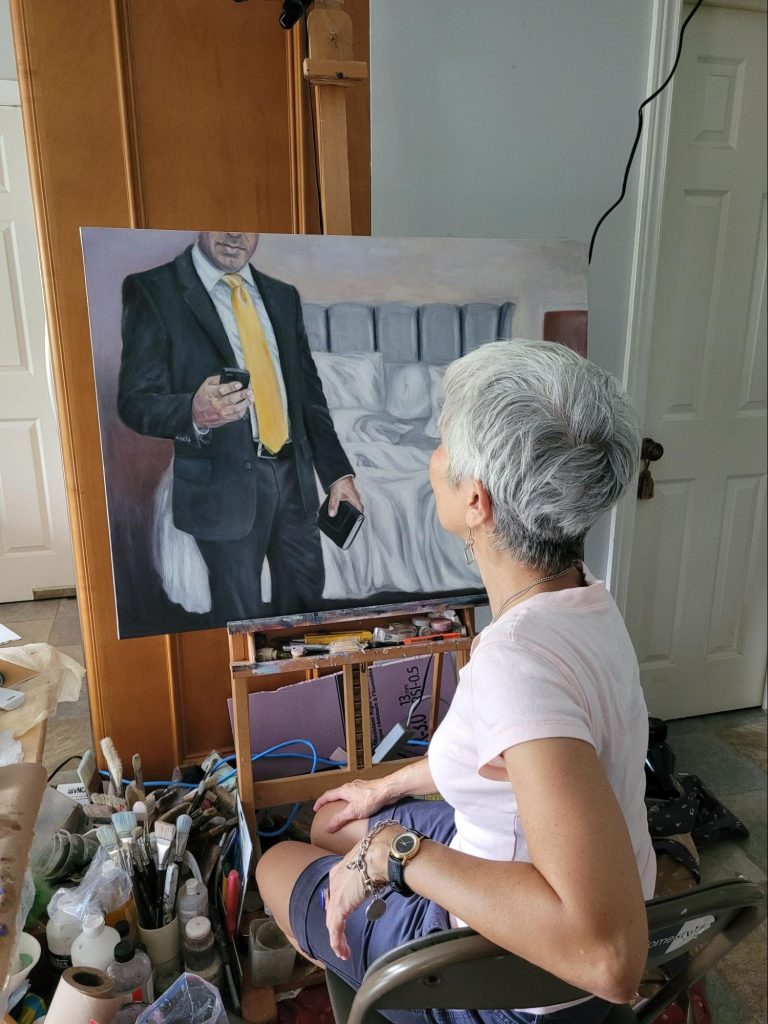 How does your immediate environment influence the type of art you make?
I don't have the luxury of an offsite, large studio so I make do with a more intimate, workable area in my house. Except when I must produce large canvases, I am content with this small workspace surrounded by what seems to be chaotic but extremely convenient for me with brushes, paints, charcoal, solvent…all around. Missing one item gives me stress! I turn off the news, turn on the music in my ear buds and readily give up trips, invitations… to finish the artwork.
What's one item in your workspace you cannot live without?
Gamblin oil paints!
What are you working on at the moment that you can share with us?
I am in between projects, working on some ideas for the next wave of oil paintings.
Do you collect art yourself? Who are some of your favourite artists?
Yes, I own a few canvases of Canadian artists Dulcie Foo Fat and Doris McCarthy. My idols are Velazquez, Hopper, Fischl and Mary Pratt.
---
Do you want to be featured? Join Partial as a Pro artist and e-mail us at hello@partial.gallery. We'd love to share your work.