In this series, we get to know the Artists behind the work with ten questions about their practice, their space, and their ideas. These are their Stories.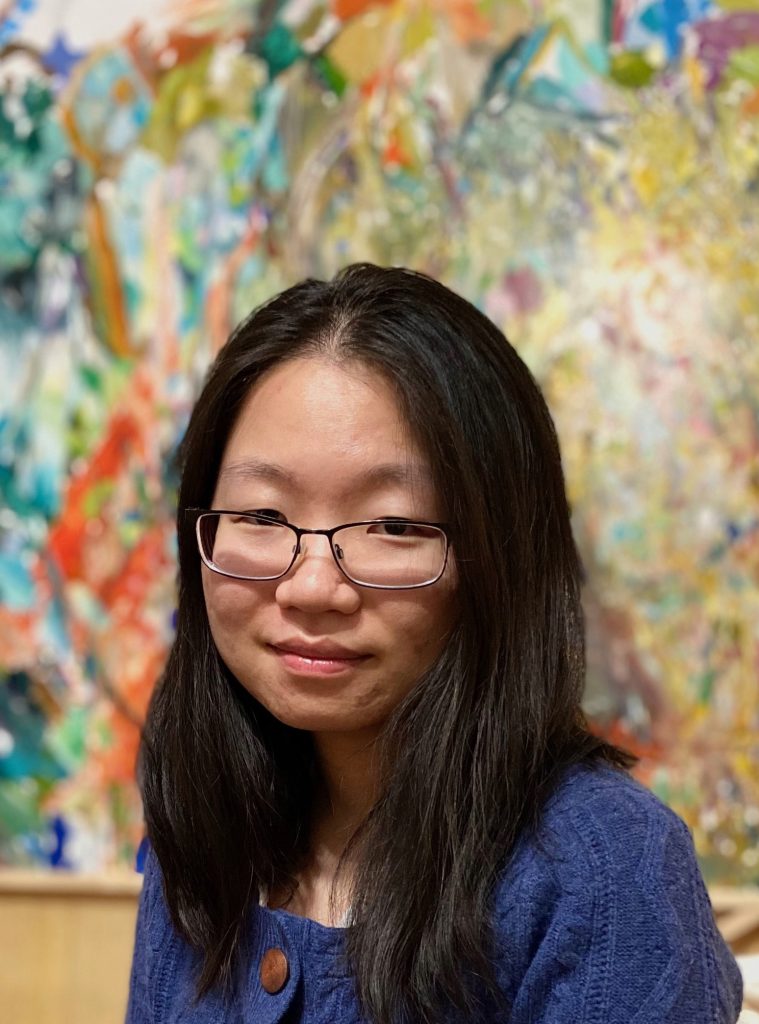 Donny Nie is a Toronto-based interdisciplinary artist. She received a BFA from OCAD University, and an MFA from the School of the Art Institute of Chicago. From large-scale oil painting, monotype, digital projection, to small-scale ceramic and glass form, her interdisciplinary abstractions coalesce to manifest an intuitive, gestalt experience. Nie's mediums examine proximity as a visual and metaphorical instrument to simplify or complicate information over different courses of materialities, and eventually inform each other in the same exhibition space.
How long have you been making art?
I guess, since I was a toddler? Drawing and painting have always been hobbies of mine since childhood. Then, I encountered a very inspiring and encouraging art teacher in high school, and started considering a possibility of a life in art.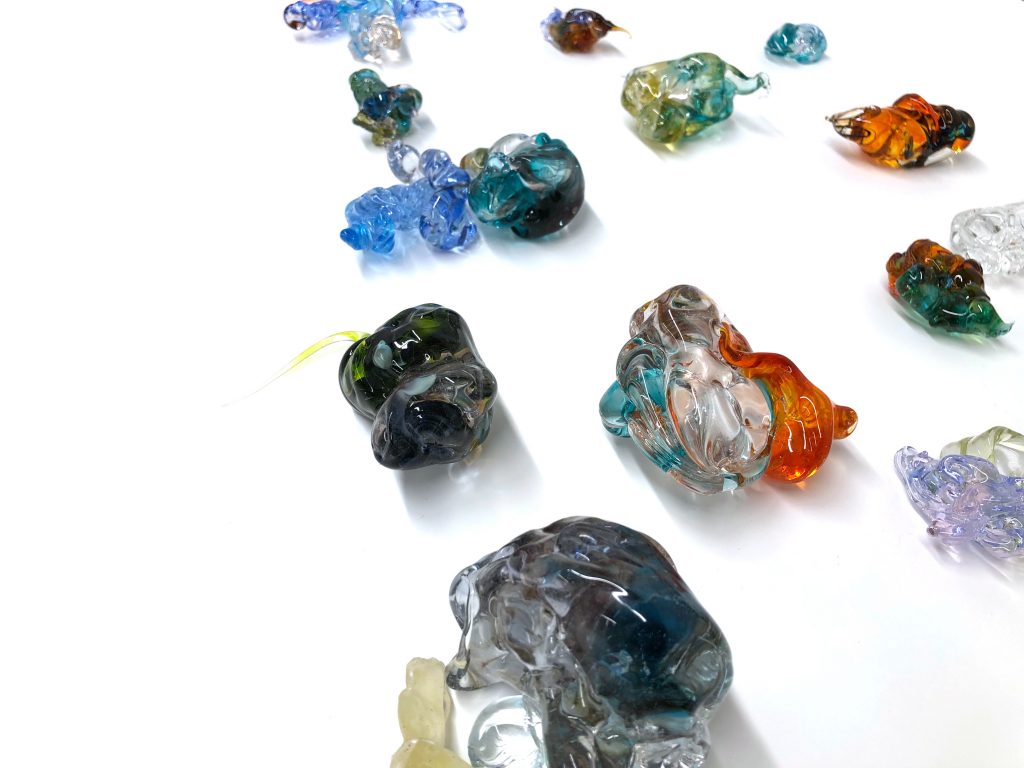 When did you transition from painting to creating beautiful glass-blown sculptural works? Can you tell us about this progression from 2D to 3D?
In 2019, I enrolled in a Fiber and Material Studies MFA Program with a desire to expand my painting practice into a more immersive environment. I immediately sought glass as my ideal medium, due to its transformative potential, as well as a lustrous materiality that reflects, refracts, and contains light. I am obsessed with the transparency both as a physical quality and a metaphorical representation. The complex potentials of this medium exceed many limitations to establish a sublime and otherworldly experience within subtle intricacies. Same as my painting, I focus on spontaneous marks that are traditionally flawed as I generate abstract forms in glass. My painting sets up a framework for my sculpture to reference or violate, essentially acting as a matrix to all my mediums. My sculpture often meditates singular gestures, contextualising a brushstroke by projecting it into a three-dimensional capacity. My interdisciplinary mediums seek to contextualise each other to reveal a more comprehensive vision.
Tell us a bit about your art-making process, from first draft to the execution of a piece.
My process was informed by the abstract expressionist paintings, especially, Joan Mitchell's "CityLandscape"(1955). When I visited the Art Institute of Chicago in 2018, I saw the painting in-person for the first time, and became fascinated by how free and informative an abstract pictorial structure could simultaneously be. My own art-making is an accumulation of marks, clustered abstract gestures that dissolve to emerge as new lives. The marks encase a passage of time through a process of discovery and realisation. Overtime, I embrace a more intuitive process to pursue an unpredictable, ambiguous content, that address the element of potential to demonstrate an aesthetic mystery.
How has living in Chicago informed your work?
My personality and work were influenced by the people and the relationships I had there.
If you had to pick one over the other, which would it be: Chicago or Toronto?
I found some similarities in my living experiences within these two cities. As of now, Toronto is more like home to me.
Where do you go for inspiration?
Everywhere. I started working in abstraction by taking inspiration from food (often the leftovers), and motions of consumption. I painted in a linear, additive manner of expansion that embodied consuming. As I explore an intuitive approach more, I find my art-making more and more akin to accumulating, and less regarding specific sources of inspiration. My practices inform each other.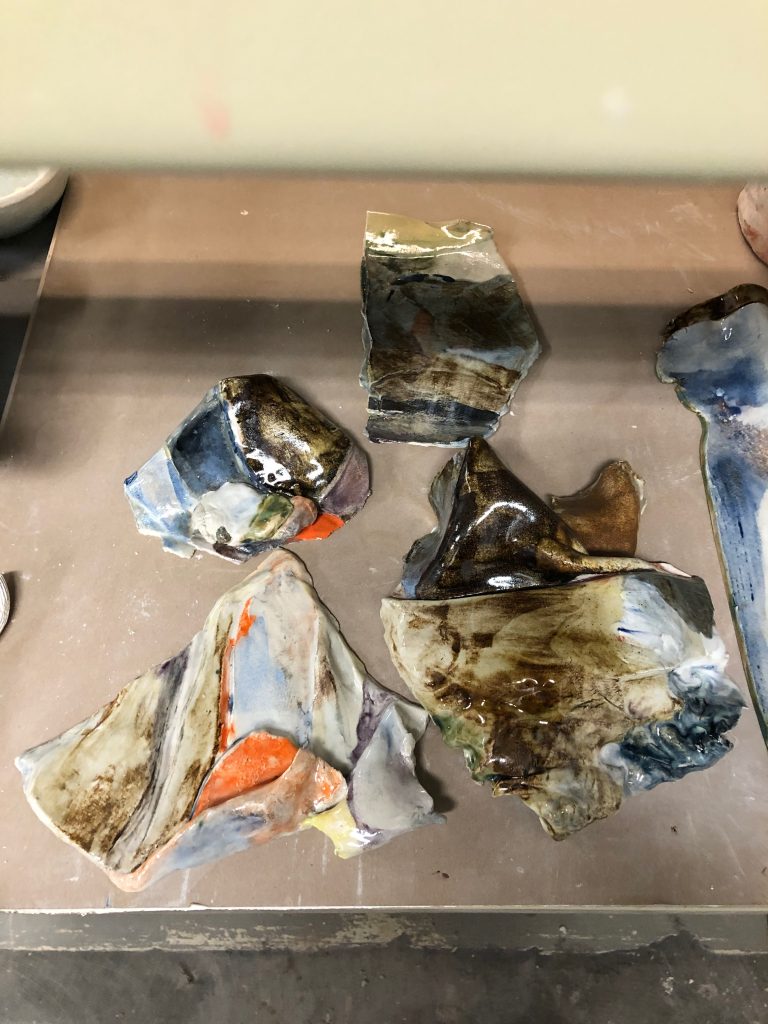 What's one thing in your workspace you cannot live without?
Ventilation.
If given the opportunity, what is your dream project?
While my current small-to-micro scales are very deliberate, I am curious to produce a group of life-sized glass sculptures through casting or digital fabrication, that engage and alter the exhibition space in distinct manners. This magnified glass project may or may not be accompanied by a surrounding of massive wall paintings. I am concurrently dreaming about a lot of upscaled projects in each of my mediums.
What are you working on at the moment that you can share with us?
I am working to resolve several large-scale oil paintings that are 70% -90% finished. I started them in the beginning of the pandemic (2020), and did not feel ready to conclude them. I think I can proceed with them now. I also hope to resume an on-going lampworking project soon.
What is your favourite food at the moment?
There are many! Currently I am most impressed by a chicken empanada from a Peruvian restaurant in Chicago. The flavours were rich, bold, and complicated, yet balanced to compliment each other. I had it when I was in Chicago last week wrapping up my MFA Show. The empanada was a good memory.
Purchase Donny's work here.
---
Do you want to be featured? Join Partial as a Pro artist and e-mail us at hello@partial.gallery. We'd love to share your work.