In this series, we get to know the Artists behind the work with ten questions about their practice, their space, and their ideas. These are their Stories.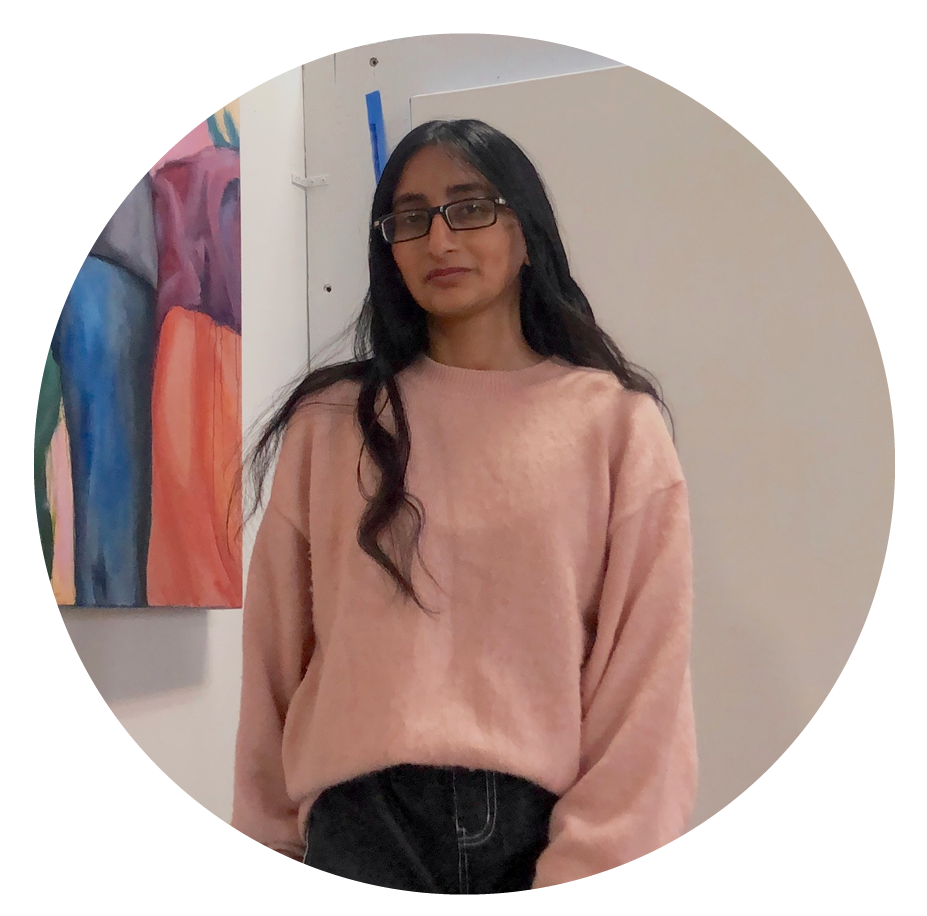 Afifa Bari is a contemporary realist oil painter and textile artist based in Toronto. She earned her BFA from York University in 2020. Through representational art, she examines the contemporary world through the lens of capitalism, and discusses the constant desire to purchase more in modern society from a socio-political and environmental outlook.
---
When did you develop an interest in art?
I have always been interested in art. I have been doodling and drawing ever since childhood however, I didn't begin taking it seriously until I hit high school. This is when I realized I was happiest in the art studio. After learning more about the arts and art history in university, my fascination and passion only grew.
Your work largely explores themes relating to capitalism and consumerism. How has living in Toronto shaped your views of the aforementioned topics?
Living and growing up in Toronto shaped how I view the world in terms of consumer habits and material wealth. Growing up, the idea of "fitting in" plays a part in any teenager's life, however as I grew up and really began seeing the world, I realized that a lot of this is based on being trendy which in turn only encourages consumer culture. In order to combat that and grow out of that phase, I began to be able to see the commodification of things. This idea was emphasized living in the city where capitalism and consumer culture play a role in our daily lives – consciously and subconsciously.
If you could live anywhere in the world, besides Toronto, where would it be?
If I could live anywhere in the world besides Toronto, I would choose to live in Australia. Maybe it's the warmer temperatures compared to the coldness of the north that sounds a bit tempting.
Tell us a bit about your painting process, from the first draft to the execution of a piece.
My painting process begins with research. My research takes on many forms, be it through discussions, reading or learning more about the concept I'm hoping to explore in my work for that specific piece or series. Sometimes, my first draft begins as a thumbnail sketch in a sketchbook, other times I find myself working on this process digitally. Once this is done, I begin mapping the concept on the canvas and creating changes as I go. Then I begin painting the piece, this can take anywhere from days to weeks as the concept can change once the paintbrush touches the canvas.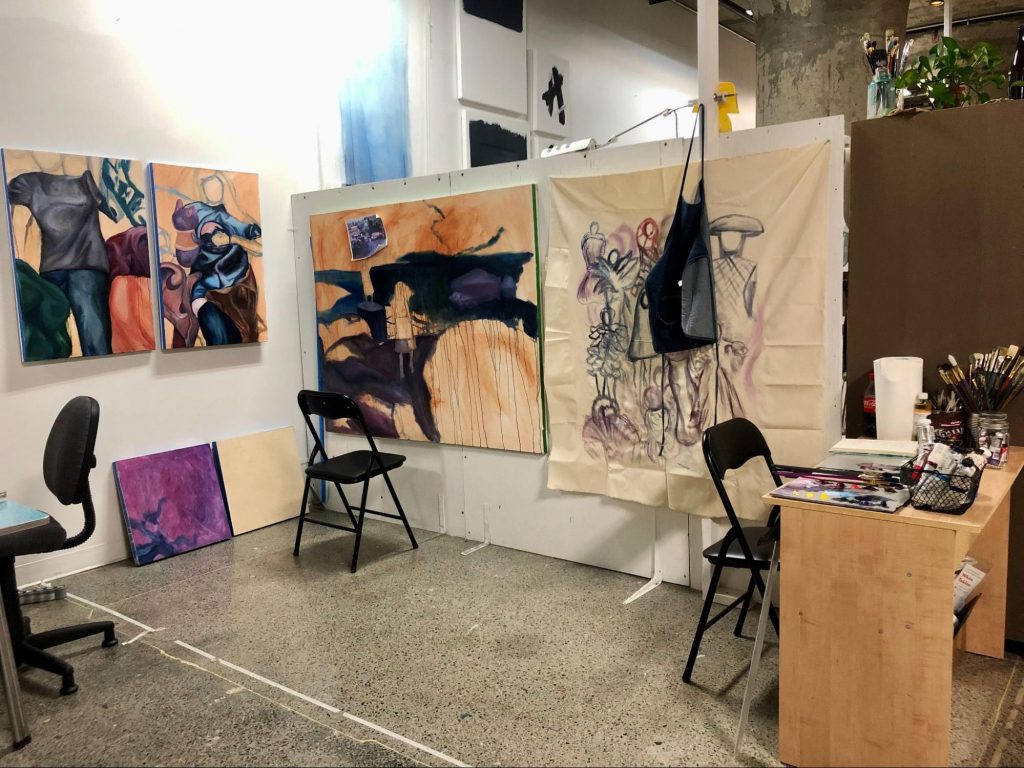 Where do you go for inspiration?
I derive my inspiration from curiosity in the mundane. I am fascinated by how humans perceive the world, trends and the need to fit in through self-expression. Our need to commodify certain aspects of life allows us to lead a more capitalistic life. This journey has allowed me to further explore this topic through the lens of philosophy, politics and history.
What's one item in your workspace you cannot live without?
The one item in my workspace that I can't live without, and this would sound odd but pliers. I've always had a hard time opening tubes of paint so I always have pliers around to help me pry the tubes of paint open.
If given the opportunity, what is your dream project?
That is a good question. I don't have one dream project but many. I hope to one day be able to show my work in larger galleries in the US and UK such as the White Cube, David Zwirnir etc. I hope to continue exploring public art and be able to project short films in the city.
If you weren't an artist, what would you be?
Although I can't imagine myself not creating art, I think if I was anything else I'd be a fashion designer or a writer. I have always gravitated towards creative ventures and things that encourage self-expression and learning.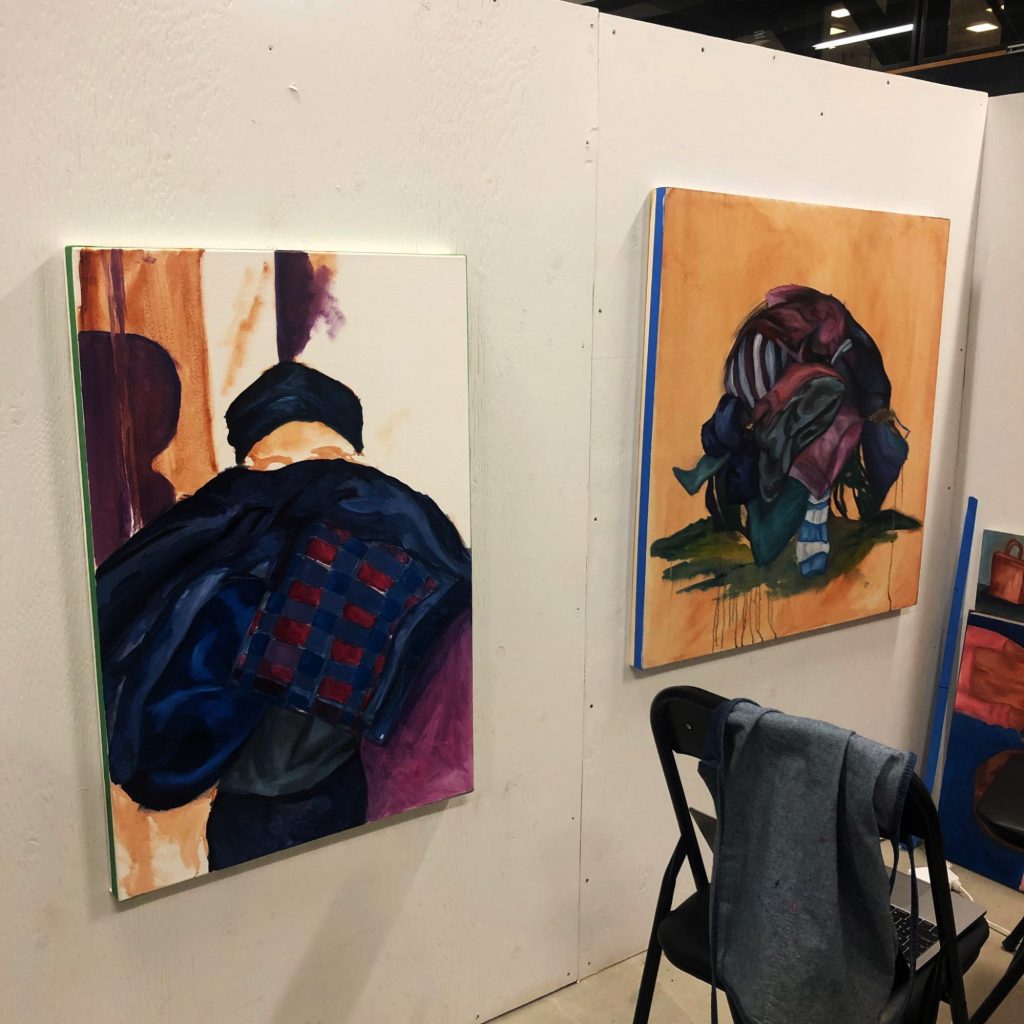 What are you working on at the moment that you can share with us?
I am currently working on two series of oil paintings based on materialism. These look at materialism through the lens of the consumer and the designer. While one is based on just the need to buy and almost hoard items, another is based on marketing techniques that encourage consumers to purchase needless items- leading shopaholics to be born.
What is one thing you've been loving recently that you'd like to share?
That's a good question. Lately, I have been learning how to better take care of myself and my mental health. I have been loving just going back to the basics again between bigger projects- taking the time to sketch and really "see" the world around me.
Click here to rent or purchase Afifa Bari's work.
---
Do you want to be featured? Join Partial as a Pro artist and e-mail us at hello@partial.gallery. We'd love to share your work.