Join Farah Yusuf (Curator and Outreach Coordinator at the RBC Centre For Emerging Artists & Designers) and Maggie Fairs (Strategic Partnerships and Art Sommelier advisor at Partial) for a chat about the Partial x OCAD U Showcase as she shares her six artists (and art pieces) to collect, as well as some tips for first-time art buyers. Read on to discover her artist picks from the OCAD U Showcase.
Maggie: Thank you so much for joining us today. I think we're going into year three right now of this partnership and as part of that, as part of that, Partial hosts the OCAD U Artist Showcase on our website and this features the emerging artists and designers who are really stand out. It's a juried selection and we're so pleased to host them every year. OCAD U has such a stellar reputation as Canada's largest college for art and design, and we're so pleased to be partnering with you.
Farah: Thank you, and this partnership has been great. I'm Farah Yusuf, Outreach Coordinator at the RBC Center for Emerging Artists and Designers at OCAD University. In addition to that role, I'm also an independent curator and on the jury selection for the OCAD U x Partial Showcase.
M: That's wonderful – and is that a highlight every year? Going through and seeing what gorgeous talent is coming out every year?
F: It's a great way to get to know the emerging artists that are coming out of our institution. Both current students who are in their upper years and recent alumni can apply and there's really quite a breadth of talent. It's not just a platform for students to sell their work, but Partial does a lot of engagement with the selectees, in terms of pricing their work, a little bit of education in terms of starting this, and thinking about selling their work as a business.
M: Yeah, exactly! And the life of an 'entrepreneur artist', which is really what it is. You need those business skills as well and you need to learn how to price, and how to get your work out in front of different audiences. We're so proud and happy to do that at Partial – [to] give people a platform to reach audiences.
So, share your picks with us!

Farah Yusuf's Curator Picks: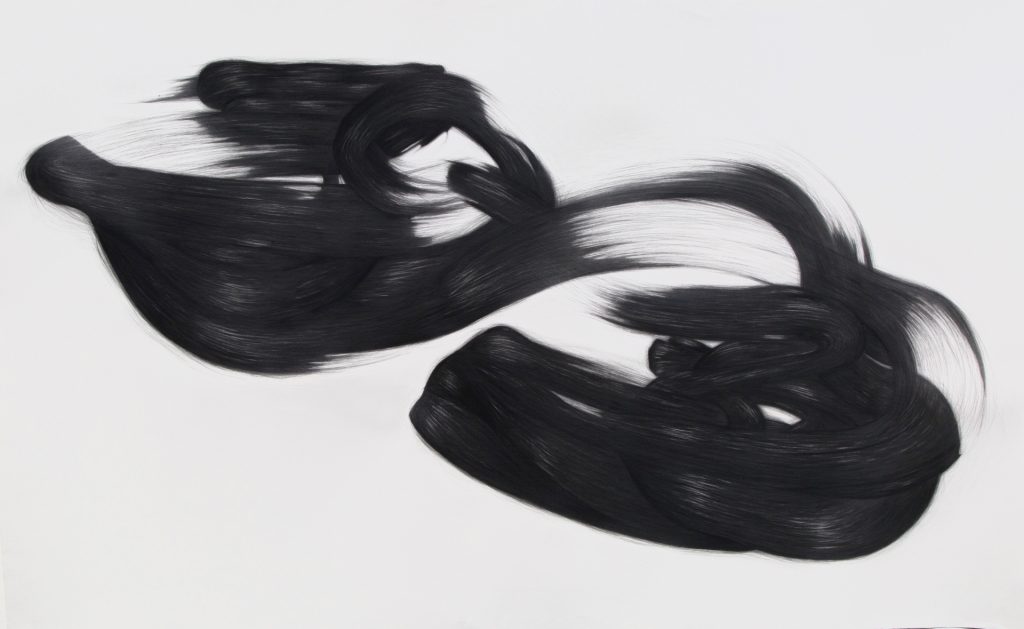 F: Gillian Toliver has these great, gestural brushed stroked artworks, and I'm really interested in her process. She often does really fast gestural drawings with ink and brush to use as material that she then creates in a larger scale using graphite pencil to recreate that same [dynamism]. I love all of her work, but if I were to choose one in her showcase at the moment it would be 'Everything's Measured in Distance From You'. I love it.
F: Someone else who's actually a more recent addition to the Partial Showcase is Helio Eudoro Rodriguez Jr.. Being a curator, doing a lot more critical art, I'm actually really drawn also to works that make a statement – and say something about the world we live in. Helio has a photo series – I'm calling it "The Invisible Series" – where he's standing in various locations and partially hiding himself in that space. If there are two that I would call on for that it's 'Invisible by Colonialism' and 'Invisible by Fast Fashion.' One, he's in a Hudson Bay store, which has a long history in Canadian colonialism, and another one with the now gone Honest Ed's, which I think is more of this nostalgia [for] cheap goods. These are the kinds of works that can generate quite a lot of conversation.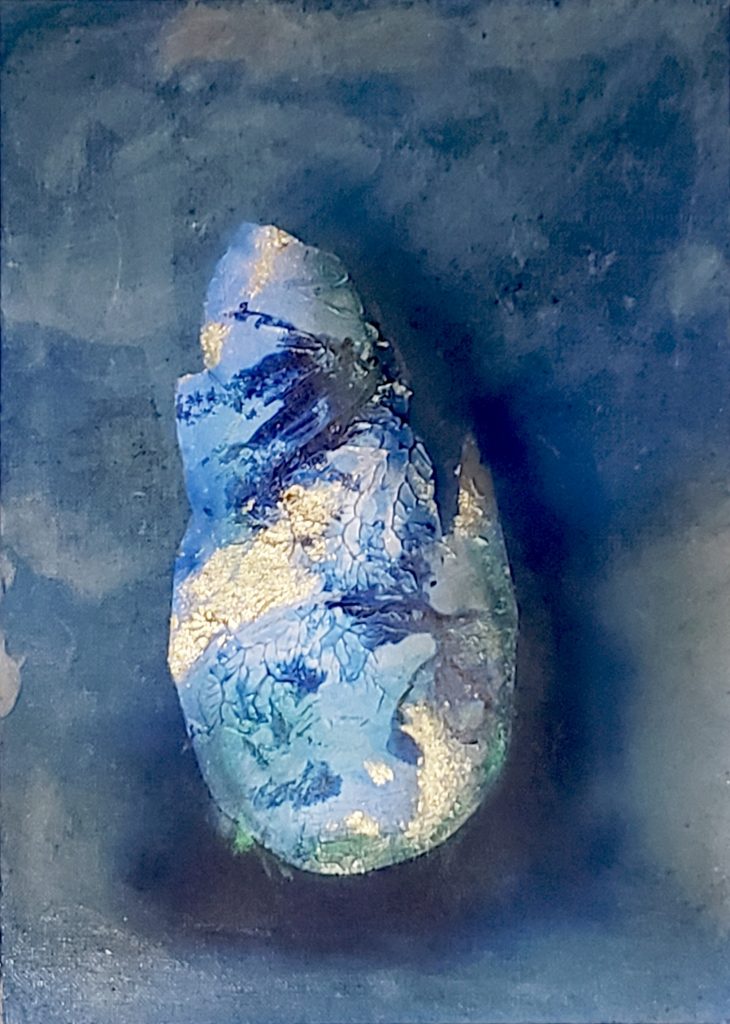 F: Another artist that I'm really drawn to is Jasper Urbina. I started off curating mostly new media arts, so I am really drawn to Jasper's process of using this language of digital artwork, but reproducing it with acrylics, oils, [and] natural paint material. He often goes back and forth between using something as a reference, and then going and painting it back and forth, which I think is really great. It's very dynamic, very young. I don't mean "young" as in "inexperienced", but in that youthful kind of energy.
M: Yeah, it's really lovely and fresh.
F: Fresh, yes! But then, I've noticed that he's got some newer works. This 'Porcelain' Series that are a little bit more muted and delicate, and I'm really loving this new direction. And I would love to see more. I see that 'Porcelain II' is still available…
F: Continuing with that "porcelain" theme, I'm going to go with Claire Heidinger. Claire does some amazing work using portraiture to think through cultural identity. I believe she's been experimenting with ceramic a bit more and producing photographs of these ceramic works. The 'Japanese Eggplant' and 'Bell Pepper' are two where she'll position a more traditional piece of oriental ceramics, but then create another one that speaks more to a food item. Not a finished food, but the vegetable, [and] adorn it in that same way. I'm really quite excited about this kind of work.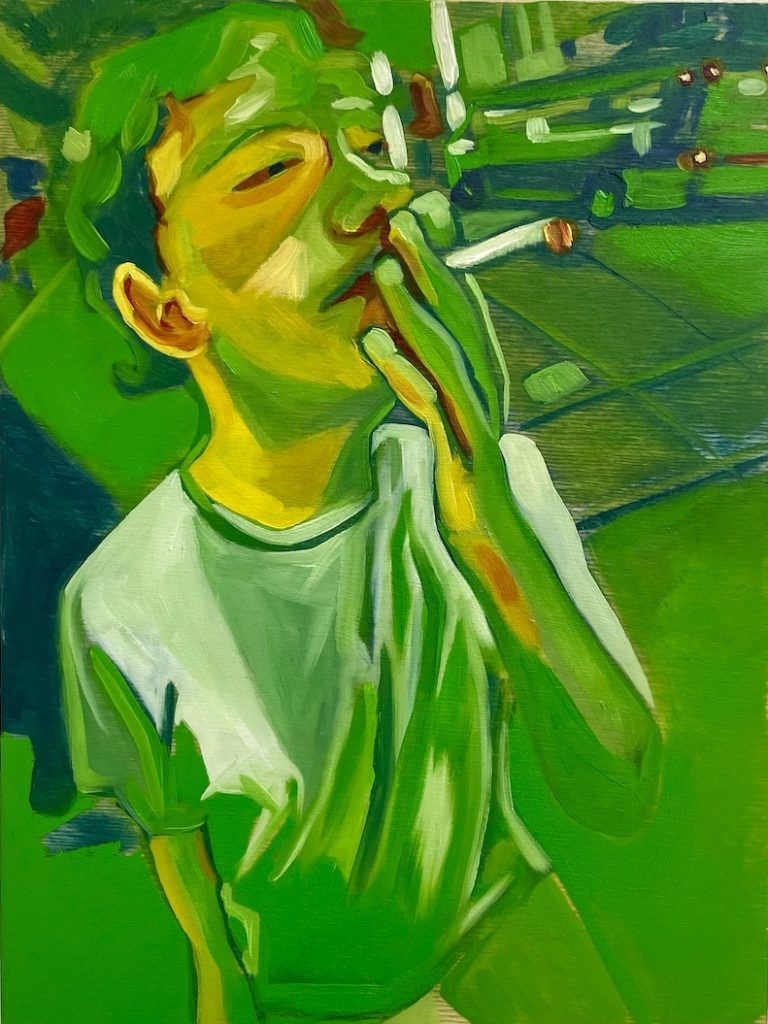 F: Another artist who's just recently graduated from OCAD University is Emerald Repard-Denniston. I'm really interested in her entire oeuvre. A lot of what Emerald does are portraiture, but they're really unapologetic. They've got a spirit of irreverence and attitude, but they're also saying a lot more about identity. If I had to choose one on Partial at the moment, it would be 'Smoke Break J'.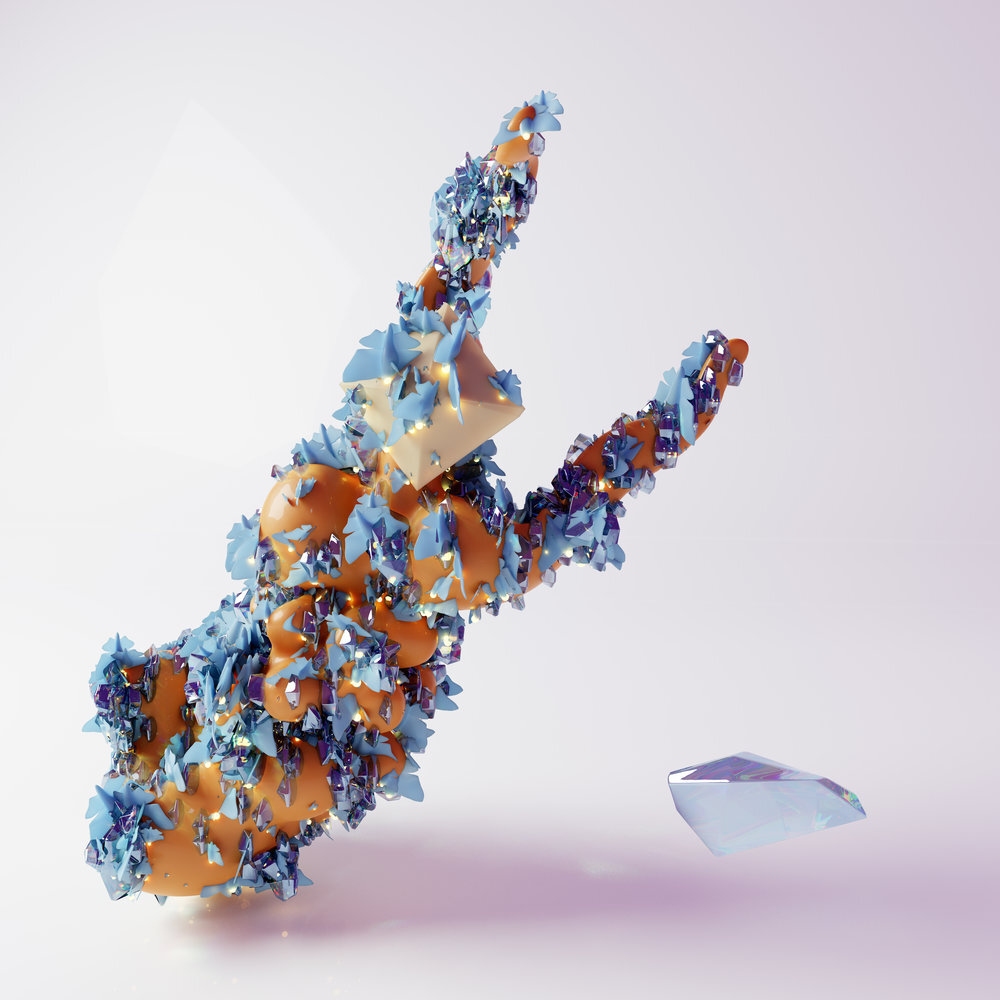 F: Mackenzie Lenters is another artist that I've been following for a bit of time, of course because of that digital connection. Mackenzie makes these very intricate 3D scenes that speak to that nature and technology simultaneously, and they're kind of otherworldly. Some might mimic a landscape a bit more, [or] he'll just put together a scene that doesn't sit in a landscape, and they're often very intricate. They often have a lot of elements and one of those that's on Partial at the moment is '211 of 256 Different Moths'.
M: Fantastic. Really great choices there for people to explore and enjoy, and some really interesting pieces as you say; people who are really playing around with what we traditionally feel and see, and making it their own.
Art advice for new art collectors
M: We're going to have people who are very new to art buying, and perhaps don't even know where to start, and are trying to figure out what their style is still. [They may be wondering], "how do I even approach something like this?". It can be very daunting. What's one piece of advice you'd give people just as they're starting out to build their collection?
F: I would say: does it have meaning to you? Do you like it? Go with what you're drawn to. But, what we like can be based on a number of things: it could be partially based on your decor, the size that you want, and all of these things are great to take into account – and you should, because you'll be living with that. But then, when you look at it, does it say something to you? And will it continue saying something?
My favourite artworks are the works that might have meant something five years ago, but means something different yesterday, or today. And that's what makes an artwork have that longevity for you, and [make you] want to keep living with it. It's partly the story of the artists: how they're doing that work, and following them over the course of their careers as well. Because then, maybe it's not just buying one work, but starting to build a collection.
M: Exactly! And it's really fun to watch an artist grow and change their style, because of course – like us – they grow and develop as well. It's interesting to be on that journey with them. It's always fun.
F: Exactly. You feel like you're on that journey with them. These are objects that have meaning to us, right? And that's what makes them special.
M: Exactly. Well, [these are] great words of advice for anybody who wants to start an art collection. We encourage everyone to go to Partial and take a look at the picks that you have given us today, Farah. Thank you so much for sharing your picks with us.
F: My pleasure.
Transcript has been edited for readability, conciseness, and clarity.
---
About Farah Yusuf
In her role at the CEAD, Farah coordinates and implements a dynamic suite of programs and services designed to prepare OCAD U students and recent graduates with the professional skills critical to success in the art and design fields. She also develops and maintains ongoing relationships with employers, community agencies and other partners to facilitate recruitment and develop opportunities based on the reciprocal needs of these partners and OCAD U students and alumni.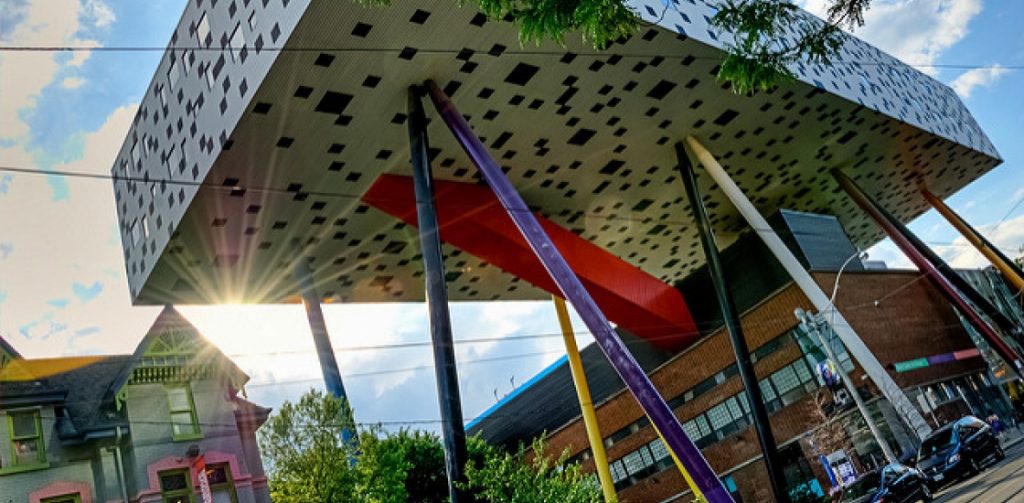 Farah brings to the CEAD her knowledge of the cultural sector and professional experience in the computer graphics industry. She continues to practice as an independent curator, producing exhibitions for the Textile Museum of Canada, Trinity Square Video, and InterAccess. She has 20 years of experience working as Compositor and 3D Artist in children's educational TV, motion graphics and interactive/immersive experience design.
About Maggie Fairs
In addition to her work as Strategic Partnerships lead and Art Sommelier at Partial, Maggie is a global communications leader, a passionate supporter of the arts and a natural connector. For the past two years, she was also the program director for the Canadian Arts Summit. Where possible, she looks for opportunities to have her passions collide, which is the case with Plum Viewing, a curated list of arts & culture to enjoy online and in person, around the world.