Design Week in Toronto kicked off last Thursday with the Media & VIP Preview of CUTMR2019 with our partners DesignTO.
Jeremy Vandermeij, Executive Director of DesignTO

Spinning tunes to a crowd of art seekers.
Framed within the backdrop of the historic 130-year-old Gladstone Hotel, 'Come Up To My Room' showcases artists' and designers' installations that stimulate the imagination and encourage discussion and dialogue. #CUTMR2019 featured over 20 projects and was curated by Jana Macalik, Jennie Suddick, and Lee Petrie. This year's theme was BAM! KAPOW! ZAAAAP!: "Space and scale are twisted and reimagined through interactive and tactile installations at this year's Come Up To My Room! As an antidote to our current uncertain times and gloomy contemporary issues, these works revel in playfulness and lightheartedness."
---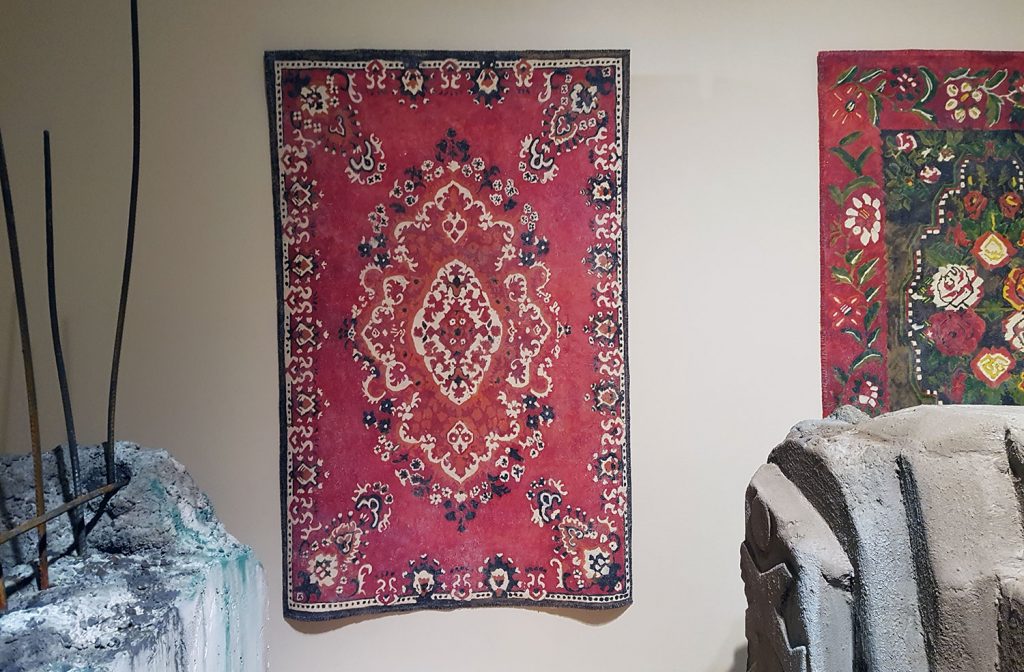 Eastern Bloc (Collapse)
by Georgina Lee Walker & Youri Makovski
Youri Makovski and Georgina Lee Walker work together on Toronto film sets. Youri is an illustrator/muralist, from the Sheridan BA program. Georgina is OCADU Alumni, working as an oil painter/sculptor.
Eastern Bloc (Collapse) is an installation-based project that emulates a home that has been partially demolished, with carpets still hanging on the walls and from the ceilings. At its core, it embodies the way in which a failed utopic vision of socialism has had permeating long term cultural and aesthetic effects worldwide.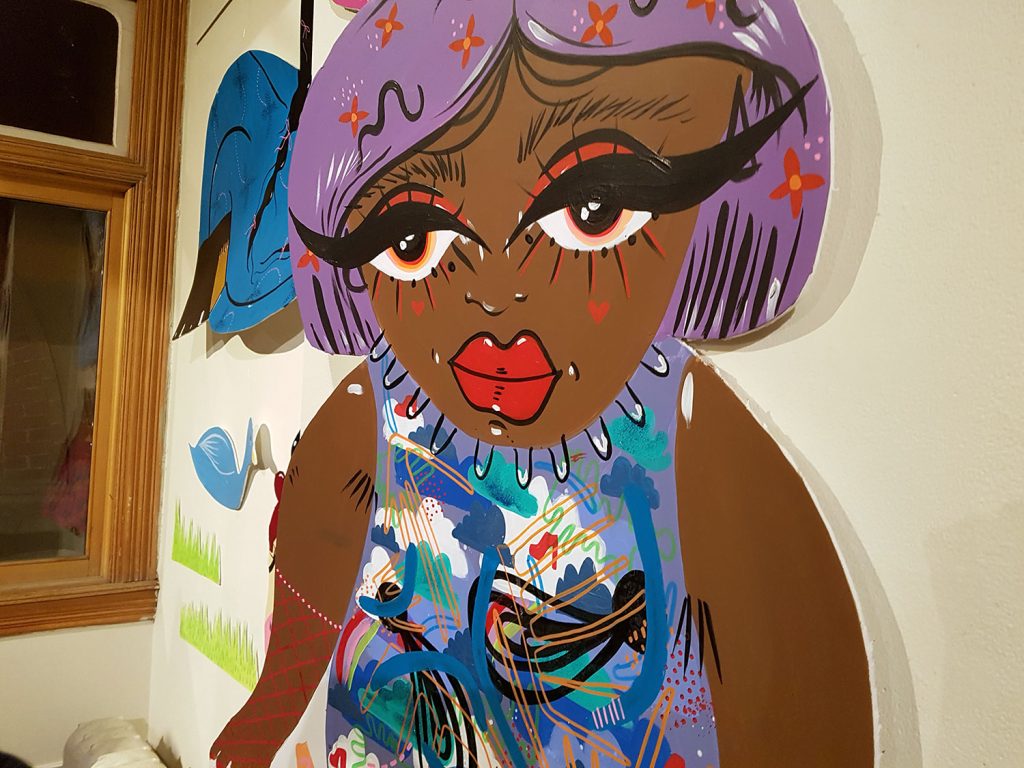 (Femmes of Fire) Always Surviving
by Natalie King
Natalie King is a queer Anishinaabekwe and a member of Timiskaming First Nation with mixed Indigenous and european ancestry. Centered through a queer lens involving portrayals of femme identities, King's works are about embracing the multiplicities of identity within the queer femme experience.
The figures within this work illuminate the existence of the queer body. This work is meant to embrace femininity in all forms, celebrate its existence and reconcile the trauma, hostile behaviour and anxiety toward queer femme identities.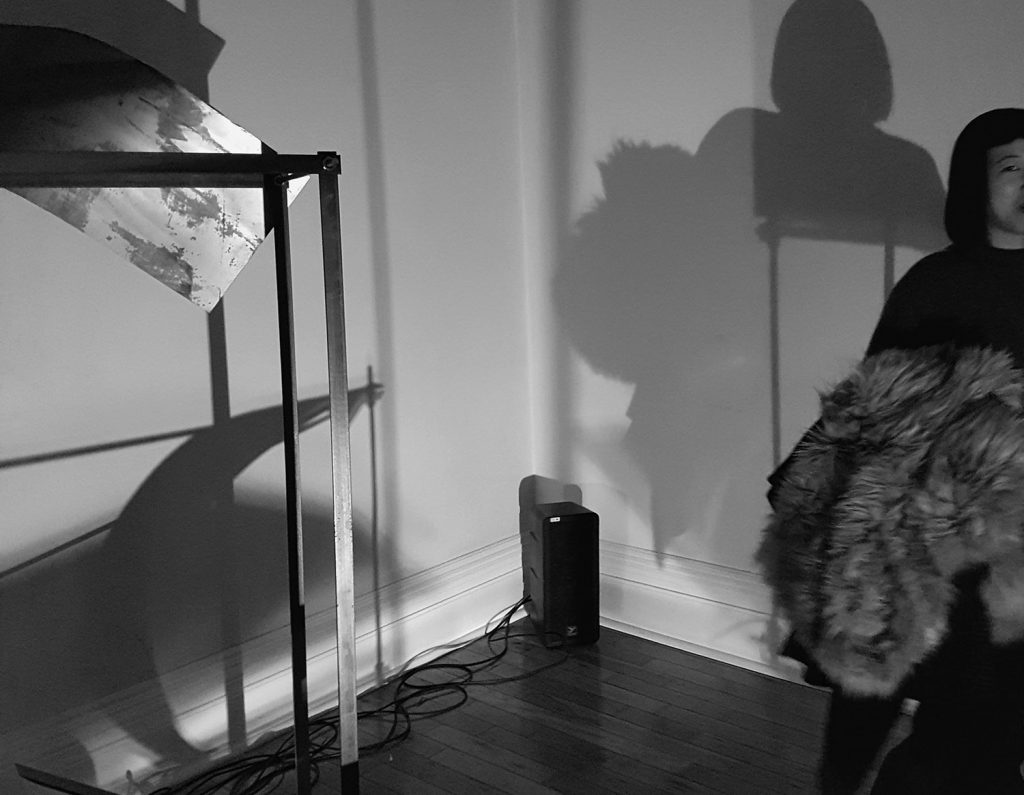 Acoustic Archeologies, Site I: GLADSTONE
by Kristina Guison & Mehrnaz Rohbakhsh
Kristina Guison is a Manila-born, Toronto-based artist working in the realm of sculpture, installation, performance and tattoos.
Mehrnaz Rohbakhsh is an interdisciplinary artist based in Toronto. She has exhibited in Canada, Italy and Japan.
Acoustic Archeologies Site I: Gladstone, explores the sonic possibilities described about Palaeolithic caves, and its potential relationship to the sites in which we dwell. Mapping comparisons between hotels and caves as a site of geography and residence that we inhabit, the interactive installation transforms the space into an instrument.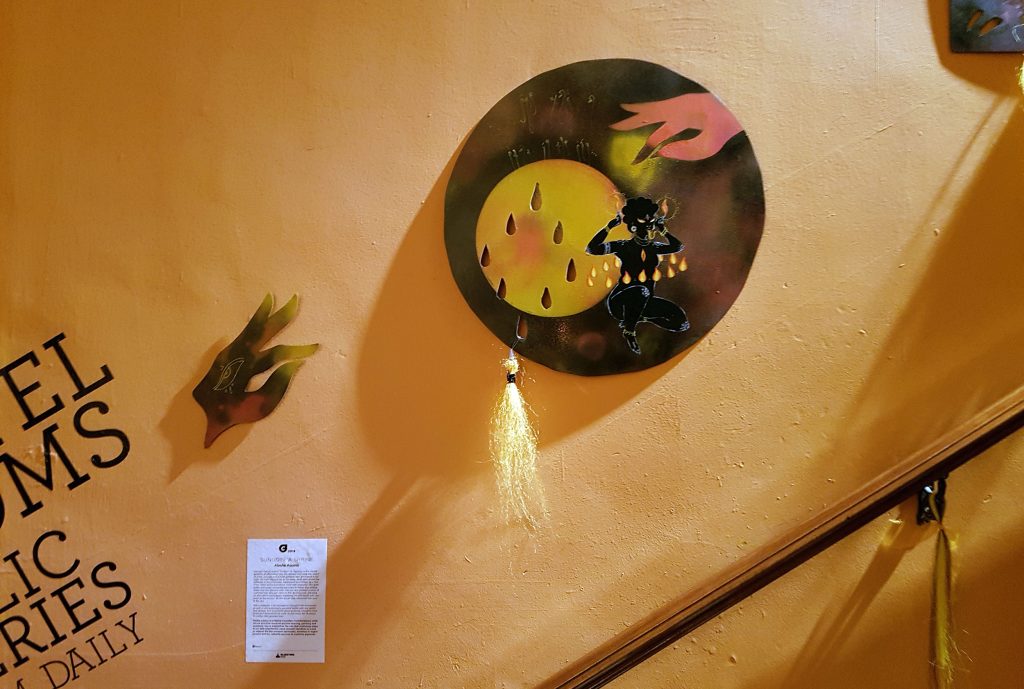 Sunugin: A Shrine
by Alesha Aquino
Alesha Aquino is a Filipina-Canadian, multidisciplinary artist whose practice revolves around weaving, painting and sculpture. She is inspired by the role that mythology plays in our daily experiences, using syncretic narratives as a tool to explore the link between spirituality, identities to higher powers and the cathartic process of creativity.
Sunugin (which means, "to burn" in Tagalog) is the cursed goddess of affirmation and fire. This installation is an homage to Sunugin's life and power, as well as any individual's personal battle with low spirits and despair.
---
DesignTO runs until January 27, 2019. Check their schedule for over 100 free events and exhibitions.