OCAD University's annual graduate exhibition kicks off May 11-15, returning to its original in person format after two years. To celebrate Toronto's largest free art and design exhibition, featuring over 600 emerging artists, we've chatted with 7 of the artists to give you a sneak peek of what to expect.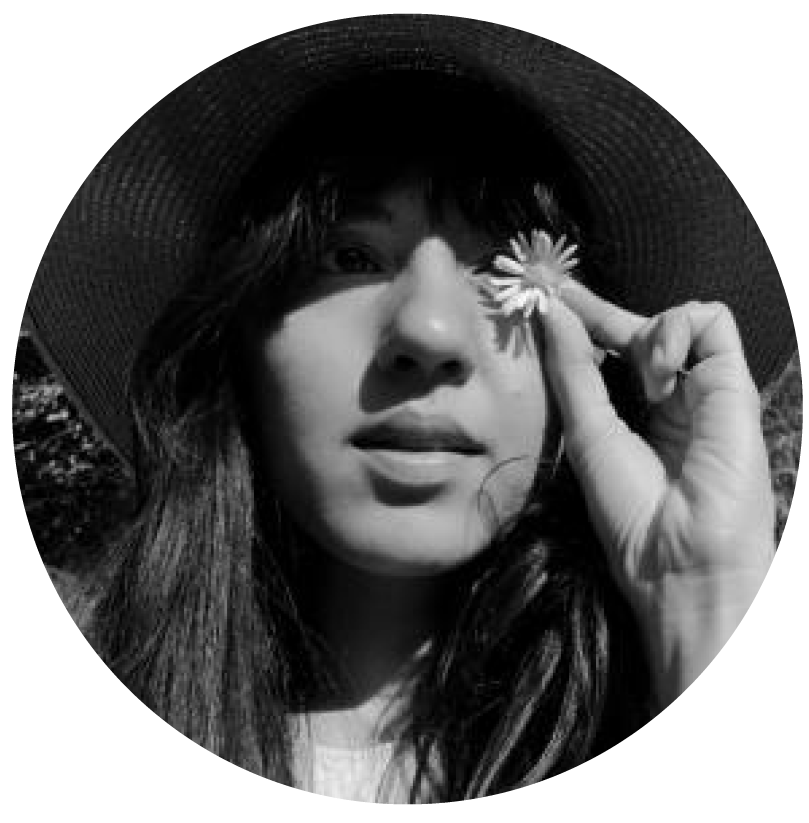 Vridhhi is an interdisciplinary artist from India, based in Toronto. As an arts based researcher, she draws from personal narratives and uses performative art to translate personal trauma into whimsical and tangible art. Her work honors the resilience of victims and survivors and how trauma bodies find ways to bloom in gloom. Through her art she engages viewers in conversations grounding her work in relational aesthetics and destigmatzing notions around trauma and grief.
GradEx Work: Fragments of an inner child
EMS LAB, Graduate Gallery, 205 Richmond St. W.
"Fragments of an inner child is a healing journey of a survivor, telling untold tales of unforgotten memories. When trauma happens, the body is cut up into pieces. In response, it wears masks to protect itself from further damage. Trauma makes itself home in these pieces and we emphasize the damage it does because we despise it. But what we forget to acknowledge is how our bodies learn to bloom in all that gloom. The masks are objects of resilience, they are the survivors of untold tales of trauma. An uninvited sensory language in disguise. This exhibit encompasses the parameters of what it is to heal as a survivor and victim of sexualized violence and experiencing the death of loved ones."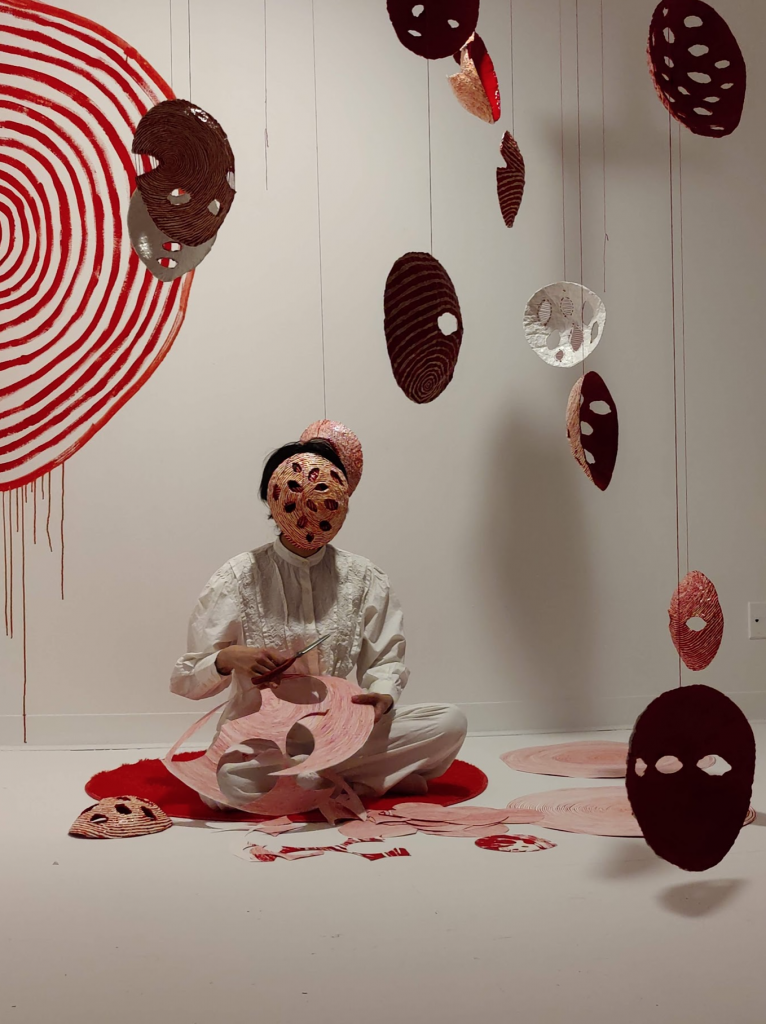 Anna Luo (born 1998) is a Toronto-based multidisciplinary artist from China working primarily in printmaking and papermaking. She will complete her BFA in Printmaking and Publications from OCAD University in 2022, and will obtain her MFA in Emily Carr University in 2024. Her work draws upon her cultural identity, traditions, memories, humanity and the environment. She focuses on traditional handcrafts in her work that reflects her cultural background. Her approach is interdisciplinary, and she loves to explore various forms of material practice. Presently, she uses papermaking as the primary technique for her artistic expressions, because she finds a solid emotional linkage and attachment in the papermaking process.
GradEx Work: Bamboo Bath
Room 362, 100 McCaul St.
"The thesis project, Bamboo Bath: A Reconnect between Human and Nature, focuses on the process of finding awareness and building a reconnection with the surrounding through sensory experience artwork. Creating a natural space within a hostile environment (places far away from nature, surrounded by crows and chaos) allows independent individuals to immerse themselves into the world of tranquility and experience the stillness of time. Perhaps within this pleasant meditative space, individuals can establish a sense of reconnection with nature. With the choice of building this installation with recycled materials and things collected from nature, the importance of environmental protection is addressed from a controversial topic to an action that inspires more people to participate. This project aims to be a healing space for individuals to rethink the ideal ecological environment pursued in the present world and make kin with nature/mother earth."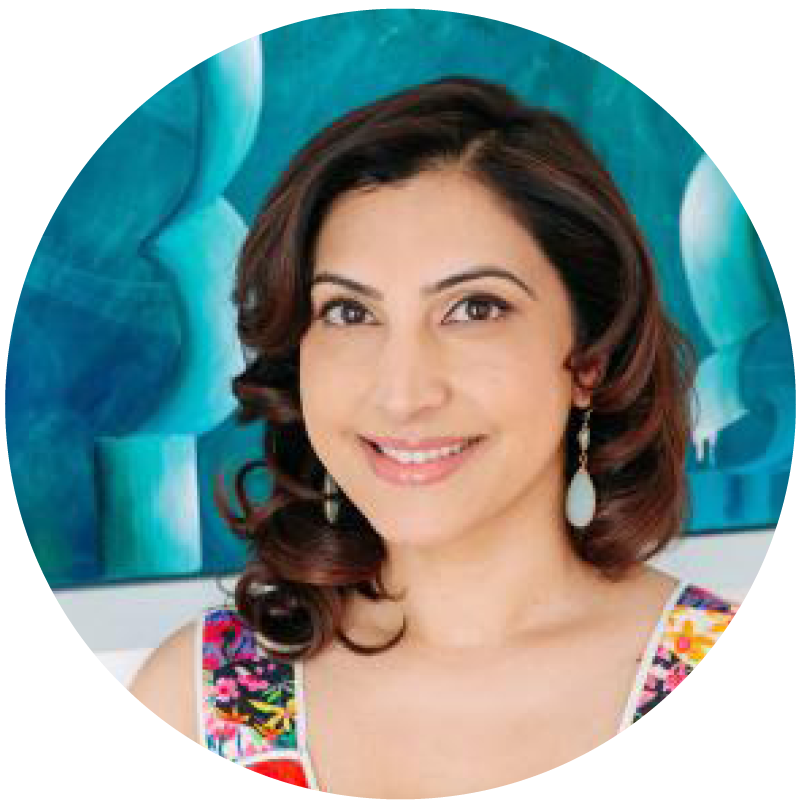 Vicky Talwar is an Interdisciplinary artist and educator. She holds a Bachelor of Fine Arts degree from the Ontario College of Art and Design and a Bachelor of Education from York University. Vicky has just completed an MFA in the Interdisciplinary Master's in Art, Media & Design program at OCAD University.
GradEx Work: Divinity
Room 120, 205 Richmond St. W.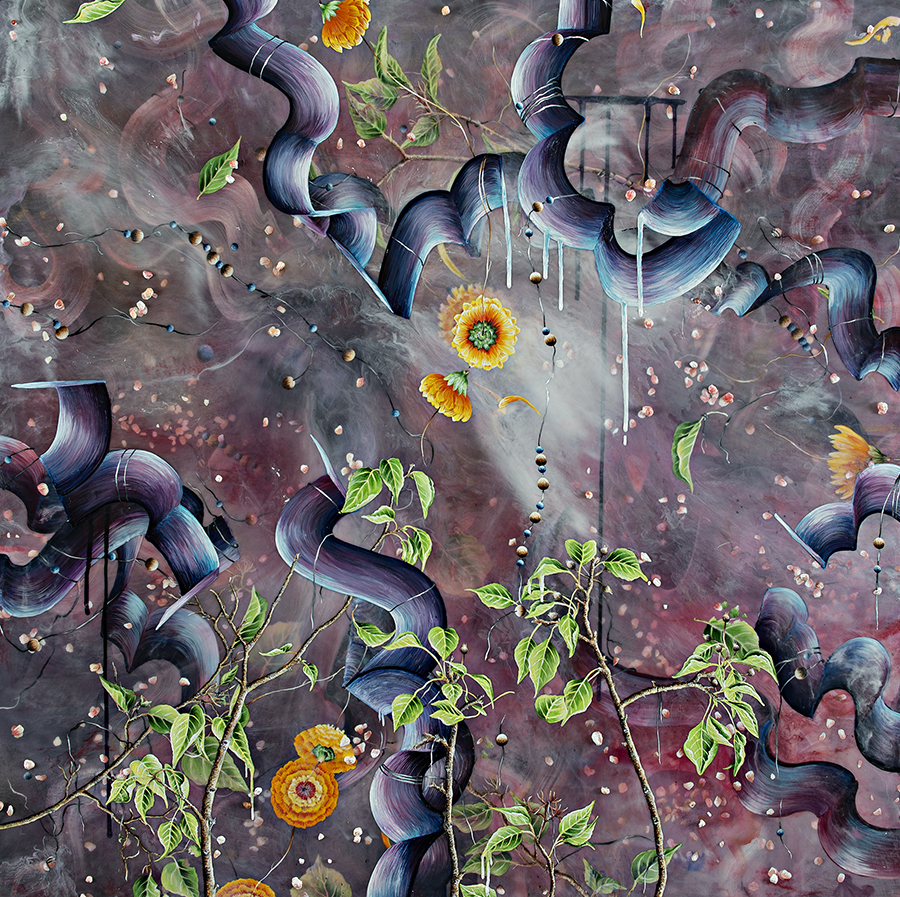 "Vicky draws upon her personal experience as a Hindu Canadian to produce painting, mixed media, and installation artworks. In her artistic practice, she addresses themes of cultural hybridity, displacement, movement, and memory. In her paintings, she expresses the contrasts of her identity by embracing both vibrant colour and textured materiality. Talwar uses reoccurring spiritual motifs, including intertwining flower garlands, mala beads, sacred threads, and salt, to create a sense of presence and intention, while playful brushstrokes and an indistinct, atmospheric background produce a feeling of in-betweenness and transcendency."
Vicky will also be exhibiting work at 113Research, 5th floor hallway, 113 McCaul St.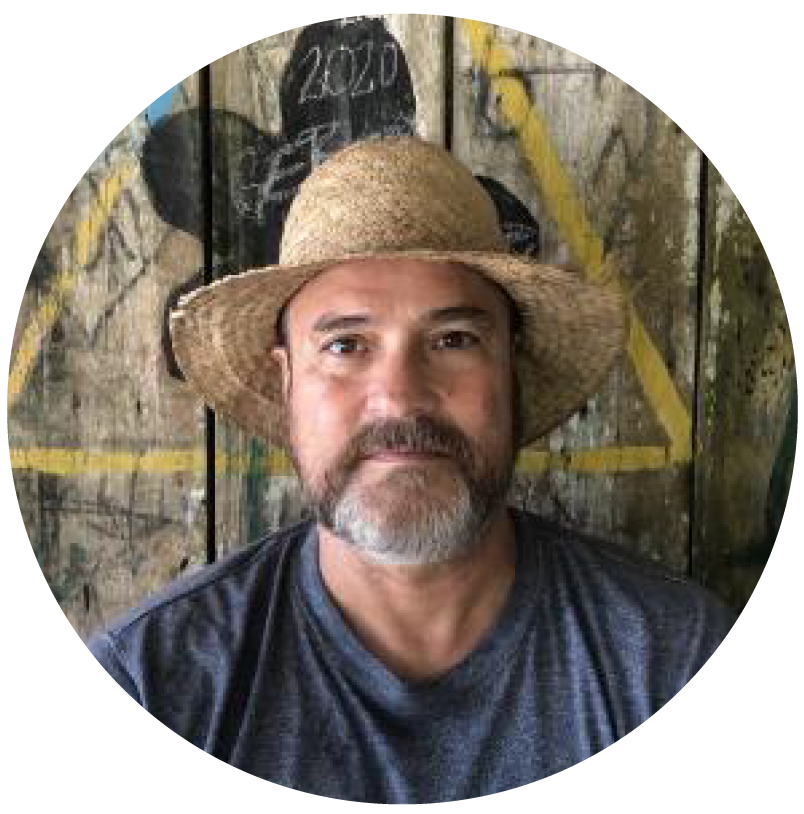 Helio Eudoro is a hunter and gatherer artist based in Toronto. 2020 RBC Newcomer ArtsAward recipient. Toronto Arts Council committee member 2021. Through his interdisciplinary practice, he investigates the layers of visibility that cross dimensions such as gender, sexuality, the body, income, diaspora, age, and forms of social and cultural exclusion. Eudoro is recipient of several awards and grants, has appeared in major Brazilian art exhibitions and his artworks are in the collections of renowned museums in Brazil. He holds a BFA in Sculpture and Installation from OCAD University and a MBA from ESPM in Brazil.
GradEx Work: O MANTO DA INVISIBILIDADE 3
Room 170, 100 McCaul St.
"In O Manto de Invisibilidade 3, Eudoro explores notions of erasure and defacement perpetrated by multiple socio-cultural systems. He deconstructs clothes donated by his peers and sewed into a wearable experiential garment, in a dialogue with the Brazilian queer neo concrete artist Hélio Oiticica (1937-1980) and his Parangolés. Through a performative gesture, Eudoro wears the Manto as a Parangolé and dance. In a light mirrored swayed motion, the performance refers to an emotional isolation but at the same time creates a safe space. It protects and liberate identities, bodies and souls from stereotypes, judgments and prejudices in a mirrored swayed experience for us to contemplate and reflect on. The cape has power of invisibility which has powers to un-genderify, un-sexualizing, un-bodying"
Vladimir Kanic is an award-winning multi-disciplinary artist and environmental activist. He is the recipient of the OCADU Poggetto award for the best academic achievement and the CRSC award for the best academic research in 2021; his experimental organic animation Only Lovers Leave to Die has been selected as one of top ten contemporary Canadian films within the eyeCANdy programme and screened as public art at the BigArtTO festival in 2020. Kanic's pioneering work with biopolymers and oxygen-producing living sculptures has been on display at the Abbozzo Gallery for six months (Nov 2021 – June 2022) and the main part of his keynote speech at the Reinventing Environmentalism symposium hosted by the University of Toronto in 2022. Kanic is also a free diver and can be spotted diving out trash from the oceans in his free time.
GradEx Work: The Book of Waves
Room 340, 100 McCaul St.
"The Book of Waves is a series of living sculptures capable of producing oxygen equivalent to hundreds of trees; as they retain carbon dioxide, they have the potential to curb the effects of global climate change. As spectators exhale carbon dioxide, living algae housed within the sculptures absorb it and convert it into oxygen. While removing pollution and toxins from the surrounding air and creating oxygen on the site, the sculptures explore the relationship between human and non-human organisms and re-establish our communication with not only the environment but each other through the invisible language of breath and its chemical composition.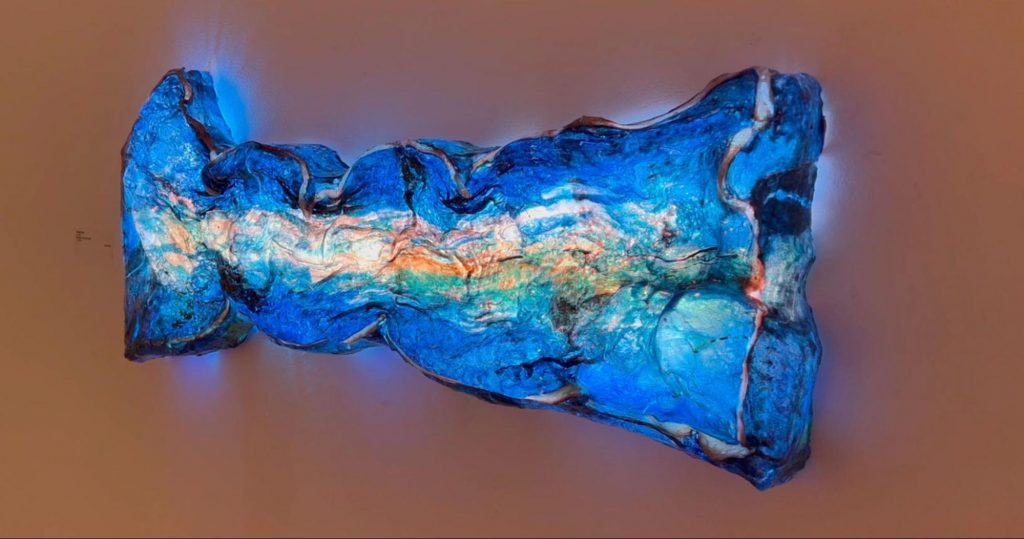 The sculptures call for a global transition of economic, social and political systems into safer and more sustainable entities beyond environmentally destructive capitalism. They respond to the mass-media induced fear of the end of the world with hope, providing real, tangible solutions to global climate change induced by increasing levels of carbon dioxide. On a larger scale, they can mitigate global pollution and diminish carbon dioxide produced by burning fossil fuels. By placing hundreds of sculptures in polluted urban areas, there might be enough momentum to make a change that will matter for all living beings."
Tiffany Chin is a Toronto based illustrator who specializes in poster artwork, editorial illustration, and all things strange. Inspired by psychedelic posters, classic rock, vintage advertisements, and lowbrow art, she strives to step beyond the boundaries of convention to create visually jarring imagery. Her work takes a deep dive into overlooked human desires and experiences.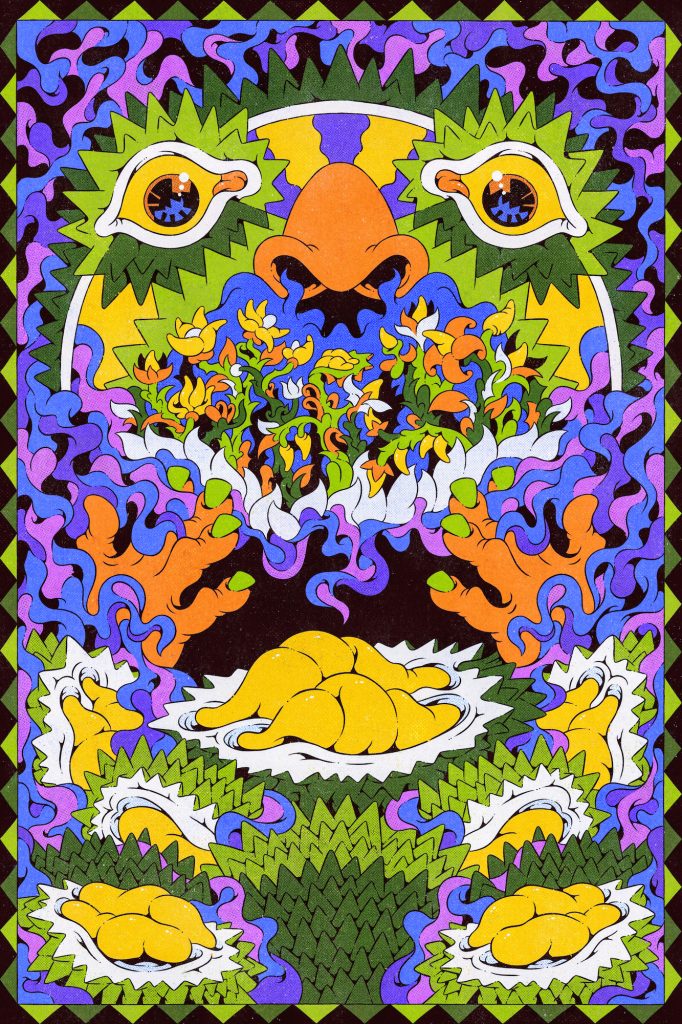 GradEx Work: More Than Taste
Directly adjacent to the mural on the 6th floor at 100 McCaul St.
"More Than Taste explores food experiences through lowbrow imagery to reveal that eating extends beyond flavour, and is actually a multi-sensory and psychological experience."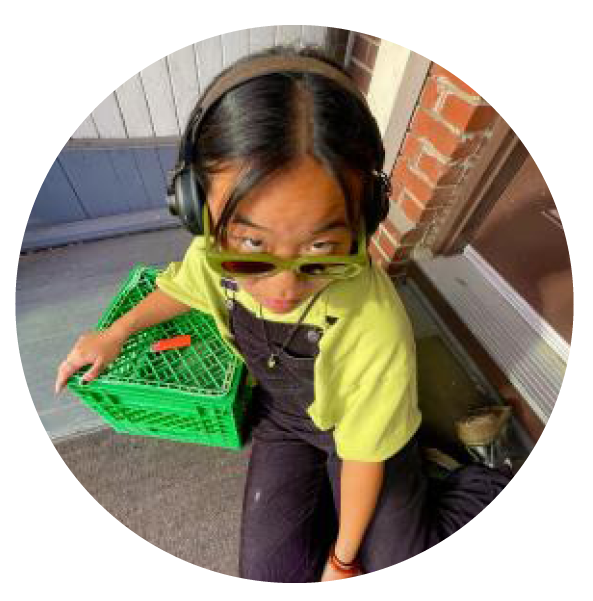 Emerald Repard-Denniston is a queer Chinese-Canadian contemporary artist. She is committed to anticolonial, anti-capitalist politics and activist work. Based in Squamish, Tsleil-Waututh and Musqueam/Vancouver, and Tkaronto/Toronto, her practice focuses on the diasporic-Canadian experience through drawing, painting, and digital media. She is an emerging artist acquiring a Bachelor of Fine Arts in the Drawing and Painting Program from OCAD University and a Minor in Art and Social Change.
GradEx Work: Your Best Canadian Girl
Room 430, 100 McCaul St
"I question; am I an unreliable narrator or an invalidated one? My work welcomes the viewer into my escapist, coming-of-age recollection. Ruminating on gender biases, identity crises, imposter syndromes, and social statuses, the figure becomes a cynical and satirical mockery. The body plays with perception, aware of the gaze, voyeuristic fantasies and challenging the Asian monolith. A series of fortunate events presents in fleeting playfulness but soon stumbles into pessimism. My paintings critique the socio-political context of the western world to understand the subliminal-unconscious effects on the Asian femme."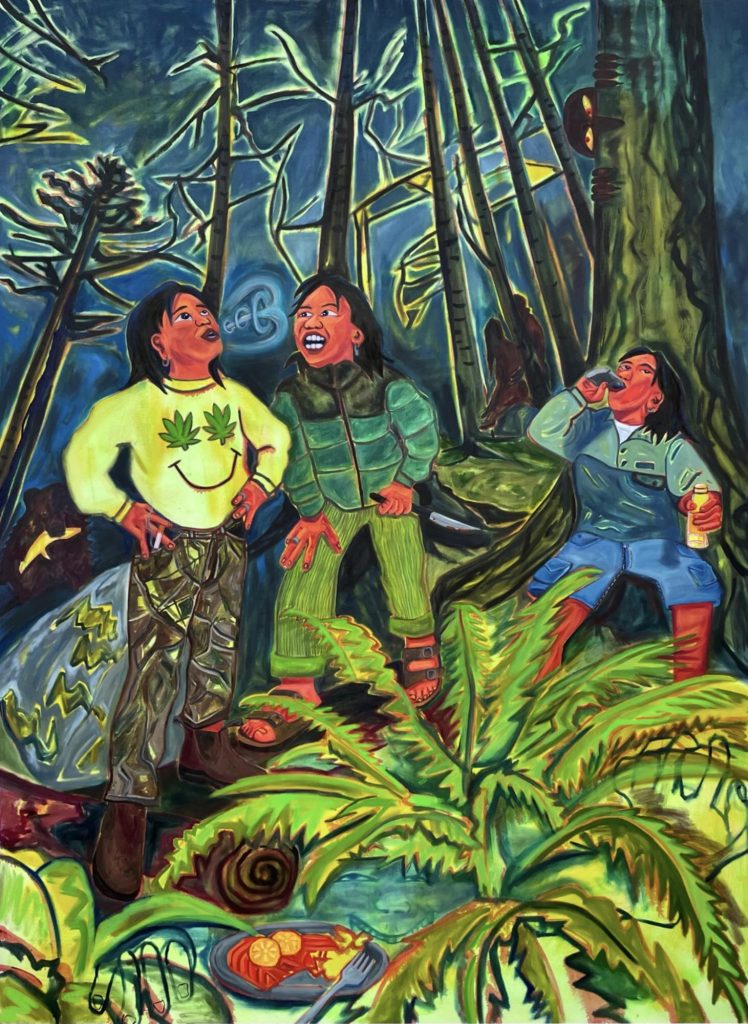 SHOW HOURS
Wednesday, May 11 6pm – 11pm

Thursday, May 12 and Friday, May 13
9:30 a.m. to 12 noon: Limited capacity – reserve your space
12 noon to 8 p.m.: All exhibitions open to the public – no reservations required
Saturday, May 14 and Sunday, May 15
10 a.m. to 12 noon: Limited capacity – reserve your space
12 noon to 5 p.m.: All exhibitions open to the public – no reservations required
LOCATIONS
Exhibits set up across the campus at 100 McCaul St., 115 McCaul St., 51 McCaul St., 49 McCaul St., and 205 Richmond St. W.
---